It's bright lights, big parties and east African cuisine at Safari Restaurant in Kaiserslautern
---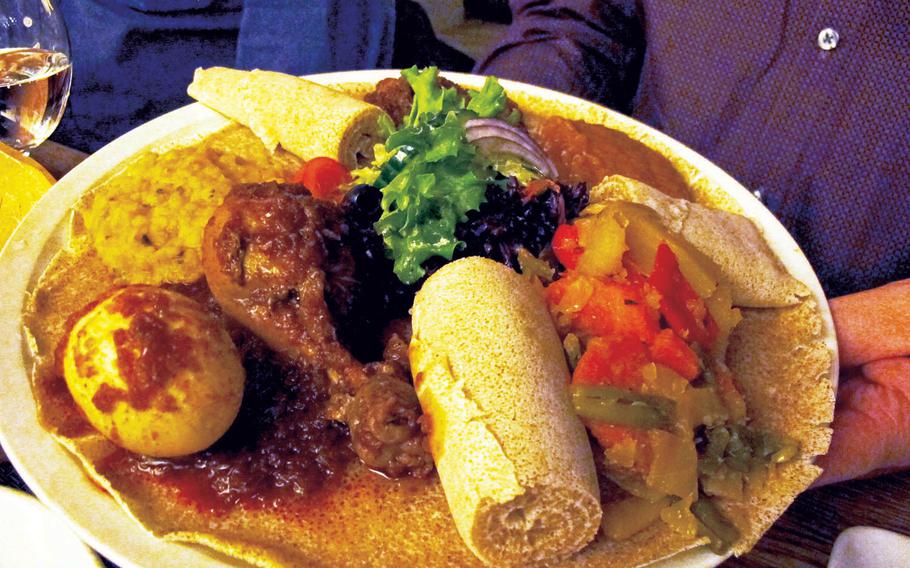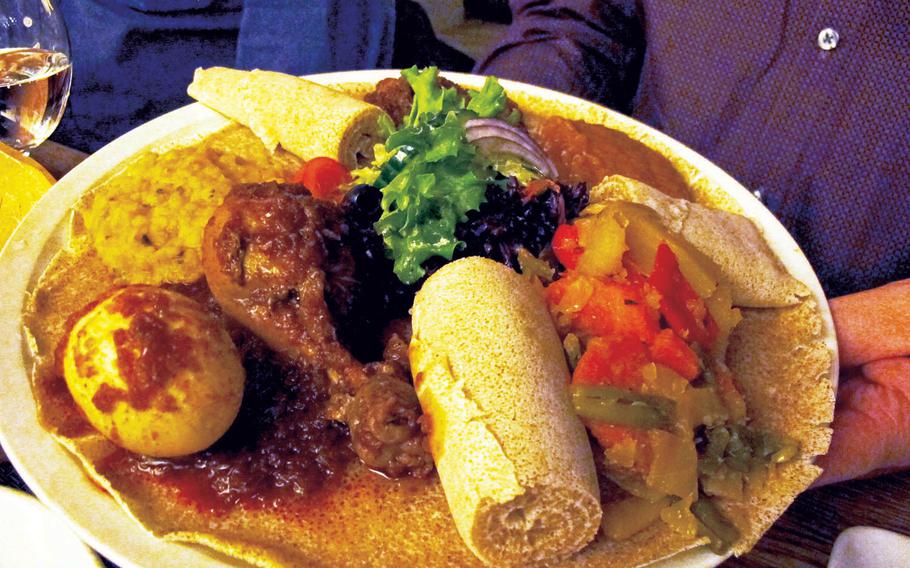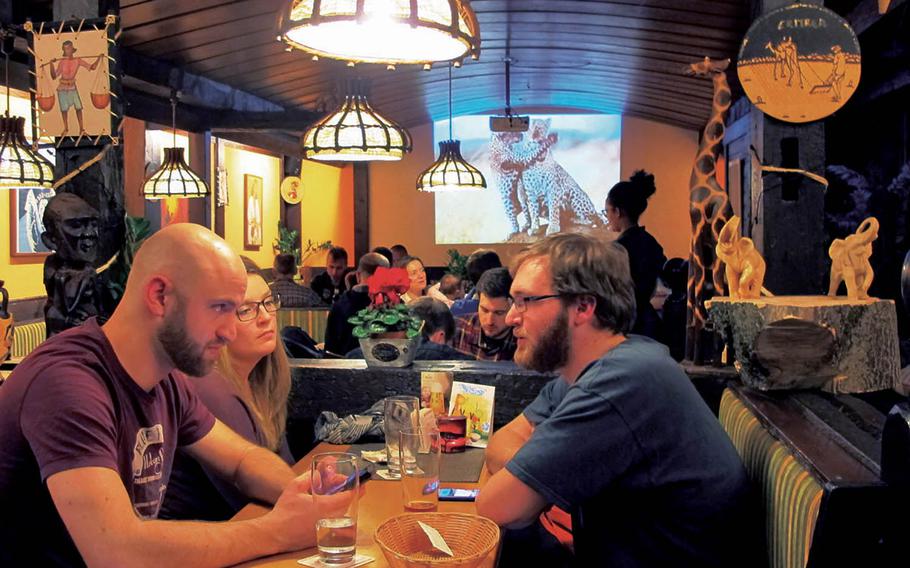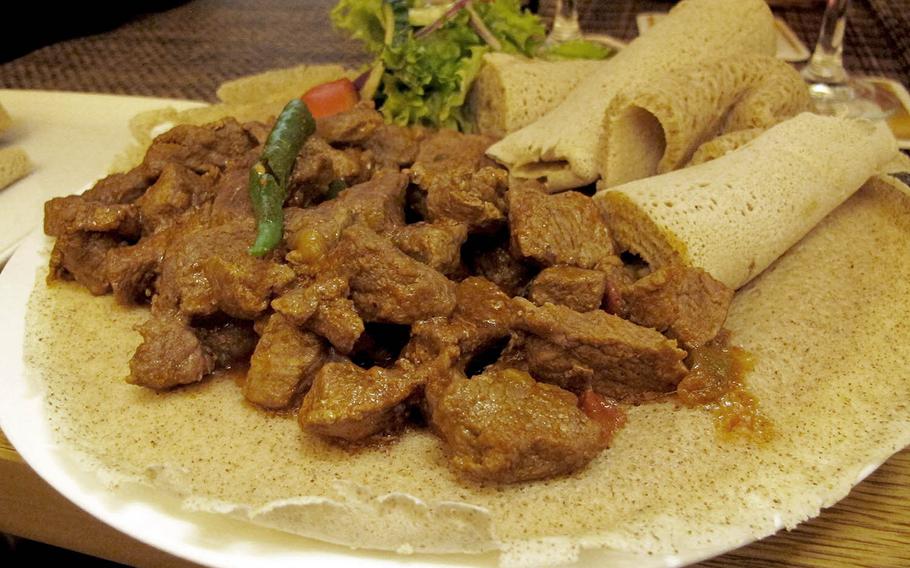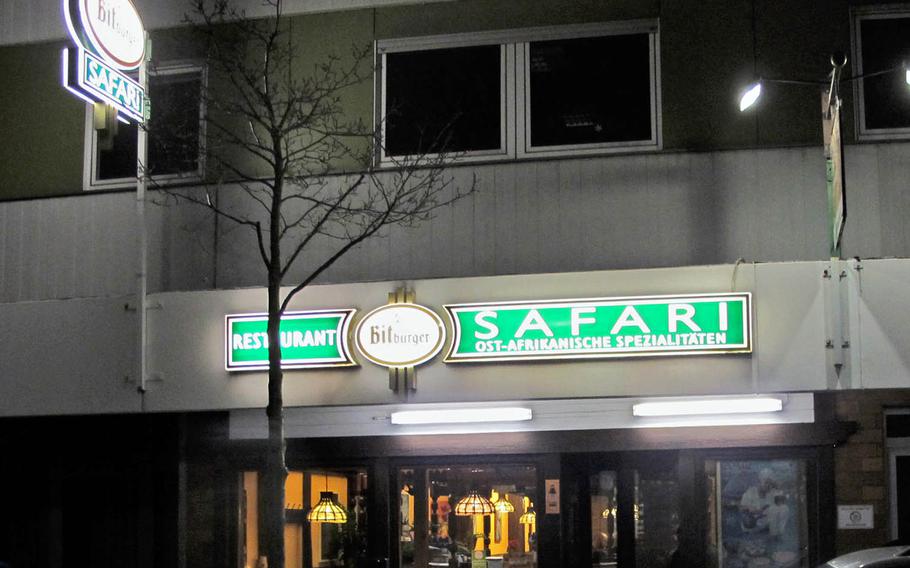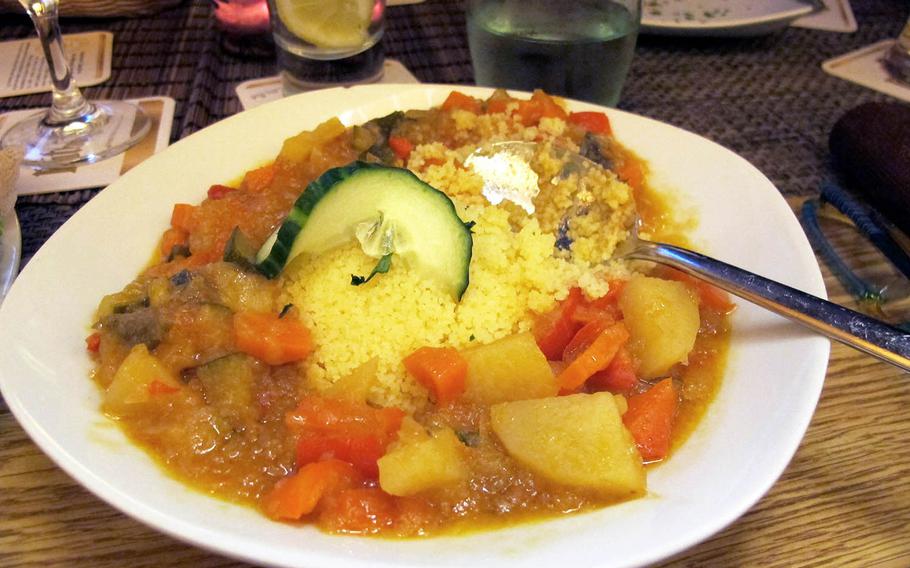 Safari Restaurant is not exactly the place for a soigne dinner a deux. The lights are bright. The food is eaten either with hands or a spoon. The beer comes in a bowl.
But the restaurant, which features Ethiopian and Eritrean fare of roasted meats, couscous, lentils and vegetables, is a great choice for parties of three, four or more. On a recent weekday evening, the place was full of them.
The first of my party of five to arrive, I was seated in a comfy booth. Happy groups of diners to my left and right, among giraffe statues and decorative baskets, I perused the menu. I decided on my starter, a little fried pastry filled with minced, spiced chicken, lamb or vegetables, called a sambosa and priced at a reasonable 3.80 euros ($4). A crisp green salad was just 3 euros.
I looked at the menu some more. It was basically roasted chunks of beef, lamb or a chicken drumstick, a variety of braised vegetables such as eggplant, cabbage and okra sauced in tomato with garlic and onions, lentils and couscous. Pretty basic, and quite healthful. Fruit beers — mango, pineapple, passion and banana — piqued interest.
A half-hour later, I was still sitting conspicuously alone. The bleakness of apparently being stood up by not one, but four, people was ameliorated by a gin and tonic and a kind and efficient server who somehow managed to take care of the room on her own. Ethiopia-born, she told me, German-bred, she spoke flawless English.
My meal arrived about the same time as the rest of my party. I shared my delicious sambosas and tucked into my grilled lamb and couscous. Spices added heat — I had requested spicy — but nothing anyone couldn't handle. The spongy flatbread used to pick up the meat and vegetables was bland and drew unflattering comparisons to naan.
My friends ordered, and soon the table was full of plates of vegetables, grilled beef and couscous. Even the okra tasted good. We were especially enthused by the mango beer, served in a bowl apparently made from a dishwasher-safe gourd. Fresh and fruity, with a low alcohol content, it might as well have been a health drink.
Safari Restaurant Location: Humboldt Strasse 31-35, Kaiserslautern
Hours: 4-11 p.m. Mondays to Fridays; 4:30 p.m. to 2 a.m. Saturdays and Sundays
Cuisine: Eritrean and Ethiopian
Dress: Casual
Costs: Appetizers from 3.50 euros ($3.70), vegetarian entrees from 6.80 euros, meat entrees from 10 euros, sampler platters 12 to 39.50 euros
---
---
---
---