'It really felt like a long night'
---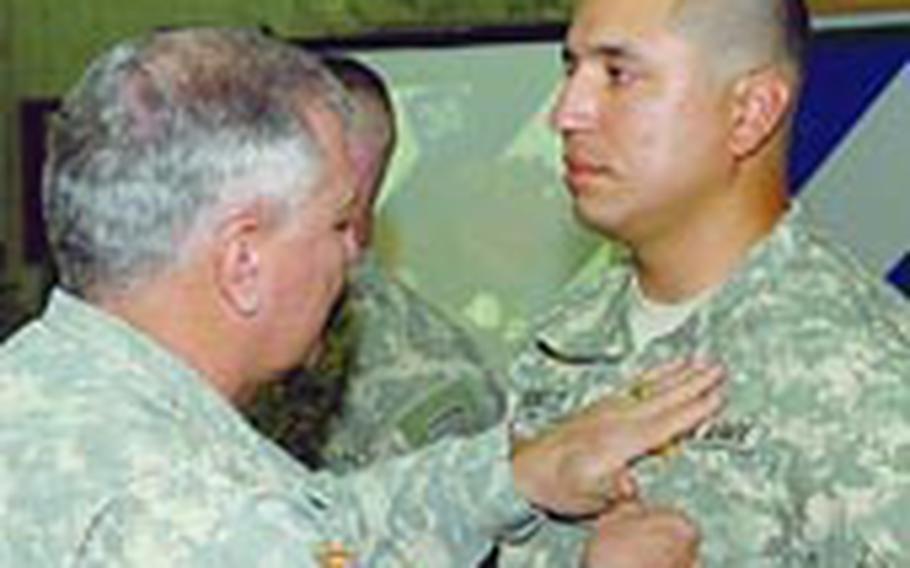 Their Bradley Fighting Vehicle hit a "speed bump" in south central Ramadi and suddenly "the whole world was a cloud of sewage-type mud."
Several explosive devices were then hurled at them like "Frisbees" when they were stuck in the kill zone, said Sgt. 1st Class Jose Rodriguez.
It was for his actions on March 19, 2007, that Rodriguez was awarded the Silver Star 11 months later.
Ramadi changed drastically in those intervening months. The "Iraqi police now run the city," Rodriguez said in a phone interview this March as his platoon readied for its return to Fort Stewart, Ga.
"All we have to do is supervise," Rodriguez said. "It's good that we got to see this side (of the war), because stuff like that is what we're here for."
That fierce Monday night a year earlier was a different story.
Two of the platoon's Bradley Fighting Vehicles were being attacked by insurgents less than 1,000 feet outside Forward Operating Base Hawas in the maze of south central Ramadi's streets and alleys.
Pinned by enemy fire, the Bradleys were also penned in with roadside bombs they called "speed bumps," said Rodriguez, a 28-year-old native of Los Angeles.
And when Rodriguez's Bradley rushed out of the base to aid the others, it hit a speed bump as well, a cloud of foul-smelling mud engulfed the vehicle, he said.
"The bomb caught the engine on fire, which started smoldering," Rodriguez said. "I saw my gunner was OK, but the driver was coughing."
Rodriguez was able to drag the driver out of the smoky compartment to safety.
"I told him that 'everything would be all right' and he said he was good — he just couldn't catch his breath," Rodriguez recalled.
Bullets pinged the Bradley for the next 90 minutes as all vehicles outside the forward operating base took and returned small-arms fire. Another Bradley attempted to rescue the soldiers but was hit by a roadside bomb as well.
That meant two Bradleys were down and two were "boxed in" by roadside bombs, Rodriguez said.
They were still under fire when the recovery vehicle attempted to bump their Bradley out of the kill zone, Rodriguez said. But as he helped from outside the vehicle, Rodriguez saw enemy approaching through the smoke and dust, he said.
He opened fire with his M-16 rifle. When he stopped, eight enemy combatants were dead. It was over.
"They finally pulled us back to safety and then we collapsed," Rodriguez said. "That was a long night that night … it really felt like a long night."
There were no major U.S. casualties that night, Rodriguez said.
As for the people he killed, Rodriguez said it "was a matter of self-defense" for him and his guys.
"You have to look out for each other, and you have to look out for yourself," Rodriguez said.
"That's the way I see it … it might not be the same for everyone else."
This was Rodriguez's second deployment to Iraq. Receiving the Silver Star this time around makes him "proud," but many deserve awards for their time in Iraq, he said.
"A lot of people should have received similar or better awards than mine," Rodriguez said. "I was just the one who got written up."
Sgt. 1st Class Jose Rodriguez
Unit: 3rd Battalion, 69th Armor Regiment, 3rd Brigade Combat Team
Medal: Silver Star
Earned: March 19, 2007, Ramadi, Iraq
---
---
---
---