'It felt like my whole body was paralyzed'
---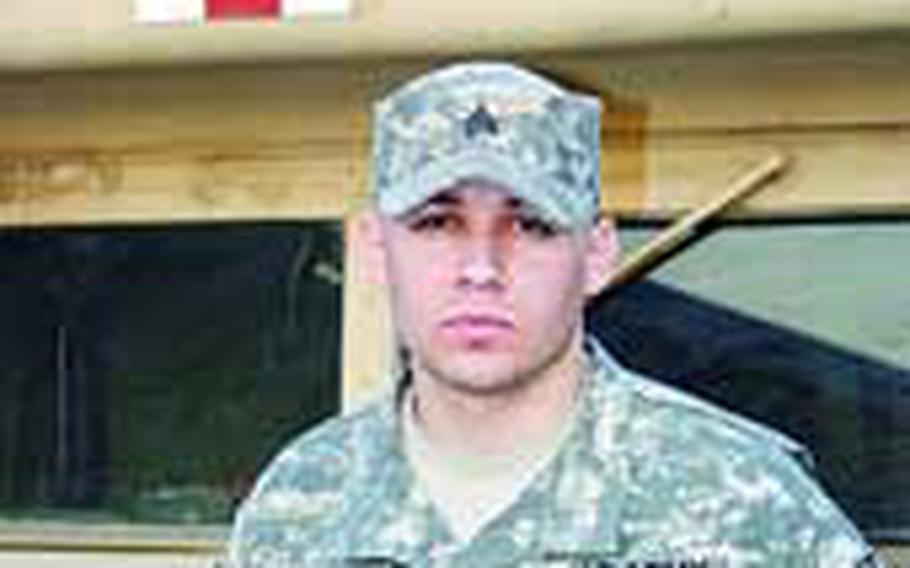 Sgt. Kyle Dirkintis didn't deploy to Afghanistan looking to get into a firefight.
The 24-year-old from Racine, Wis., had certainly prepared for the aftermath of one, though.
When he deployed to Afghanistan in May 2007, it was the first time he'd been assigned to a combat tour. But he'd spent most of his 4½-year Army career training as a medic. A member of the 173rd Brigade Support Battalion, he was assigned to provide support for Company C from the 2nd Battalion, 503rd Infantry Regiment.
"I know that they were involved in some fights during their last deployment here," Dirkintis said of the previous stint by the Sky Soldiers in 2005-06. But life was pretty quiet at the Ranch House — a few scattered buildings on a mountain ridge surrounded by concertina wire — until Aug. 22.
Dirkintis awoke to the sound of gunfire and rocket-propelled grenades. He and the other soldiers in their makeshift barracks quickly donned their gear and rushed outside.
A group of insurgents had managed to get inside the wire and were threatening to overrun the compound, which was manned by only about two dozen U.S. soldiers and about as many Afghan National Army troops and private security guards.
"My role as a medic was basically to stay at the aid station or casualty collection point," he said. But after treating one soldier hit by shrapnel in the face he realized that other casualties wouldn't be making their way to him. He'd have to go to them.
He and Staff Sgt. Eric Phillips tried to make their way to an outpost along the perimeter where a soldier had been shot in the leg. But they came under intense fire on the way and stopped at a building. Phillips told Dirkintis to hold his position and watch for enemy movements while he moved around the side of the building. Dirkintis started to trade fire with the enemy and was almost immediately hit.
Phillips noticed Dirkintis was bleeding and told him they had to get him to a place where he could receive aid. Dirkintis couldn't do that, though.
"It felt like my whole body was paralyzed," he said. "And my whole lower body was numb." He'd find out later than a bullet went in through his shoulder, pierced a lung — narrowly missing his heart — and bore back out through his body. Phillips dragged him to safety.
Dirkintis, who would eventually receive the Bronze Star with "V" device, was able to give some advice to those treating him while he and the others waited for medical evacuation.
He said he and soldiers from the company had practiced life-saving techniques repeatedly during their down time. They put them to good use until the battle largely came to a close with the arrival of Air Force A-10s that sent enemy forces looking for cover.
Dirkintis and the other wounded were evacuated by helicopter. He passed through Bagram before spending less than two weeks at Landstuhl Regional Medical Center in Germany.
"They told me when I arrived I'd be there for five or six weeks," he said. "But I guess I heal quick."
After spending a few more weeks at his home base in Bamberg, Germany, Dirkintis got a chance to see his family in the States. He then volunteered to return to Afghanistan and resume his duties as a medic. He now works in the clinic at the brigade's main compound.
Maj. David Hamilton, Dirkintis' company commander, said he serves as an example for all the other medics in his unit.
"He was wounded while attempting to take care of his soldiers, which is one of the highest honors you can have for a medic," Hamilton said.
Hamilton said he's sure the near-fatal wound gives his soldier a new perspective as well.
"He was a good medic before this," he said. "But he definitely looks at things from a different viewpoint. He was able to see things from a litter perspective."
Sgt. Kyle Dirkintis
Unit: 173rd Brigade Support Battalion
Medal: Bronze Star with "V"
Earned: Aug. 22, 2007, Afghanistan
---
---
---
---