Intrepid traveler risks all in hopes of getting a true taste of Japan
---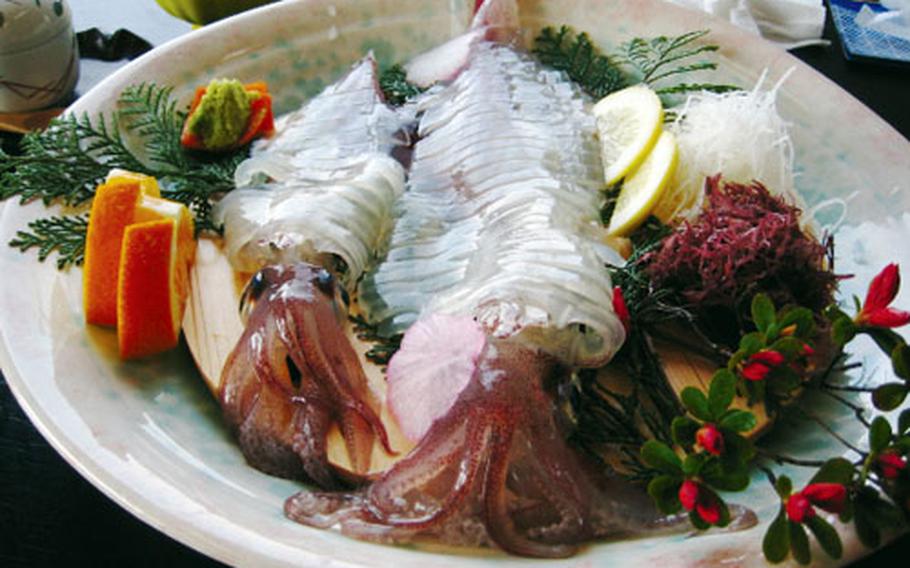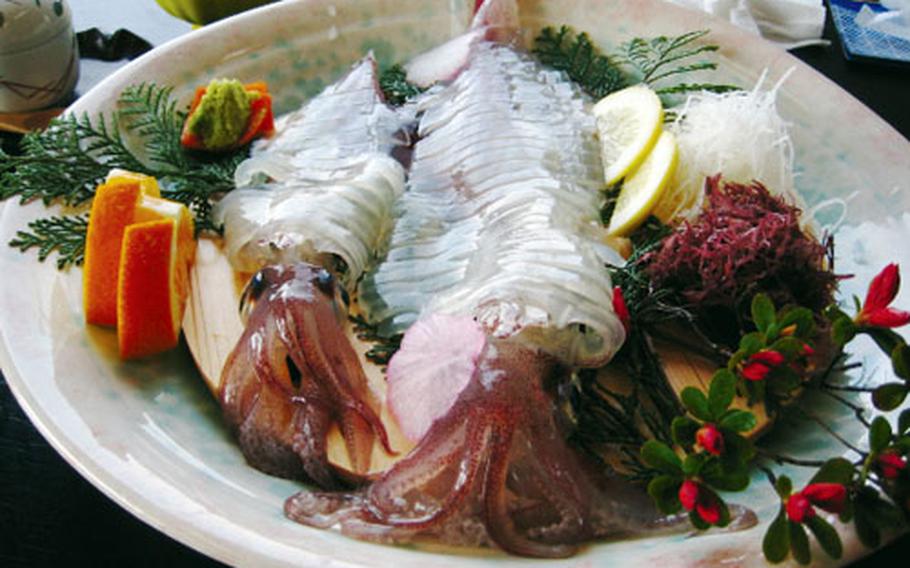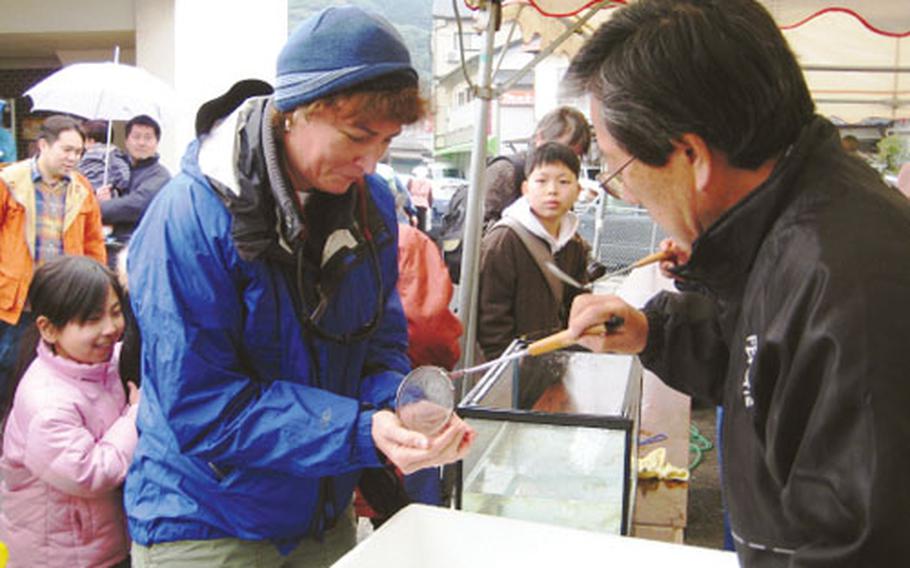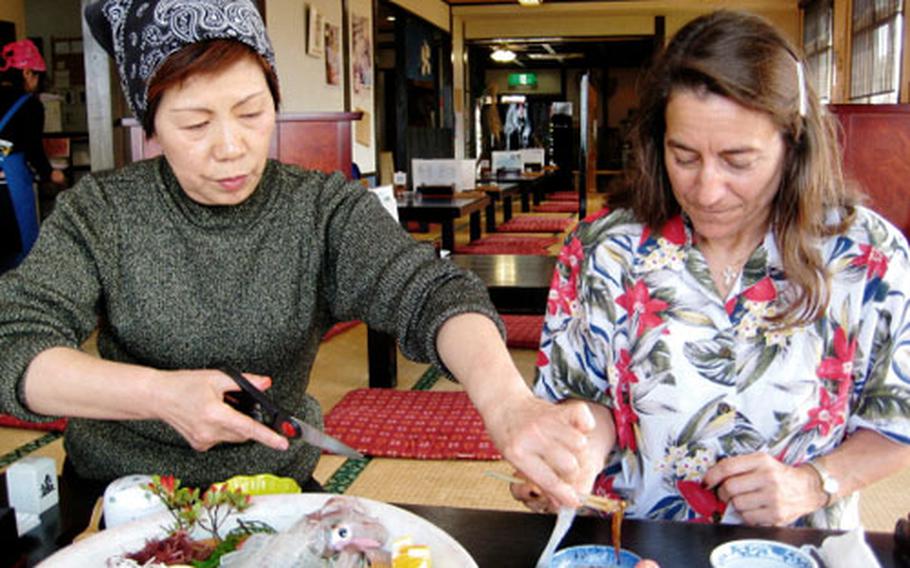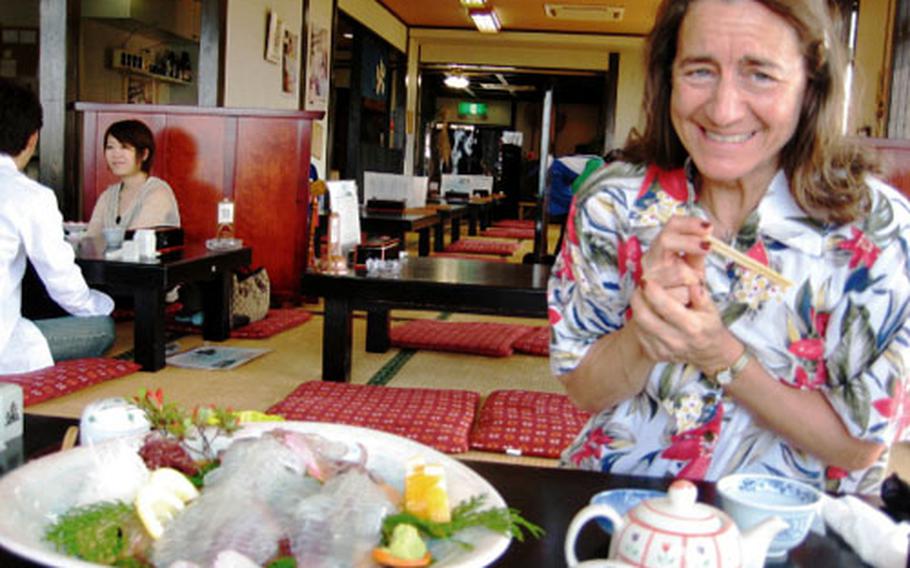 Finding adventure in Japan is easy.
Just get in your car and go!
But where to go? Sometimes you hear about a place or an event, and you coerce a few friends to explore with you. Sometimes you go by yourself.
However, since you should be able to back up what you say, it's important to take along someone who can be a witness and take lots of pictures to document the event.
Recently, I've tried some things so unlike American culture (and probably unlike any other culture, too) that I can only describe them as "Japanesy." All the events are well-known on Kyushu, and some are famous all over Japan.
Green tea: Not just a drink
Urechino is a town northeast of Sasebo. It is well-known for its onsens. Hot water comes up through the earth, and the Japanese have become masters at designing outdoor onsens that give one a sense of peace and calm.
One sunny afternoon, after a hard day's work, a colleague and good friend, Kelly Kirby, asked if I wanted to go to Urechino to try one of the onsens. She told me of the famous green tea onsen. Green tea?
The Japanese find many uses for green tea — drink it, eat it as ice cream, bathe in it. So we went.
We stopped at a tea shop for a cup of green tea, and a Japanese lady escorted us through the town down some narrow, winding streets to the onsen.
After a shower using green tea soap, green tea shampoo and green tea conditioner, we went outside.
The place was serene and beautiful. Blue skies allowed the sun to create diamonds on the pool water, which was bordered by bonsai trees and boulders. A thatched lean-to provided shade. Heaven, I'm in heaven.
Under the lean-to was a stone tea pot tipped about 30 degrees so that the hot water continuously pours into the onsen.
You take one or two of the supplied green tea bags, dip them in the hot water that you are soaking in, rub them on your body or lay them on your face to absorb the toxins. I don't know if they absorb toxins or not, but after gliding the tea bags down your face and arms for a while, your skin sure feels silky smooth, and the water turns green!
Chomping down on 'dancing fish'
Each year in the small town of Saza, there is a "dancing fish" festival. This festival is only held on Kyushu. I had been invited to attend last year. However, when I was given more specific details (you are served bowls of little fish still swimming around in the water, and you eat the fish live!), I politely turned down the invitation. I did not even want to go watch others eat the live fish.
But this year, something snapped inside me: This was an experience I could only get in Japan, and I knew if I didn't do it, I would wonder my whole life what I had missed. So, Kelly, my sister Jo-Ann, another friend, Katie, and I went to the festival.
I didn't really want to sit down and have a bowl full of fish, although I was prepared to say: Odori gui wa tabai tai. Doko desuka? (Literal translation: I want to eat "dancing fish." Where are they?) Instead, there was a tent set up with tables of fish tanks swarming with odori gui (pronounced oh doory gooey).
We went over to watch people try samples, our cameras at the ready. I observed little kids cupping their hands and receiving a scoopful of water with little see-through fish swimming around (looking for a way to escape, I guess). They gulped them right down. Well, if those kids could do it, so could I!
A Japanese man caught my eye, saw my interest, and waved me over. He scooped out a ladle of fish for me. I looked at them for a brief moment, closed my eyes, opened my mouth, and in they went! Crunch, crunch!
"You're not supposed to chew them!" "What?!" I was mortified. I had not done it correctly, and now I would have to do it again!
Another scoopful of water — but only one fish this time. Good. Easy. No problemo.
I opened my mouth, sucked in the water, and swallowed. Down went the water, but the fish was still banging around in my mouth. Against my teeth, against the roof of my mouth. Mm! Mm!
I couldn't swallow it! I couldn't spit it out! It seemed as if everyone was watching me. My friends were laughing. Mm!
I tried to work up saliva to get it down, but that's pretty hard to do with something knocking against your teeth — "Open sesame! Open sesame!"
It did become humorous (this could only happen to me!), and that made it even harder to swallow. But swallow I did. Enough of that! Let's go eat some real food — a bowl of cooked noodles.
Road trip to 'squid town'
Karatsu is a city on the northwestern coast of Kyushu. Near it is a fishing village well-known for its squid. The last time I was in this town, I saw hundreds of squid hanging like laundry. Kelli was eager to see that, and I was a willing guide. I figured, how hard would it be to find this place? I was there three years ago, and I have a great memory.
I'm also 50 years old. That should give you a clue as to how "easy" it was.
The drive to Karatsu is beautiful. We drove through lush green countryside alive with colorful flowers of all types. Nearer to Karatsu were fields of tulips — red, yellow, white with a splash of purple.
We saw the sign for Mount Kagami and decided to go to the top and take a look before trying to locate the fishing village.
Mount Kagami is a high ridge that overlooks the ocean and seaside fishing villages. One of the villages was where the hanging squid were located. I still couldn't remember where it was or the name of the town, so we approached a Japanese couple to inquire about the "squid town."
Using hand motions and a few Japanese words, we tried to communicate.
It went something like this: Kelly spoke some Japanese words, "Doko desuka hotate." She thought she was saying, "Where is the squid?" but she was actually saying "Where are the scallops?"
The Japanese couple didn't understand us, so we began to use hand motions. Kelli hung her hand upside down like a squid and wiggled her fingers like tentacles, all the while saying "Where's the scallops?"
The couple was looking at her and talking to each other. Their expressions said, "What the heck are these Americans trying to say?"
Kelli kept repeating "scallops, scallops" as she wiggled her fingers. Then I said, "Squid. Laundry." And Kelly motioned like she was hanging laundry.
"Yubuko?" the girl asked. "Hey, maybe that's the word for squid!"
We didn't know, but thanked them politely and left.
We stopped a gentleman and tried to ask the same thing. Maybe he'd understand. Kelly did her hand imitation of a squid, and we said, "Laundry! Hotate!"
He looked confused. Then I started acting like a fisherman casting his line, and he said, "Ah, Yabuko?" We shrugged. Wait that's the same word the girl said!
I said, "Hai!" He said very plainly, "Go down. Lefto."
As we approached the car, Kelly said, "Hotate is not the word for squid. It means scallop!"
We began laughing hard. No wonder they couldn't understand us.
When we got in the car, Kelly suggested we call Travel and Tours at Sasebo Naval Base and ask for directions. Izumi knows both of us because we are often in the office asking for information or lost on the road somewhere and calling for directions. She said we were looking for Yabuko — the town famous for serving live squid. So the Japanese had understood us all along. We just hadn't understood them!
I also asked the Japanese word for squid — ika (EE ka).
Just outside of Yabuko, we saw our first hanging squid — only these were on a five-tiered rack that spun around. We took pictures and asked for an ika restaurant.
A man pointed to a business right down the block. We pulled into the parking lot and asked the man if they served ika. Then I got out the phone and told Izumi that we wanted to eat live squid. She translated. Yep. We were at the right place.
With a little help from Izumi again, we ordered live squid for two.
The waitress served two live squid decoratively presented on a platter. We could see the tentacles moving. And we could see the life force pumping through their bodies.
Their eyes looked at us if to say, "So, you're really going to do this!"
The top flesh of the ika was cut in strips so that the underlying part of the squid was intact. "Hey, this is the stuff I like!" For five years I did not know what it was. It was squid! Very tasty.
I went to take another strip, and two tentacles shot out at me. Ahh! Not a scream, but definitely a startled cry of alarm.
Gingerly, I stretched forth the chopsticks and snatched another strip.
After a while, the waitress returned with a pair of scissors. She snipped off two tentacles and placed them in my soy sauce. They were squirming around!
She put two in Kelly's bowl. I ate one of mine. Hey, not bad.
It wasn't until I went to eat the second one that the ika gave one last fight for its life.
The tentacle first squirmed in the soy sauce. When it stopped, I put it in my mouth. Before I could chew it, it stuck to the roof of my mouth! Mm! Mm!
I tried to use my tongue to unstick it. Kelly is snapping away with the camera. Mm! Mm! Those suckers wouldn't let go.
I drank some warm tea. Maybe that'll break the suction.
Kelly's laughing — I'm not. More tea. Would they ever let go?
Finally, I pried them loose with my tongue, chewed and swallowed.
Just another taste of Japan.
---
---
---
---