In the field, 'hardened' computers are worth the extra cost
---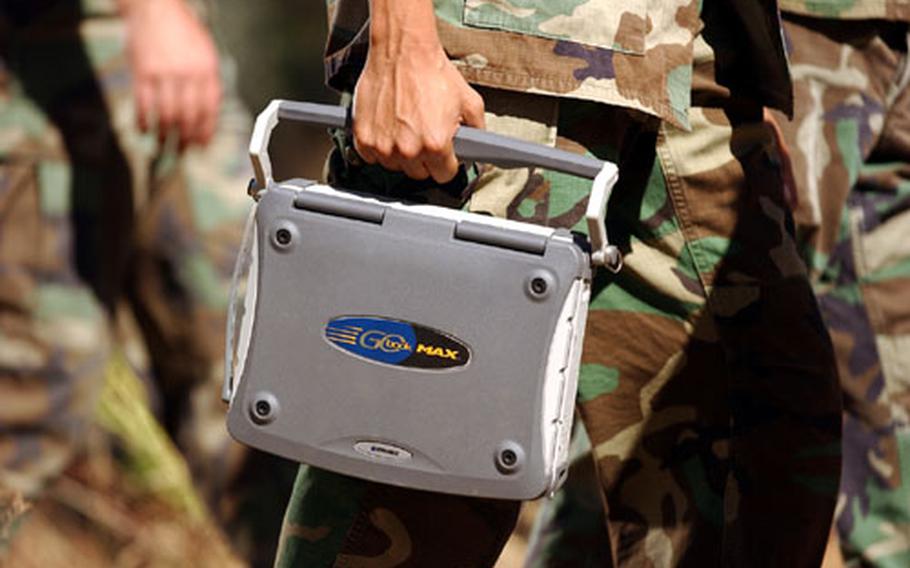 Gas masks aren't the only prized possessions in the desert.
Some troops off to the beach-without-water took along buff allies: PCs tough enough to take on Saddam.
They're called "hardened" or rugged computers. Companies such as Dolch, Itronix and Panasonic make these machines especially for troops, hazmat teams, G-men or industry.
They're more expensive than your Circuit City liquidation special: A rugged personal digital assistant can go for $2,000, with laptops starting at around the same price but going beyond $5,000. Many are armored in materials such as magnesium alloy.
Spendy? Yeah. But try throwing your average iBook into the fish tank.
"This is the price you pay for protection," said Boris Linschitz, general manager of Dolch, interviewed at the CeBIT technology fair in March.
"What happens if it rains?" Linschitz asked of those using normal hardware.
One of his toys can be used as an umbrella. Even a football.
"You can throw it. You can drop it," he said.
The fish tank crack wasn't just a joke. At CeBIT, Linschitz showed off his company's PDI, or "personal display interface" — a sort of cross between a PDA and a Tablet PC — inside an aquarium beneath a constant shower. The screen was on the entire time.
The Dolch offerings are clothed, appropriately, in olive green.
Toughness is more than skin-deep. Rugged computers feature shock-mounted hard drives and spill-proof keyboards.
American manufacturer Itronix says of its GoBook MAX: "We drop each one 54 times from one meter, bake it in an oven, chill it in a freezer, vibrate it and submit it to a shower of hurricane proportions."
The FBI recently bought high-end GoBooks for its bioterror response team. The machines are also serving in the Middle East and elsewhere.
"One of the things we've done is work [with] the 82nd Airborne and 10th Mountain Division to test battlefield awareness systems for the foot soldiers," said Matt Gerber, vice president of marketing at Itronix.
Instead of communicating positions via radio, which can be misunderstood in the stressed garble of combat, soldiers use Itronix computers to relay information to command centers in real time.
Not all of them may be used for surfing under fire, but most GoBook buyers still opt for wireless modems.
At least one such 'book has really been under fire and booted up to tell about it. Panasonic's Toughbook series deserves its name, the company brags, because one of its machines took a bullet in a sheriff's squad car. Though the hard drive needed replacement, the machine powered up fine.
"They aren't for everyone," Linschitz said of his Dolch machines.
But if you're downrange, one might be right for you.
---
---
---
---