In Kaiserslautern, Hirtle Burgerbrüder serves a decent burger and fries
---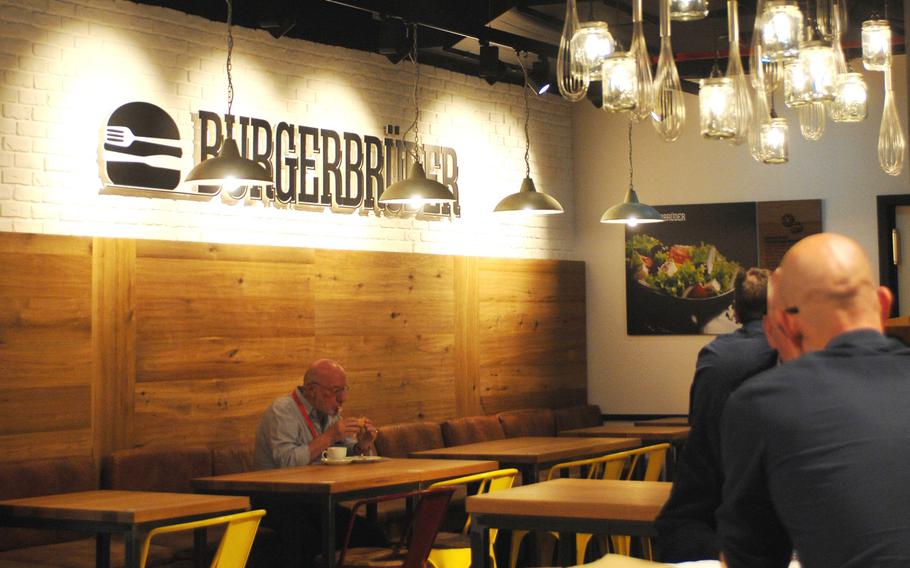 Many of my Stars and Stripes colleagues and I were irrationally excited about the opening of K in Lautern, the new shopping center recently rushed into existence in downtown Kaiserslautern. I'll withhold their identities to preserve their dignity. The last of my dignity was squandered the time I complained in print about portion sizes at a Chinese buffet, so I don't mind having my name attached.
I've visited the mall a few times since it's opened, including two trips to its sizable food court. I had a mediocre pizza on one occasion and a mediocre burrito on the other, passing on mediocre Indian, mediocre Asian and KFC.
If that's your scene, fine. I might even see you there some time. But if you find yourself at this mall, skip the food court and head underground. Just as the Smithsonian Institute keeps some of its most compelling artifacts hidden in the basement, so too does K in Lautern.
This floor is a hidden wonderland. Mymuesli sells customized cereals. Surrounding stores and kiosks sell pastries, feta cheese, dried fruits and something called chocolate kebabs, which offended even my deranged food sensibilities. Donut Kings was out of boxes to hold my order, so they gave me a free mini doughnut to compensate for smashing my six full-size doughnuts into a bag. A Subway sandwich shop was advertised but not yet open, as if it were apprehensive about participating in the debauchery. I liked the way this place operated.
But the Space Mountain of this gastronomic theme park is Hirtle Burgerbrüder.
At first glance it's just your typical German imbiss, with the same bratwursts eternally sizzling on the same table-size grill and the familiar glass case full of flesh and intestinal linings. But look closer. That is, in fact, a metal bull's head affixed to the kitchen wall. And, yes, that is a high-resolution picture of a juicy bacon cheeseburger. Could this be a burger joint?
For unexplained reasons, it's often as hard to find a decent cheeseburger in Germany as it is spicy Mexican food or a refillable soda. This shouldn't be: The word hamburger derives its name from the German city of Hamburg, and Germans are otherwise extremely proficient at converting dead farm animals into tasty meals. But it's true nonetheless. Burgerbrüder could be an exception. Their house favorite is the Brüder Beef, a patty topped with bacon and cheese and served with lettuce, tomato, onion and a tangy, Thousand Island-style sauce. My wife and I ordered one each, shared a side of fries charmingly called Papa Fritz, and took our seats in the dining room.
I'd like to say this burger rivaled the best I've had in the States, but that would be an exaggeration. It was simply very good. Nearly all of the German burgers I've had leave an odd aftertaste that I've never been able to identify, and this one had it too, if a little more subdued. But the quality of everything else, from the toppings to the bread to the generous cheese and bacon, nearly made up for that one complaint.
The cheeseburger at Hirtle is better than mediocre, and it's the best thing I've had so far at K in Lautern. At least until I finally work up the nerve to approach that chocolate kebab stand.
HIRTLE BURGERBRÜDERLocation: On the underground level of K in Lautern, Kaiserslautern's new monolithic mall.
Directions: Follow signs to Kaiserslautern Stadtmitte; you'll see the mall from a long way off. Parking is available at the mall or in several other well-marked garages.
Hours: 9:30 a.m. to 8 p.m., Monday-Saturday, same as the mall that houses it.
Dress: Whatever; it's a mall. You can pick up something at C&A or Primark if you feel underdressed.
Costs: Under 2 euros for your street-food staples, such as bratwurst and frikadeller. A basic burger starts at about 4 euros, while salads start at 3 euros.
Information: Search for Hirtle Burgerbrüder on Facebook or visit the mall's website, www.k-in-lautern.de.
---
---
---
---