'Immediately went in and got everybody'
---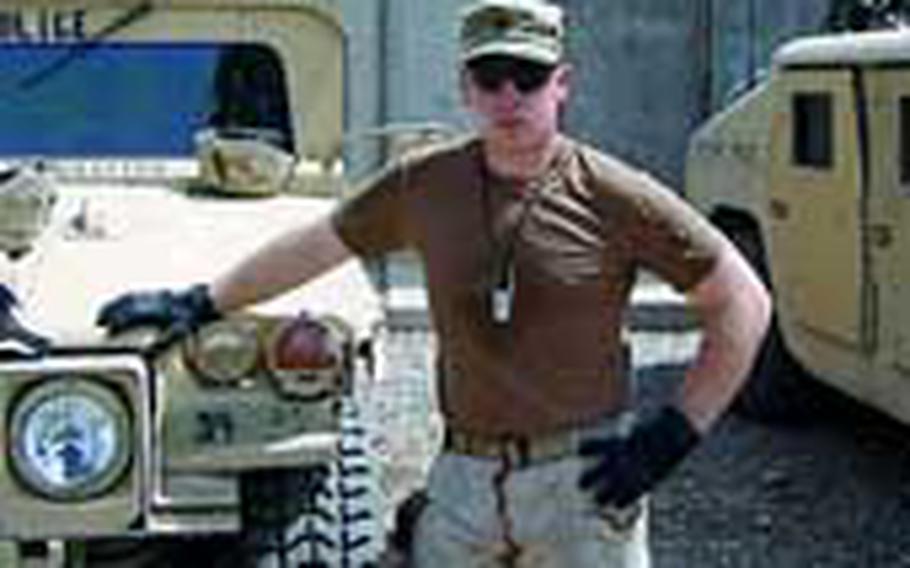 After a few quiet weeks in Karbala, Iraq, then-Pfc. Matthew Bratton wasn't expecting to end up in a firefight, much less lose friends.
Bratton, now a sergeant, said the 194th Military Police Company team he belonged to was supposed to spend a slow night manning radios at an Iraqi police compound Oct. 16, 2003.
But just as they were getting ready to begin their shift, they heard the distress call over the radio: "We're taking fire! We need assistance!"
A group of insurgents manning an illegal checkpoint had ambushed a squad of military police from Bratton's company.
Bratton — now assigned to the 142nd Military Police Company, 19th Sustainment Command (Expeditionary) in South Korea — said he and his team rushed to their Humvees and sped off to the aid of their comrades.
"We immediately went in and got everybody," Bratton said. "We didn't wait to make a plan. We just went in and laid down suppressive fire."
Bratton said the ambush raged just a few blocks from the police compound and he wasted no time getting to the fight. He was driving so fast, he said, that the vehicle went up on two wheels at one point.
"It would have been something cool to see in a movie, but I didn't even pay attention," Bratton said.
Within minutes his team's three Humvees arrived at a scene Bratton described as "mayhem." Insurgents poured fire onto the ambush site from all directions, and his fellow soldiers had already taken three or four casualties.
The soldiers loaded the wounded into a Humvee, which raced back toward the compound. Bratton steered his own vehicle next to another Humvee and hurriedly exited the passenger door.
The first thing he spotted was a group of men standing in an alleyway, but he wasn't sure if they were insurgents. They answered that question for him with a burst of automatic gunfire.
He returned fire until he emptied an entire magazine; the gunfire from the alley ceased.
Rounds continued to pepper the ground near him, but Bratton said the alleys and streets were covered by his teammates and he wasn't sure where the fire was coming from.
A moment later, he glanced up and spotted three or four men firing down into the street below from a three-story building.
"I started firing controlled bursts at these men," Bratton said. "One of my tracer rounds stopped on a man's chest. It burned out on his chest, then he fell forward, all the way down into the street. I remember being satisfied; 'That's what you get, mother [expletive],' I yelled."
Bratton said he wasn't sure what his unit would do — whether they would stay and fight their way through the insurgents, or evacuate the rest of the wounded and leave. His first sergeant eventually screamed "Get them out of here," Bratton said of the wounded.
Bratton said three fellow military policemen were killed that night, and he believes more would have died if his team had not moved so quickly.
After the attack, he said, his unit had a hard time adjusting to the loss.
"It was pretty rough for a few days," he said. "We hadn't lost anybody at all before [that night]. It was hard to let people go."
Bratton was awarded a Bronze Star with "V" device for his actions. He said he was one of seven or eight from his team to receive the award. He said three to four others received Army Commendation medals with "V."
Since then, he's learned to take being called a hero in stride.
"I've been told since that night that I was a hero — exposing myself to enemy fire, eliminating enemy targets, helping evacuate the wounded," he said. "I did what I was trained to do, and what my gut instincts told me to do; eliminate the threat from my fellow comrades. I did the right thing in the right situation. If that makes me a hero, well, that's just fine with me."
Pfc. Matthew Bratton
Unit: 194th Military Police Company
Medal: Bronze Star with "V"
Earned: Oct. 16, 2003 in Karbala, Iraq
---
---
---
---