Ibushi Ginjiro must be tried at least once when deployed to Okinawa
by
Matthew M. Burke
May 10, 2017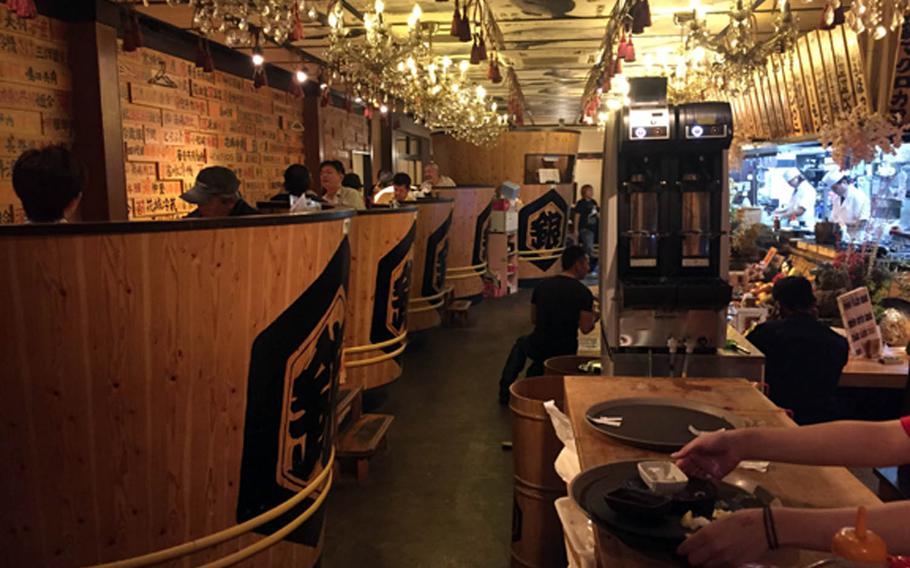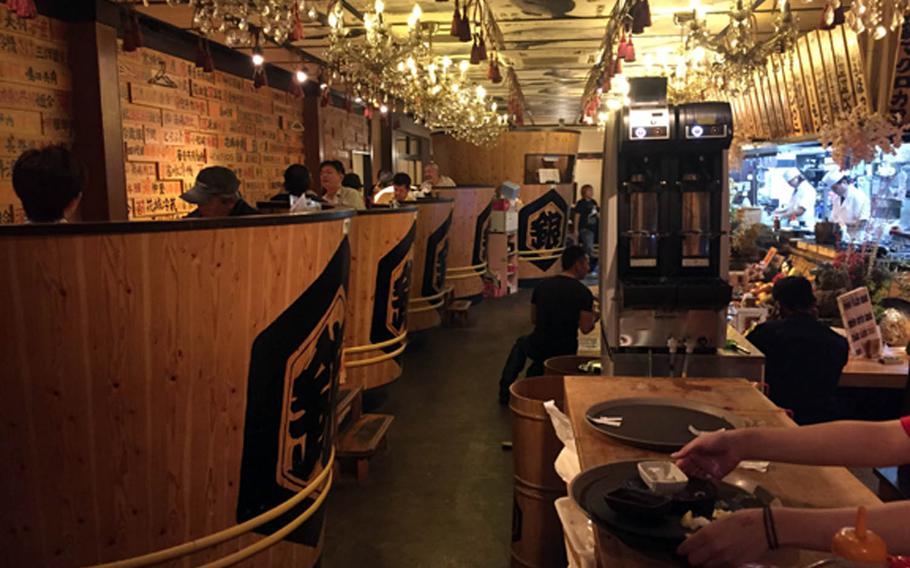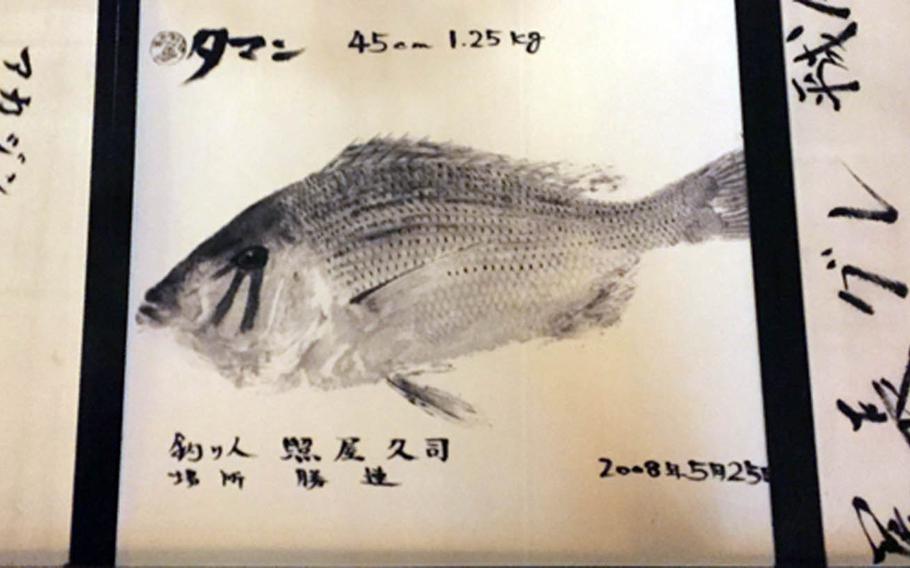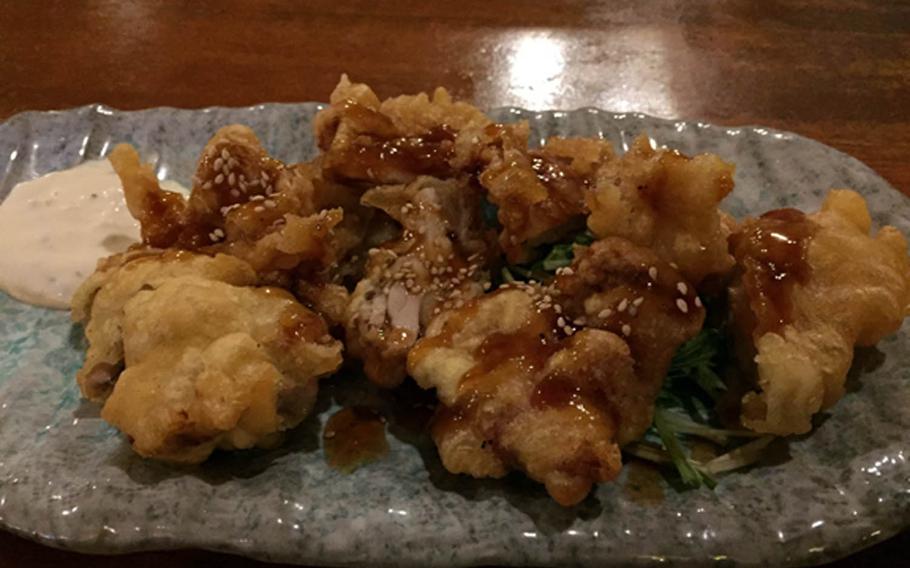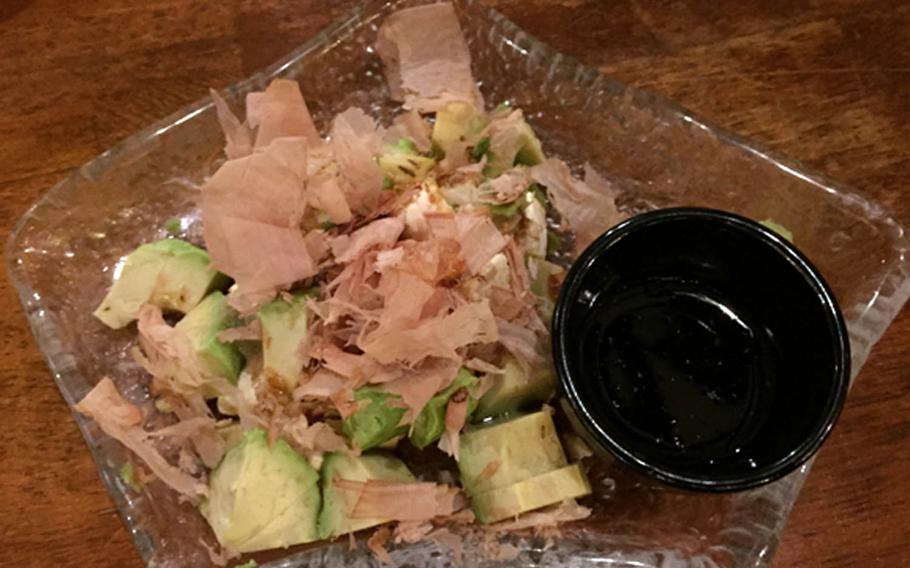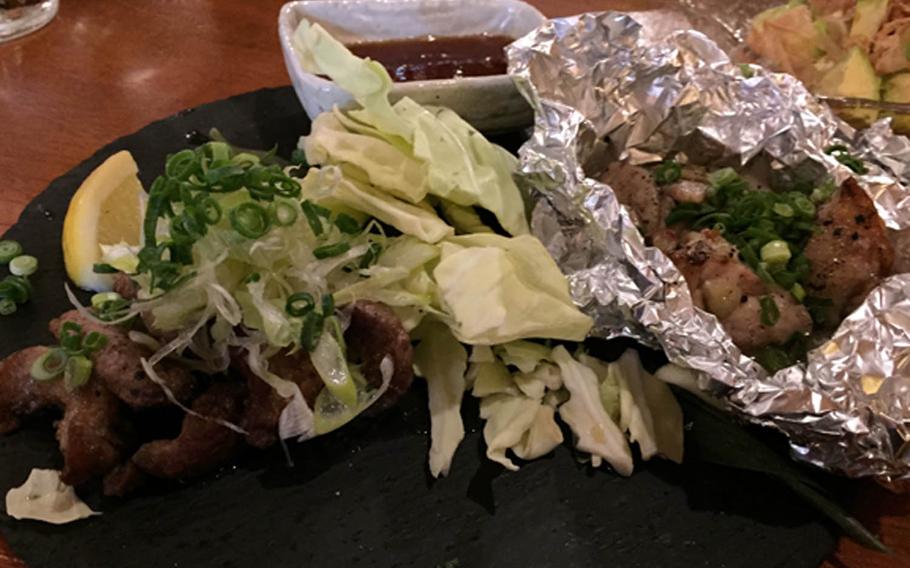 Would you, could you, eat and drink in a giant sake barrel?
The answer is emphatically "Yes!" at Ibushi Ginjiro, a popular Japanese izakaya, or pub, in Okinawa city.
The izakaya — and its 200 seats — opened in 2011 with a Japanese festival theme. It offers fun and tasty food and drink to ensure patrons have a great time, as if they were at a Japanese celebration. It has since expanded to other locations in Awase District and even Bangkok.
Ibushi Ginjiro's decor is much talked about in town and is a huge part of the experience — from its funky slatted-wooden exterior down to the ceilings, walls and tables. Not only can you sit at a table in an enormous sake barrel, but the ceilings also are plastered with gyotaku, or impressions made from ink-covered fish, used to record a memorable catch. Wooden fish-market placards featuring the names of fishermen and fish sellers also cover the walls.
Patrons have the option of sitting fireside in front of the cooks at Ibushi Ginjiro's counter seats as they work the grill.
Beyond the superficial, the other half of the great experience is the food and drink. Ibushi Ginjiro contracts with local farmers, fishermen and private sellers from all over Japan to ensure the freshest ingredients so customers can enjoy seasonal foods year-round.
This translates into affordable prices. The average dinner for a couple is usually around 3,000 yen (about $27), according to online reviews.
The staff at Ibushi Ginjiro was warm and friendly. They recommended the sashimi box, called sashimi-no-rokuten-kobako, which costs just 500 yen and features six kinds of fish on one plate. The fish is fresh and changes every week to ensure the highest quality.
Another popular item is the hotate-no-sumibiyaki, or charcoal-grilled scallops, for 350 yen.
My family eats a lot of fish, so we were in the mood for something different when we went to Ibushi Ginjiro in late February. We started with an appetizer of avocado with cheese for 490 yen. The avocado and cream cheese chunks had soy sauce and wasabi mixed in and came with dried fish shavings mounded on top.
It was an interesting combination — ultimately delicious — and almost made us full before the main course arrived. I could see how the soy sauce and wasabi might drive one to drink more and more beer, which is what most people want from a traditional pub.
For the main course, we decided to get a few small plates and share in traditional Japanese style.
The chicken nanban for 490 yen was one of the best I have ever had — better even than in Miyazaki, where the dish supposedly was invented. It seemed lighter, fresher and had more flavor.
The Okinawan udon for 490 yen was average — as good as you will find anywhere on Okinawa unless you go to a place that specializes in the authentic noodle dish. It was not disappointing; it just didn't stand out.
A plate of grilled Italian Iberian pork and charcoal-grilled chicken thigh for 880 yen was also very good. The meat arrived with grill marks, almost crispy on the outside, bursting with juicy flavor inside, with dipping sauce and a generous helping of salad.
No good party would be complete without drinks, and Ibushi Ginjiro definitely has customers covered there. It offers draft beer and highballs for 190 yen for the first hour, along with all-you-can-drink specials.
Its ginger chu-hi with real ginger slices floating in it was like a sweet ginger ale on steroids that did not disappoint at 290 yen. The Lupicia muscat tea chu-hi felt very bourgeoisie but was also very tasty, elevating the feeling of relaxation at 350 yen.
Ibushi Ginjiro was a great experience with affordable, fresh food, exciting cocktails and second-to-none decor. The only bad part of the experience was the cigarette smoke.
All in all, though, Ibushi Ginjiro is a party place that must be tried at least once when deployed to Okinawa.
Stars and Stripes reporter Chiyomi Sumida contributed to this report.
Ibushi Ginjiro Location: 4-21-12 Awase, Okinawa City, Okinawa
Hours: 5 p.m. to 2 a.m. Monday through Sunday (last order at 1 a.m.)
Prices: Dishes start at a couple of dollars. Restaurant reviews say the average dinner receipt for a couple is 3,000 yen (about $27).
Dress: Casual
Information: 098-989-8122 (reservations recommended)