'I wanted to make myself a target'
---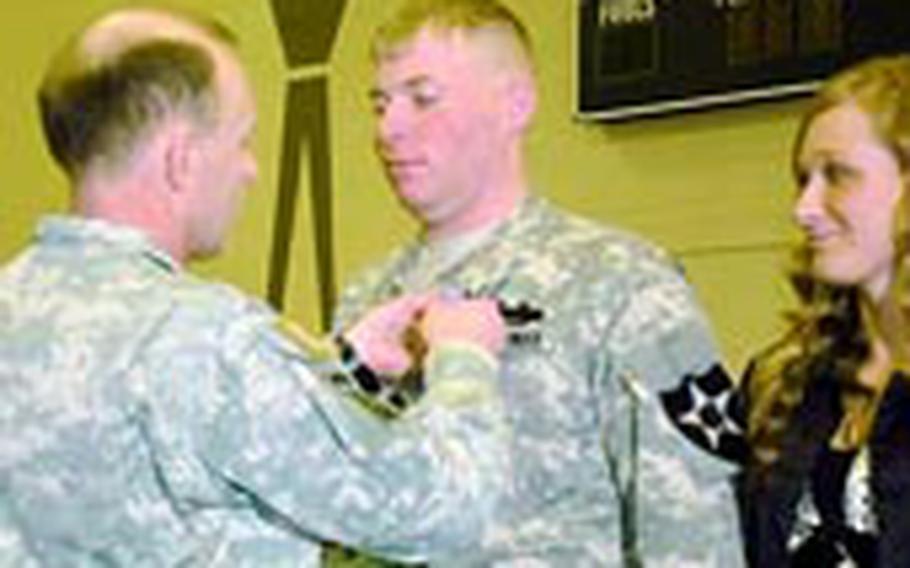 Staff Sgt. Jon Hilliard lay sprawled atop the burning Stryker.
A buried bomb had ripped through his unit's vehicle during a clearing mission in Baqouba. The force of the blast shot Hilliard some six feet into the air, tearing ligaments in his left leg. Smoke poured into the troop compartment below, where his injured 5th Battalion, 20th Infantry Regiment soldiers were in need of medical help.
Hilliard had a choice.
He was alone and unprotected on top of that Stryker. Immediately after the explosion, machine-gun fire ricocheted around him. An ambush was under way. It all happened in a flash.
A decision had to be made fast: Take cover or stand up and fight.
But Hilliard insists: "There was no choice."
"I wanted to make myself a target. My biggest fear was soldiers getting hurt during the evacuation," said Hilliard, 26.
Left without his weapon after the explosion, Hilliard spotted an M240 machine gun wrapped up in cammo netting. He used his knife to cut it loose. Then he stood up and aimed at the direction of the ambush.
"Rounds were hitting all over the Stryker," said Hilliard, of Winlock, Wash., who served as a squad leader with the Fort Lewis, Wash.-based 3rd Brigade, 2nd Infantry Division.
Hilliard wanted to provide cover and draw attention away from the injured soldiers being evacuated. That meant exposing himself to the return fire.
For about three minutes, Hilliard fired at the insurgents, which allowed seven of the injured to be pulled to safety.
After the wounded were evacuated, Hilliard climbed down from the Stryker to take control of his squad. The fighting continued for about another 20 minutes, he said.
At one point, he crossed a clearing to retrieve a weapon, which meant coming under fire once again.
"Some asshole fired an RPG (rocket-propelled grenade) at me. It landed about 10 meters away," he said.
Hilliard says he wasn't frightened during the fight. Just angry. Two of his soldiers lost legs because of that bomb.
"I've been in quite a few battles. The combat thing doesn't shock me or scare me," he said. "Every day you get tested. There is no common enemy. You don't know who the enemy is. It's like being blind. But my biggest fear was losing one of my guys.
In February, Hilliard was awarded the Silver Star for his actions on March 24, 2007.
Hilliard's "bravery in the face of fire, tireless efforts and selfless service were instrumental in the successful recovery and evacuation of men, weapons and equipment, as well as the destruction of numerous [enemy forces]," according to a brigade account of Hilliard's valor. "His actions and his demeanor were truly inspirational to those present throughout these actions."
But like so many others, Hilliard recoils from being called a hero.
"I was just doing what any NCO would do for his men," he said.
Staff Sgt. Jon Hilliard
Unit: 5th Battalion, 20th Infantry Regiment, 2nd Infantry Division
Medal: Silver Star
Earned: March 24, 2007, Baqouba, Iraq
---
---
---
---