Honolulu: Interactive guitar exhibit is music to visitors' ears
---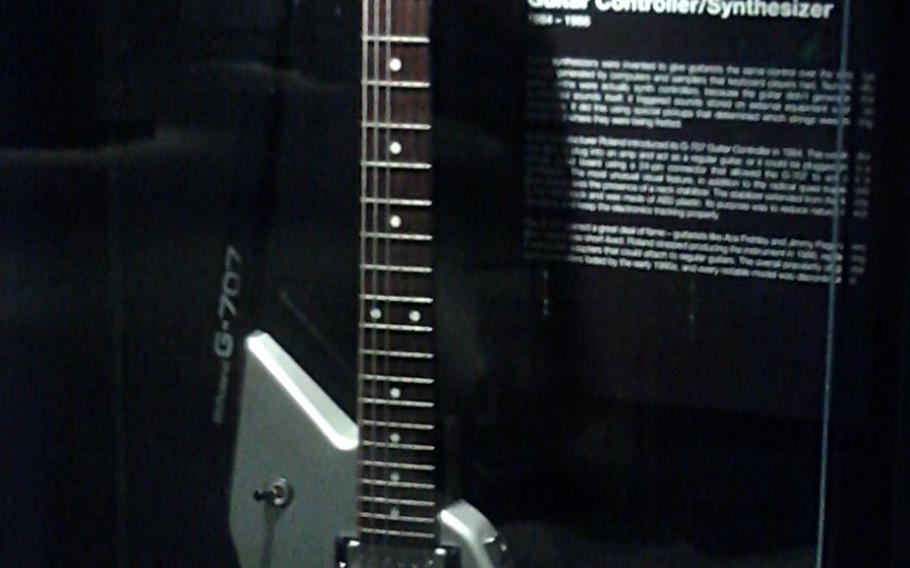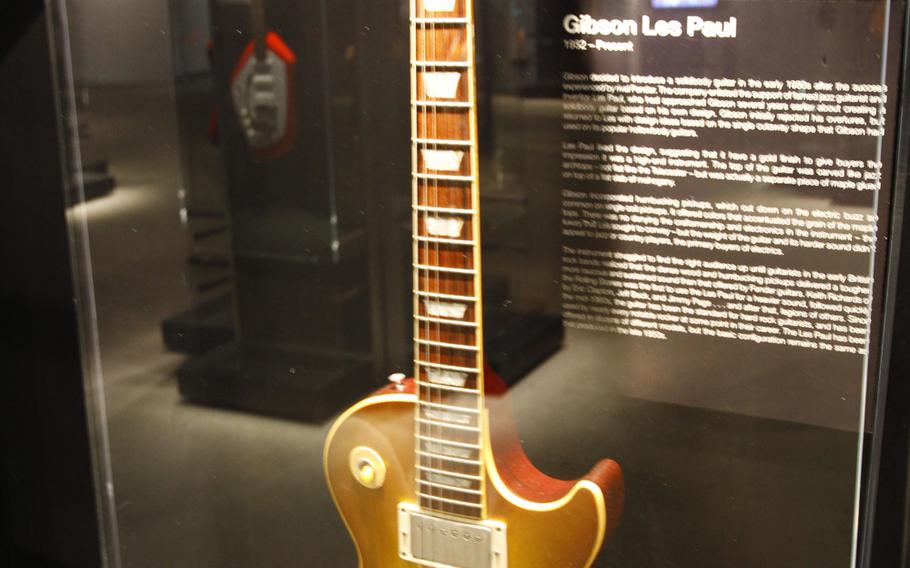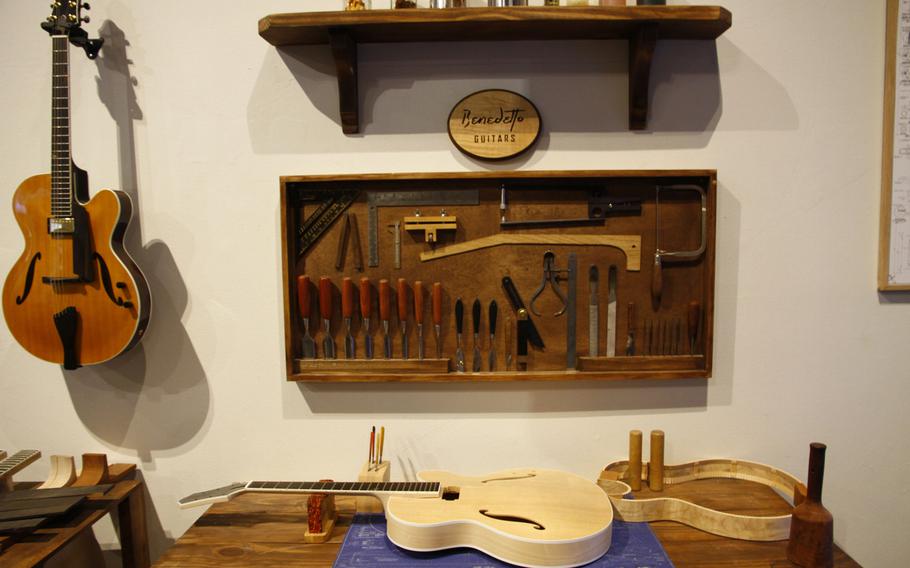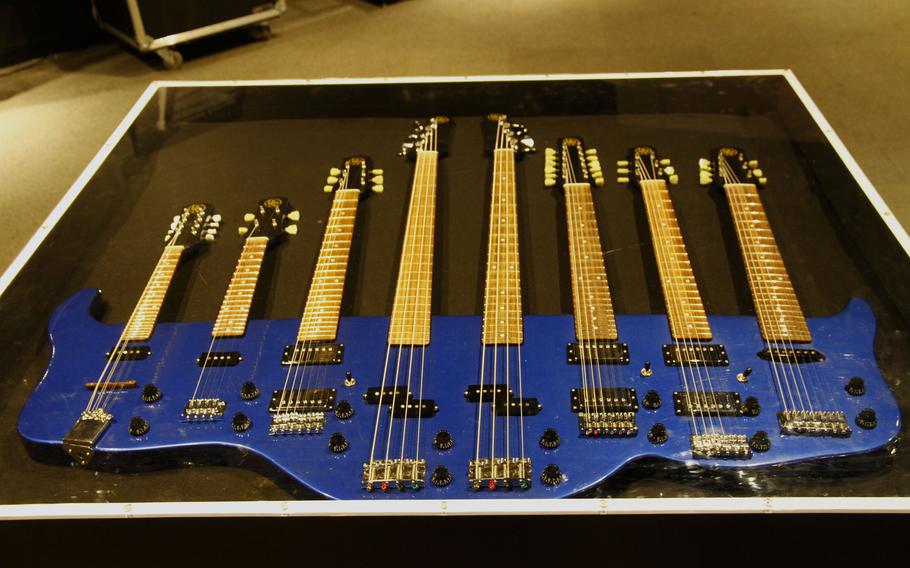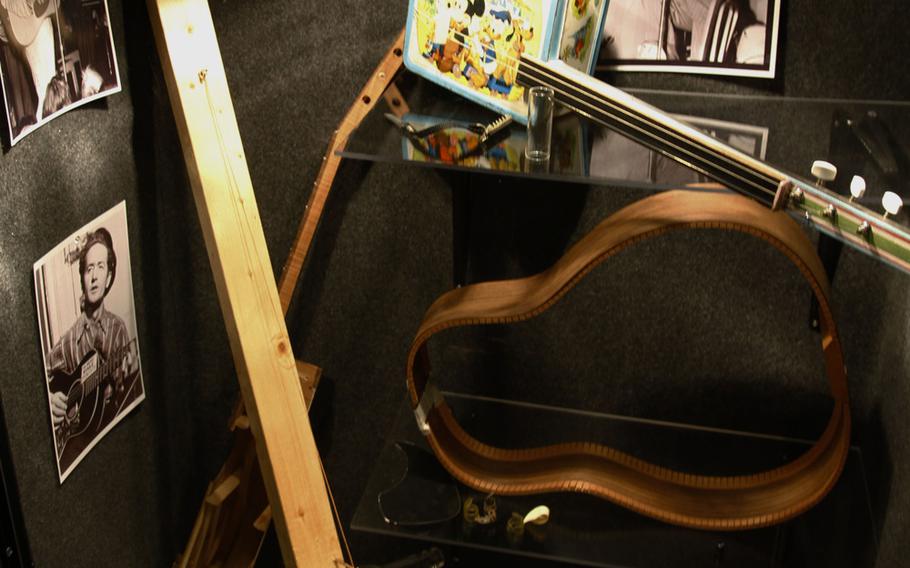 So you wanna be a rock'n'roll star,
Then listen now to what I say,
Just get an electric guitar
And take some time and learn how to play
— The Byrds, 1967
Even if you're already a guitar guru, surprises await at "Guitar: the Instrument that Rocked the World," an interactive exhibit at Honolulu's Bishop Museum through August.
The first wonder is at hand immediately upon entering: a 43-foot-long, 16-foot-wide replica of the legendary Gibson Flying V electric guitar. Weighing more than a ton, you have to wonder how they ever got this bloody thing into the building.
It's touted as having earned a spot in the 2001 Guinness Book of World Records as the largest "playable" guitar in existence. Made at the Academy of Science and Technology in Houston, the monster guitar is not, however, accompanied by a comparable-sized amp. That might be a disappointment to diehard headbangers, but it's good news for the Earth because that many decibels would probably flick the globe out of the solar system.
Patrons are welcome to strum the strings, which are actually wound steel cables of the type that anchor electric poles to the ground.
This is one of the many interactive displays at the exhibit, most of which can be enjoyed — and understood — by children. For example, one display is a row of strings of varying thicknesses that demonstrate "wave lengths" and volume via an optical illusion created by a rotating barrel. Another asks you to tap types of wood with a mallet to compare the tones each would produce once fashioned into a guitar body.
The exhibit is set up in two large rooms. The first holds many examples of stringed instruments from which the guitar is descended. It's analogous to a natural science museum that begins with primates, leading to Homo erectus and Neanderthals, then to Homo sapiens.
In this room are examples of stringed instruments that, while perhaps not direct ancestors of the modern guitar, have a place in the family tree. The two-stringed tanbur dates back at least 3,000 years, and dozens of variations of it are still played in North Africa, the Middle East and Central Asia.
The four-stringed pipa is still central to traditional music in China and can be traced back to the Qin Dynasty in 220 BC.
The charango, from the South American Andes, traditionally used the shell of a native armadillo called a quirquincho for the instrument's body. Most modern charangos use wood instead, which is often fabricated to look like the animal's shell.
The exhibit's second room lays out the actual evolution of the guitar over the past 100 years.
And in here lies another surprising discovery: In the first part of the 20th century the guitar was not actually very popular with performing bands. Musicians preferred banjos and mandolins, two instruments with enough volume to hold their own in a boisterous ensemble.
The small-bodied guitars being built at the time just couldn't howl loudly enough. But as radio and vinyl records began offering up the pleasant sound of the six-string, the guitar's popularity grew with the public during the Great Depression.
Martin & Company introduced the large-body D-28 in 1931, which gave the instrument a voice as loud as any banjo.
Designers began tinkering with electronic amplification of guitar strings in the early 1930s. It was around that time that the Adolph Rickenbacker company introduced Model A22. Dubbed "The Frying Pan," the A22 was arguably the first solid-body electric guitar manufactured. The museum has serial number 11 of the A22 on display.
Guitarist Les Paul is generally credited with developing the first wooden solid-body guitar, a chunk of pine that he affectionately nicknamed "the Log." And while the Log isn't on display, the Gibson Les Paul is. That model was a collaboration between him and guitar manufacturer Gibson, which in the early 1950s was in fierce competition with Leo Fender and his Telecaster electric guitar.
There's a final surprise in the last display case that's irreverent and fun. You'll have to visit the exhibit to find out what it is. But here's a clue from Radiohead's "Anyone Can Play Guitar":
"I want to be in a band when I get to heaven; Anyone can play guitar and they won't be a nothing anymore."
olson.wyatt@stripes.com
"Guitar: the Instrument that Rocked the World,"
Location: Bernice Pauahi Bishop Museum, Castle Memorial Building, First Floor, 1525 Bernice St., Honolulu, Hawaii
Times: 9 a.m. to 5 p.m., Wednesday to Monday, closed Tuesdays
Costs: Admission is $19.95 or $12.95 for adults with military ID; $16.95 or $10.95 for seniors with military ID; $14.95 or $8.95 for ages 4-12 with military ID; free for ages 3 and under. Free parking in lot.
Information: Photography and videography allowed. Phone: (808) 847-3511; Website: bishopmuseum.org/exhibits
---
---
---
---