Heritage in stone: U.S. bases watch over monuments in South Korea
by
Franklin Fisher
January 12, 2003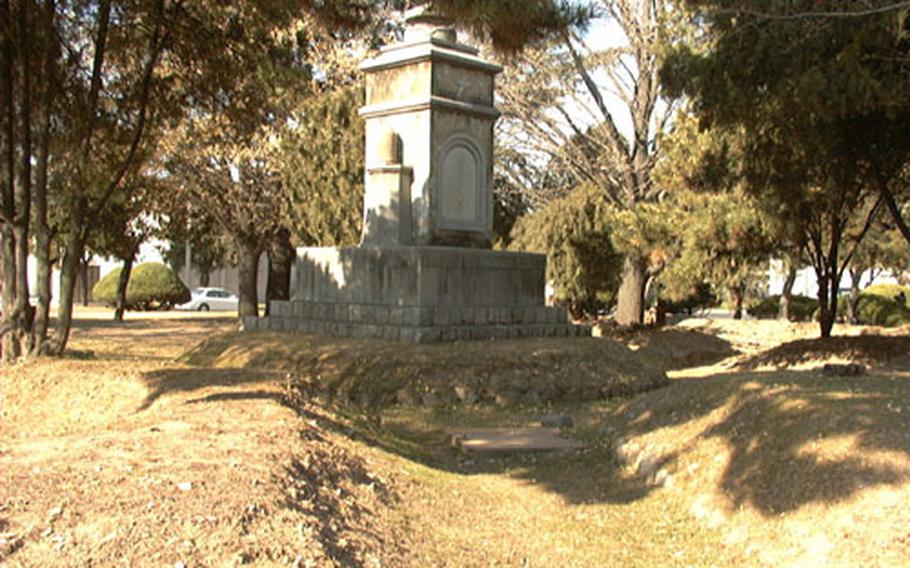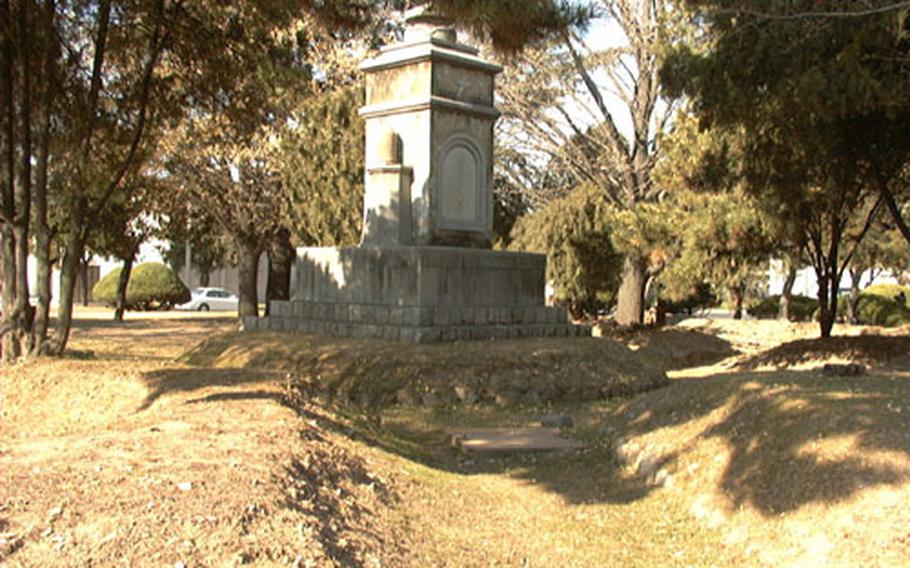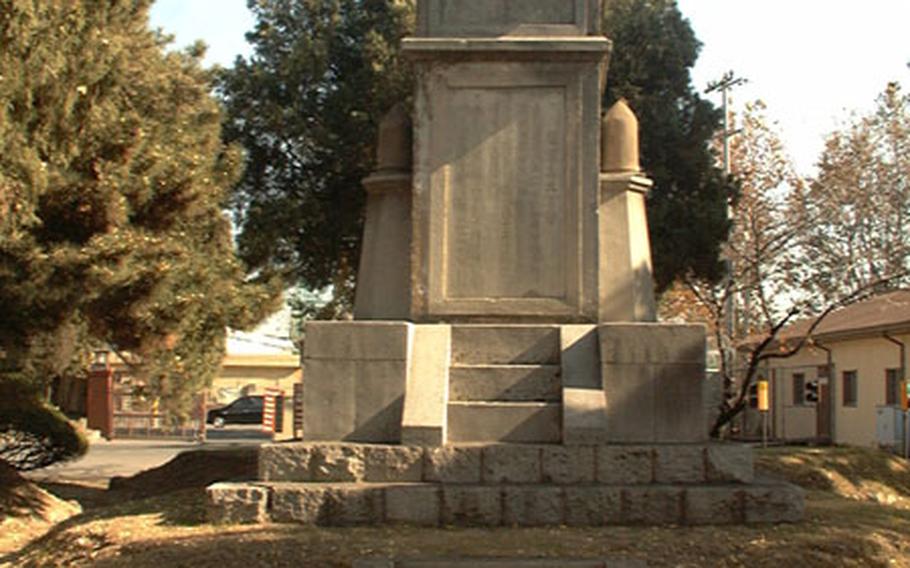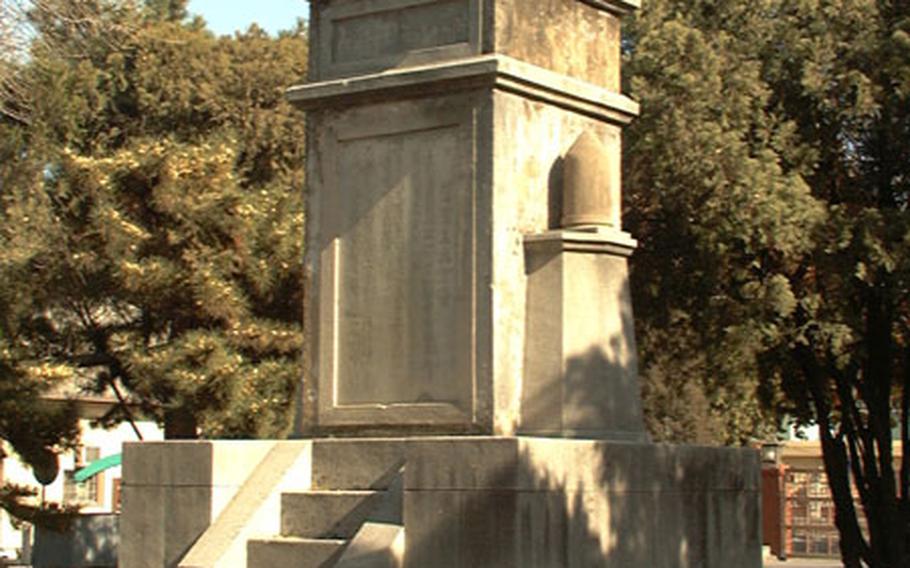 Having survived centuries of foreign domination, Koreans have a reputation for being passionate about preserving their culture and national identity.
Especially after 35 years of harsh colonial rule by Imperial Japan, which ended only after its defeat in World War II, Koreans are keen to reaffirm their national heritage, among themselves and to the rest of the world.
That national passion, for example, showed itself during last summer's World Cup Soccer tournament, when throngs of red-shirted South Korean fans chanted the national name — "Dae Han Min Guk!" — before worldwide television audiences.
In recent years, that same cultural fervor has spilled over to locating and preserving historical artifacts, including those on or near U.S. military installations.
That's inspired the U.S. military and South Korean government to take new steps to preserve Korean cultural relics on those spots in lower South Korea.
The Army at Camp Henry in Taegu has decided that any construction or other public works activity will keep clear of a grassy area that holds a statue of cultural value to South Korea. The decision is in keeping with earlier pledges that the U.S. military would ensure that such relics on its installations are kept from harm.
"In our master planning efforts for Camp Henry, we've determined how we're going to develop the land and facilities around the artifacts in the future," said Maj. Matthew Orenstein, the public work's director for Area IV, the Army's lower South Korea military district.
The district takes in Camp Hialeah in Pusan, Camp Carroll in Waegwan, and, in Taegu, Camps Henry, Walker, and George. All five are the sites of Korean cultural artifacts.
Artifacts on those installations include shrines, gravesites, sculptures and prehistoric dolmens, which are flat, square stone slabs of various sizes that are believed to date to the Bronze Age.
At Camp Henry, the focus is on a historical monument erected on a grassy area near Camp Henry's Gate 1 on the eastern part of post. It was constructed in 1949 by Col. Oh Tuk-jun, then commander of the South Korean Army's 6th Regiment, to commemorate the March 1 Independence Movement Day.
"So when we made the long-range master plan, we made sure we preserve that monument and that green space," said James Hamilton, the Army's public works chief for Taegu.
Camp Henry is also the site of several of the ancient rock dolmens, near Gate 2, the post's main gate.
"And we'll make sure we don't harm those as well," said Hamilton.
Meanwhile, South Korea's Cultural Properties Administration is attempting to arrange with the U.S. military to take possession of three stone Buddha statues at the Army's Camp Hialeah in Pusan, said Lee Sang-geol, an agency official.
Two of the statues are of standing figures, one is sitting. It's believed they date to the late Unified Shilla and early Koryo Dynasty of the late 9th and early 10th centuries, respectively. The Army is storing them indoors for safekeeping.
The Korean cultural authorities rank the three statues as among the most highly valued of Korean relics known to be on U.S. installations in lower South Korea, Lee said.
A survey team from the agency is working up detailed plans to preserve relics on the installations. In late August, it made a three-day inspection of relics on installations in Taegu, Waegwan and Pusan.
That inspection followed up on an earlier inventory the U.S. military took on its installations.
Thus far, officials at U.S. Forces Korea have received no formal requests to hand over the statues to the Korean government, said John Anderson, USFK environmental engineer in Seoul.
"We, of course, would work with our Korean counterparts on such a request when it comes to us," Anderson said.
"We have to be aware that these things exist and treat them accordingly," said Orenstein. "And the next thing would be: What can we do to avoid disrupting either the items or the land adjacent to them?
"We understand that we're just guests here, and we want to make sure that what we do and what we leave behind us is going to be well-received … from our neighbor's perspective."