Hard-rocking ex-soldiers collaborate on movie soundtrack
by
Mark St.Clair
September 3, 2006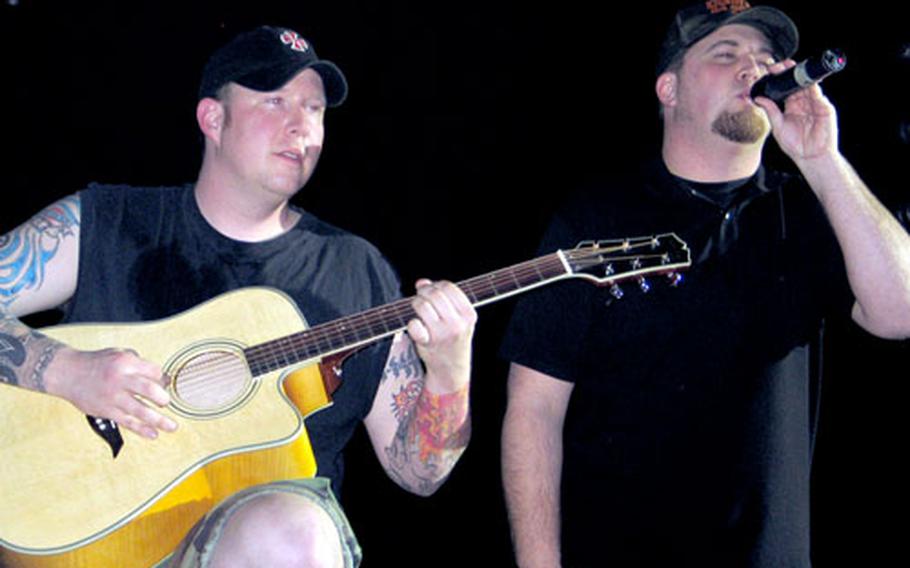 "You can't miss us. I'm sure we'll be the only ones with giant goatees."
Sure enough, Peter Roy was right.
Facial hair notwithstanding, since the base food court in Schweinfurt, Germany, was virtually a ghost town, Roy and Fred Melott, sometimes known as the band Black 13, were sore thumbs.
Clad in T-shirts and faded cammies, the two ex-soldiers took some time on a recent Saturday to discuss what it was like making the soundtrack for a movie recently released on DVD.
When Melott, 31, walked into the military clothing store Roy manages in 2001, neither had any idea that they'd be working together three years later. Having immediately found a common interest in music — and in particular a T-shirt for the hard rock band Deicide one of them had been wearing — Melott soon found himself inviting Roy to see Hatred, the metal band he played for at the time.
Soon after, Melott, who was still in the Army, found himself in Bosnia-Herzegovina. While escorting a military civilian from Heidelberg named Dominic Jackson around, he found out that Jackson was making an independent film and it needed music.
Within a year, Black 13 was recording eight songs for Jackson's film "Turn Left," with Melott's Hatred contributing five and Roy's solo effort, The Peter Roy Project, adding the final track.
"A lot of musicians tend to overlook films because [musicians] don't get a lot of recognition in them," Roy said. "We thought it was a golden opportunity, because in an independent film you get to take risks."
Roy's role in Black 13 and other musical projects focuses mainly on vocals. A fan of departed Alice in Chains vocalist Layne Staley, Roy has been singing since he was a child.
Although Melott's broad, tattoo-covered figure might seem a bit ominous to some at first, his mellow demeanor immediately puts you at ease. He started playing guitar at 14 when a neighbor gave him his first instrument and has never put it down. He credits Eric Johnson, a virtuoso rock/blues guitarist, Megadeth's "Rust in Peace" album and early Metallica as major influences. And although he's a man of few words, he said he's always working to find his own musical voice.
"I try to write using different tunings on my guitar," Melott said. "I like using a deep sound that doesn't need words."
Roy, 33, completely agreed.
"Fred's got the speed of (Megadeth's) Dave Mustaine. I've watched him go from that to writing the simplest acoustic songs. He's a very lyrical guitar player and doesn't overplay," Roy said.
Together they described their sound as "dark and brooding acoustic." Since Black 13 relies solely on guitars and vocals, the two compensated for the lack of drums with emotive jazz- and blues-inspired arranging, again trying to achieve an overall darker tone.
Roy, who is the father of a new baby girl and lives with her mother, and Mellot, the father of three children in the States, say they work well together. "We have complete trust in each other. It was a 100 percent collaboration since we are both perfectionists at what we do," they said.
Both also had glowing things to say about Jackson, whom Roy called a risk-taking filmmaker, and their experiences throughout the making of "Turn Left." Jackson co-wrote, directed and produced the film.
"[Fred and I] had never worked on acoustic material before Dominic asked us for songs for the movie. He never said he wanted one specific thing, so we gave him three songs initially. Based on those three, he said he liked what we were doing," Roy said.
In fact, Jackson liked what Black 13 was doing so much, he told Roy and Melott that whatever they could give him before he was done editing the film he'd try to use. One track, "Snobby Jam," was pulled from a home video taken during a meeting between Jackson and Black 13 at one of their houses. They'd been discussing more music, Roy and Melott just started playing, and the result ended up in the film.
The film was a noncompetition entry in the 2005 Cannes Film Festival in France, and Roy was there to work and absorb the atmosphere. "Helping promote the movie and pitching the film was an awesome experience," he said.
In November, the film was included in the New York International Independent Film and Video Festival. It was later purchased by York Entertainment and released on DVD June 6.
"Turn Left" is the story of four men, three professional assassins and a green recruit, who come out of hiding to take on one final job. They travel from Oregon to Las Vegas to help a casino owner destroy his business — which holds evidence sought by the FBI — and collect the insurance money. An endless succession of problems dog them on their journey.
Ironically, though both Roy and Melott earn their bread through Army and Air Force Exchange Service, Roy with military clothing and sales, Melott in a Post Exchange warehouse, it doesn't stock or sell "Turn Left."
"You can go to Wal-Mart, Target and all these other places, but the only place you can't get the movie is AAFES," Roy said.
Roy said he's going to go back next spring to help Jackson raise money for his next movie "Cries in the Mist," in which he and Melott have been asked to participate musically.
Melott, who had a small acting role in "Turn Left," also said working on the film was extremely rewarding.
"It was cool to write the music, but it was also great to have a small part. I was really interested to see how it all came together."
Although Black 13 is on hiatus and Hatred is no longer together, both men are busy making music. Melott is presently playing for the band Trendkill, and Roy is working with Jackson's production company, Adowa Productions, for the release of a Peter Roy Project album.
For more on Roy and Melott's music, or more on "Turn Left," go to www.prp-music.com, www.turnleftmovie.com.