'Hammer From Above' brings Marine aviation to the fore
---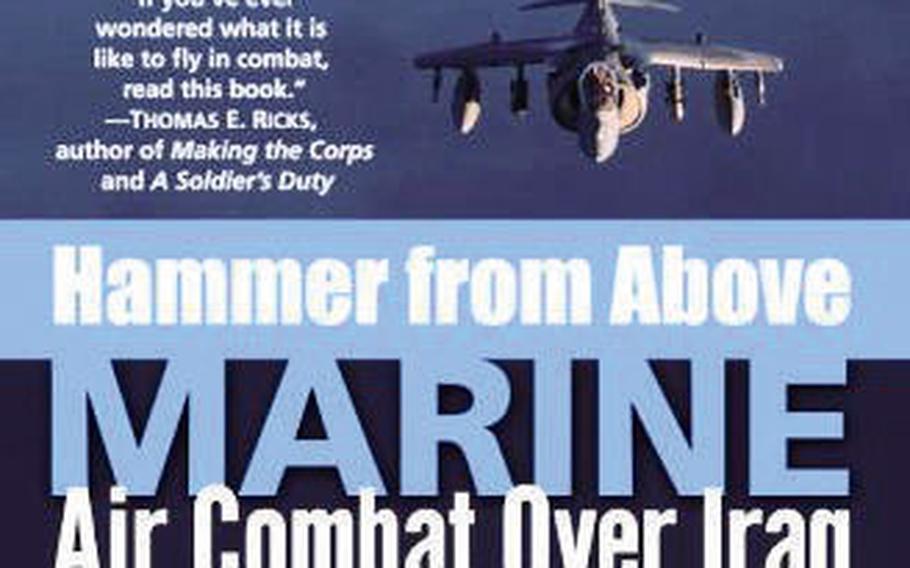 Jay A. Stout's "Hammer From Above: Marine Air Combat Over Iraq" is part history and all war story.
Stout tackles Marine Corps aviation's role in Operation Iraqi Freedom and manages to make a good read out of it. He covers every aspect of the Corps' air operations, from super-slick Super Cobra attack helicopter operations to the relatively boring, but super-important, KC-130 cargo and tanker aircraft.
Stout is a former Marine F/A-18 Hornet pilot who retired before the war. The book's forward leaves no doubt that, rather than writing about Marine aviation during OIF, he would have preferred taking part in it.
The Marine Corps' loss is the reader's gain, in this case.
The 39 short chapters focus on individual events and aircraft systems or flights, rather than giving a general, overall strategic view of the Marines' actions in the flight.
This also comes about because Marine Corps aviation itself is such a small branch of the military's smallest service. Even as a general history of Marine air operations, it was easier for Stout to focus on the individual pilots and crews and their effects on battles, which seemingly gives readers a better picture of the overall action.
Stout's military ties are evident. Many of the stories are written as if they're being told to a friend. His familiarity with the Marines gives the book a personal touch, rather than just relaying facts and figures like a normal history.
His retired status also allows him to critically look at aspects of the war that the U.S. military might not necessarily want to cover, such as the use of napalm-like weapons.
Stout points out that official denials that napalm wasn't used in the war were technically correct, but says the military did use a weapon with similar characteristics. One chapter — titled "Napalm" — focuses on the use of the 500-pound Mk-77 against targets during the Marines' drive toward Baghdad.
He changed the names of the pilots — and even the squadron number — because of what he says are people's strong emotions surrounding the use of napalm and napalm-like weapons.
But what Hammer does best is to give readers an insight into areas such as mission planning, the non-glorious, tedious part of military aviation.
Stout almost underemphasizes the daunting task pilots took in paging through the daily air tasking order, which consisted of hundreds of pages of all fixed-wing aircraft operations for that day, by stating that it took training and time to navigate through the cumbersome document.
He also writes about intra-service rivalries, such as when an Air Force controller repeatedly tells a Marine pilot that he won't clear his EA-6B Prowler to land at his home base because of bad weather, but just moments later clears an Air Force aircraft at that same base.
Stout wrote each chapter so that it ties into the big picture of the Marines' war in OIF, but each can also be leisurely read on its own merit. Each chapter is usually a start-to-finish story about a pilot's or crew's experiences in the war and each can stand on its own, without the reader having to refer to previous chapters to find out who's who or what's what.
"Hammer" is an easy book to read, with relatively simple explanations of technical military operations and data. Or, when dealing with issues like the characteristics of the EA-6B and its mission to jam enemy radar, it gives a brief summary and warning to the reader that he won't go into more details for security reasons.
Stout's no-nonsense, casual writing style makes "Hammer" informative, yet enjoyable.
The book doesn't seem to pull punches, whether criticizing the enemy for its unorthodox and "unsportsmanlike" tactics, or the U.S. military for its unwieldy bureaucracy. But it also doesn't hold back in highlighting the simple, yet heroic actions, of individual Marines who worked and fought in these combat missions.
---
---
---
---