Get juiced
by
Chiyomi Sumida
October 21, 2003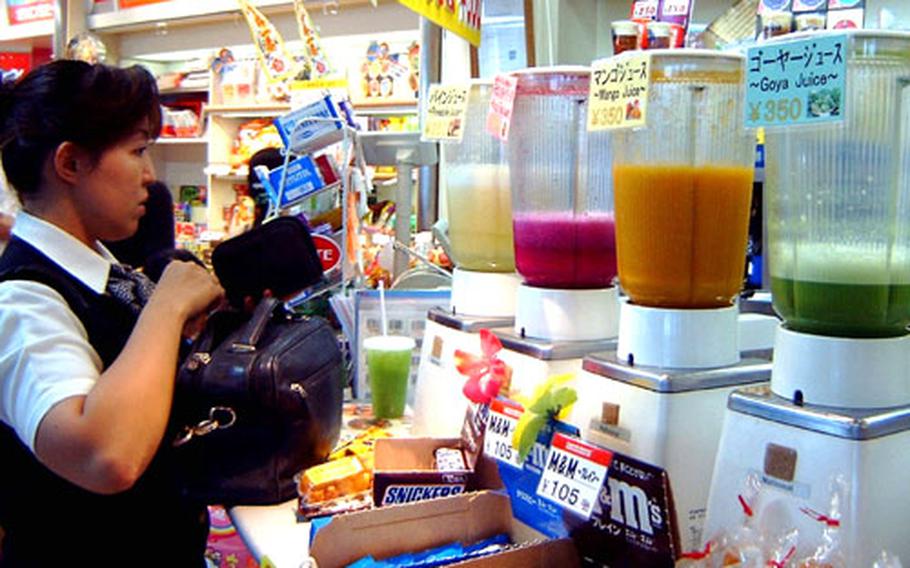 NAHA, Okinawa — Here's a suggestion for living a healthier life — get juiced up.
A daily dose of vegetable juice may help keep the doctor away. That vegetables are a great source of vitamins and even reduce risks of some ailments are well known facts, but it's not always easy to eat enough vegetables with your daily meals.
The solution: put them in a blender and get juiced.
It's easy; just chop your vegetables and mix them in a blender. A glass of vegetable juice is rich in vitamins and minerals, giving you rapid recuperating power.
But, for those who can't find time to make it at home, stopping by at a local juice bar may be another alternative.
Very Very is a trendy juice bar in a business district in Naha. People constantly visit the small juice bar to get a body tonic.
"I grew up drinking vegetable juices my mother used to make for me," said the juice bar's owner, Junko Nakamine.
"They were always very delicious," she said.
Nakamine followed her mother's footsteps and made vegetable juices for her son, who is now 12 years old.
"Then, I wanted to share them with as many people as I could."
She opened the stand in June 2002.
"All the juices are basically vegetable-based, and we use fruits only to add taste and flavor when necessary," she said. Ingredients include cabbage, parsley, spinach, Goya (Okinawan bitter squash), Komatsuna (a mild leafy vegetable), Ashitaba (another leafy vegetable), red peppers, tomatoes, pineapples, bananas, apples and Okinawan limes.
For instance, Nakamine's Cholesterol Reducer Juice is made with parsley, carrots, apples and ginger. And her Potassium Juice, which helps you to recover from the summer heat, is a mixture of parsley, tomatoes, celery, spinach and carrots.
The juice bar offers 30 different kinds of concoctions to meet the needs of people of various life styles.
"Our ultimate mixture is V-7," she said, showing a dark green juice that contained parsley, carrots, Komatsuna green leaves, spinach, tomatoes, celery and red peppers.
"It is really good for the health, but you need to acquire the taste," she said. But once you get used to it, the bitterness should not bother you, she said. "It's like drinking a salad."
Mamiko Watanabe is one of the regulars at the juice bar. She brought her friend, Misao Isoda, from Tokyo.
"I come here to catch up with vegetables that I need to eat," said Watanabe. "In the morning, I stop by to get a juice as my breakfast."
Fresh juices are ideal thirst quenchers without the worry of the excessive intake of calories and sugar.
On the subtropical island of Okinawa, juice bars are becoming popular, especially in Naha's Kokusai Street area. Many of the ingredients are locally grown vegetables and fruits, such as Goya, sugarcane stalks, mangoes and pineapples.
At Naha Airport, Coralway is a snack stand that offers fresh juices of local flavors. Passengers and airplane crews stop by to get vitamins from tropical fruits, such as papayas, pineapples, mangoes and dragon fruits.
"We use all locally grown fruits and vegetables — except apples," said Sanae Nakamoto of the snack bar.
"They all taste good, but the most popular juice is Goya," she said. The bitter Okinawan squash is known to be rich in vitamin C. Drinking Goya juice should give you lots of rapid energy, she said.
"Also, it is good for hangovers."