Get in motion with Move, Kinect
by
Grant Okubo
September 20, 2010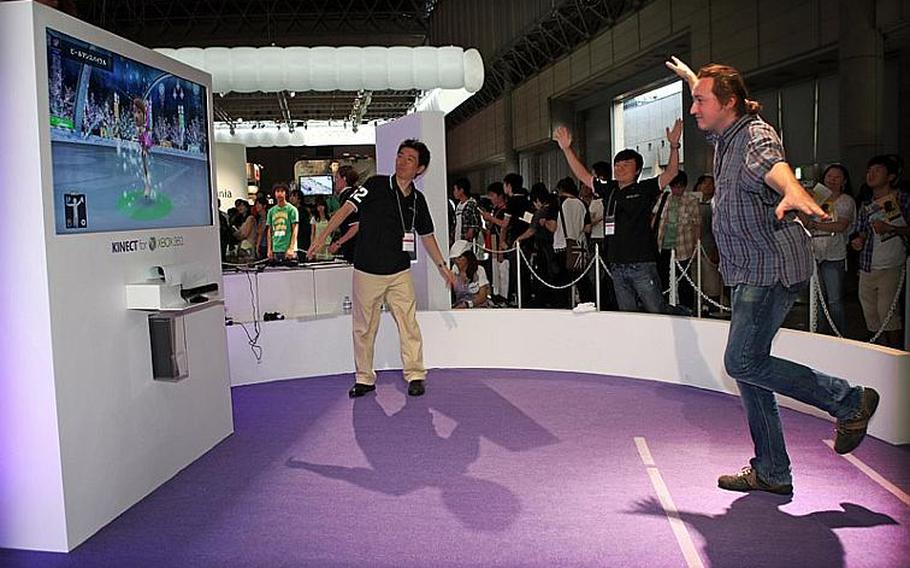 Stars and Stripes reporter Grant Okubo and checked out the two motion-based controllers coming out later this year. Here's his take:
PlayStation Move
Publisher: Sony
Platform: PlayStation 3
Price: $49.99 for the basic Move controller, but also requires PlayStation Eye, which costs $40
Release: Available now
The new Move is PlayStation's entry into the motion-based controller race. It uses a combination of a wand similar to Nintendo's Wii remote. The Move works by using the PlayStation Eye camera, which tracks the wand's position.
Naturally, the first thing I did was compare it to the Wii Remote. The overall feel of holding the controller is not that different. Ergonomically the Move's wand is a little more comfortable to hold. As I was playing a first-person shooter with the Move, I found firing a simulated rifle to be somewhat disorienting at first. Since I'm used to taking aim with a regular controller, it took a little while to get used to aiming with the Move. Once I adjusted to it, I found that the new controller is very responsive and doesn't lag at all. The sensors tracking your movements are very accurate. It seems superior to Wii remote in every way. In addition, the game looks to be a huge step up for fans of motion control, who have only had graphically challenged Wii games to play. It's hands down the most accurate motion controller out there, and it doesn't hurt that it's $100 less than its nearest competitor. Sony may have just taken the lead in the motion controller wars.
Kinect
Publisher: Microsoft
Platform: Xbox 360
Estimated price: $149.99
Release: Nov. 4
Microsoft tosses its hat into the motion-control race by doing away with the controller all together. This controller-free technology is based on a web cam accessory for the Xbox 360, which allows users to interact with the game console without a controller. The Kinect uses cameras to read movements and gestures and a microphone to receive the player's spoken commands.
Standing in line for a good three hours to get a chance to try out the Kinect, I watched countless video of the upcoming titles for the Kinect. The overall idea behind the Kinect is amazing.
Standing in line I also watched those if front of me try out Kinect. I observed a few glitches. Whether it was the game or the new controller, I noticed the screen freeze up or players get stuck a few times. I also noticed those running the exhibit had to occasionally fiddle with white blank paper taped to the Kinect camera so players could be properly detected. So I had to wonder, is the white paper and tape included? When I finally got to play, I tried out the upcoming "Sonic Free Riders." Like many of the Kinect games, it will have you out of breath and sweating, which for many of us isn't a bad thing.
It did take a lot more work to adjust to the sensitivity, or seemingly lack thereof, especially in menus.
On the bright side, taking away the controller really opens a huge window of possibilities of what can be done. With that said, there seems to be a lot of bugs that still need to be worked out until this new controller reaches the potential that many of us hope for.
---
---
---
---