German trade show demonstrates that even in digital age, making music takes talent
by
Matt Millham
April 20, 2008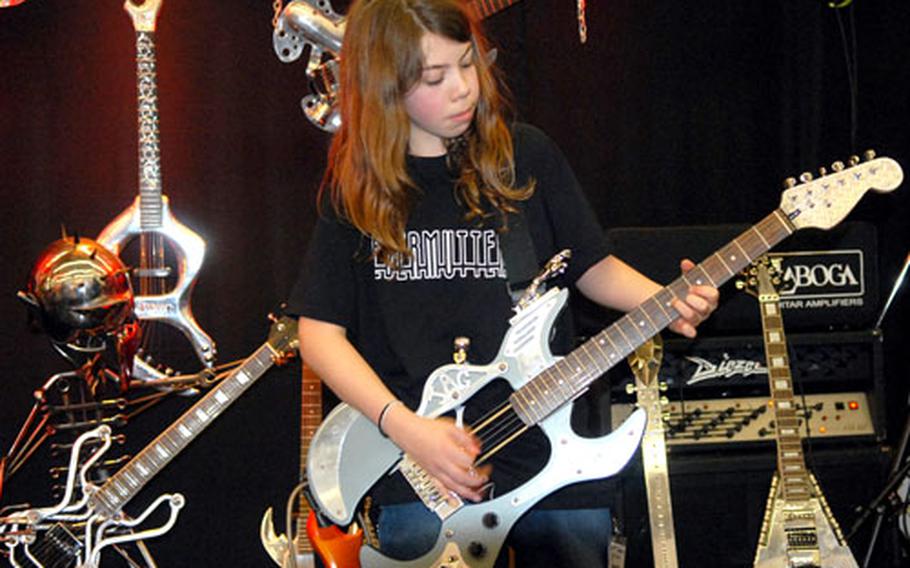 The music industry is schizo, and it doesn't care.
Tony Tomlinson is a prime example. His guitars, truly awesome works of art, are all one-of-a-kind creations, hand-crafted almost entirely from recycled materials.
He brought more than a dozen with him in March to the Frankfurt Musikmesse in Germany — the biggest annual music trade show in the world.
One of his creations was made almost entirely of old Jaguar parts. Another is crafted from the remains of a chainsaw.
As many a passer-by asked: Why?
"There are far too many manufacturers sticking to the same thing," he said, nodding his head toward the Fender booth, where a wall of at least 100 identical so-called "vintage" Stratocasters hung. "If Henry Ford had stuck with the Model T, what would you be driving now?"
Contrast that attitude with the idea behind Tomlinson's "Second Revolution" guitar. In building the elegant one-off from miscellaneous machine parts and debris from Sheffield, England's, industrial past, Tomlinson wags a disapproving finger at what he calls "a city which seems to be rapidly embracing computerized technology and losing the skills which once made it famous."
His is a seemingly impossible goal of adhering to the past while creating innovative gear whose primary goal is to render the past obsolete.
It was clear at the Musikmesse that the rest of the industry is pretty much on the same course. Manufacturers still want perfection, but they're finding new ways to get it. Rather than search out the perfect wood or design or horse hair or reed, many have turned to the digital world.
As a result, computers masquerading as instruments were, for better or worse, the rule at this year's trade show.
But these creations don't look like computer-driven Frankenstein creations.For the most part, they look, sound and play just like their non-digital counterparts.
Take, for example, Yamaha's DS6M4PRO Disklavier Concert Grand Piano. At first glance it looks pretty much like any of the dozens of grands around it. But this thing is more wired than an iPod.
It can record in high-def digital audio, synchronize with a video camera, connect to the Internet, download music, transfer files to computers and play back like an old-timey player piano on digital steroids. All you need to put one in your house is plenty of floor space and $107,000.
There were — and this is not an exaggeration — thousands of other high-tech gadgets, including one that any parent with a kid learning to play a horn will appreciate. It's a thing that sticks right in the horn's business end to divert rackety practice sessions directly into a set of headphones.
There were also digital drums, digital guitar processors, digital accordions — yes, accordions.
Except for a few tell-tale signs, such as a digital display and a "Data Enter" button, this would-be love child of Steve Urkel and Bill Gates looks like a real accordion, and its maker, electronic instrument giant Roland, swears it sounds genuine, too.
There's one notable difference between the computerization of the music industry and the computerization of just about everything else in the world.
Unlike the GPS receiver and the grocery- buying refrigerator, which do us the favor of taking responsibility for knowing where we are or how much milk is left spoiling in our refrigerators, musicians still have to know what they're doing to make these newfangled instruments sound good.
See more photos here.