Fundraiser offers donated uniforms for sale at low prices
by
Lisa M. Novak
September 16, 2009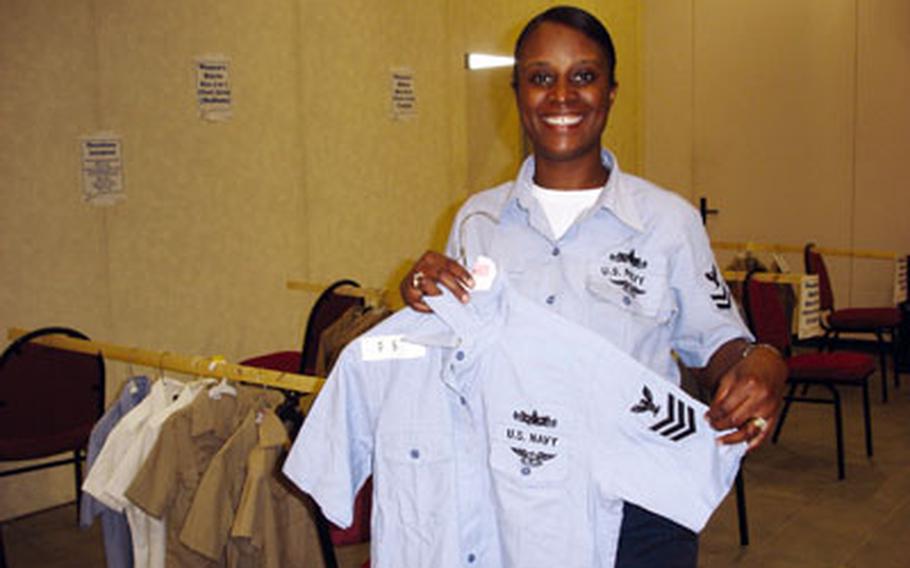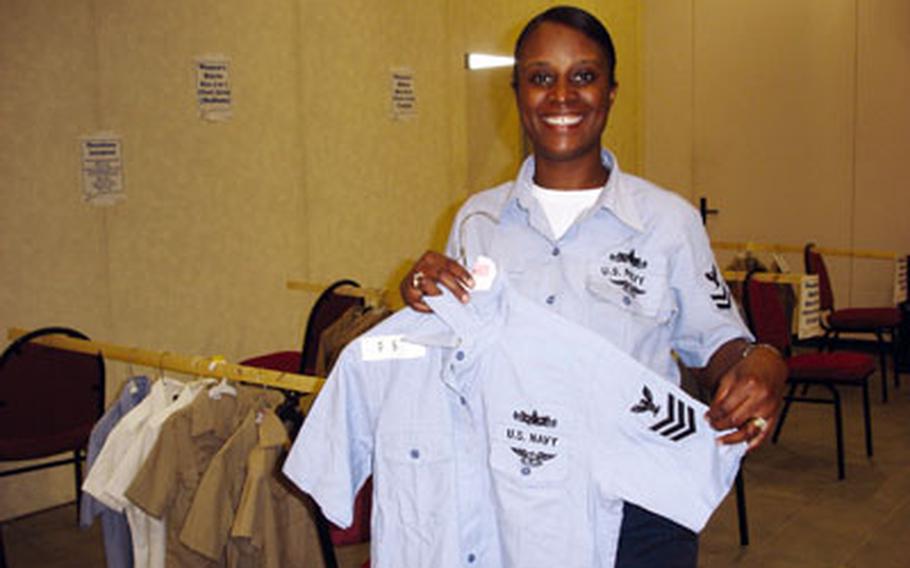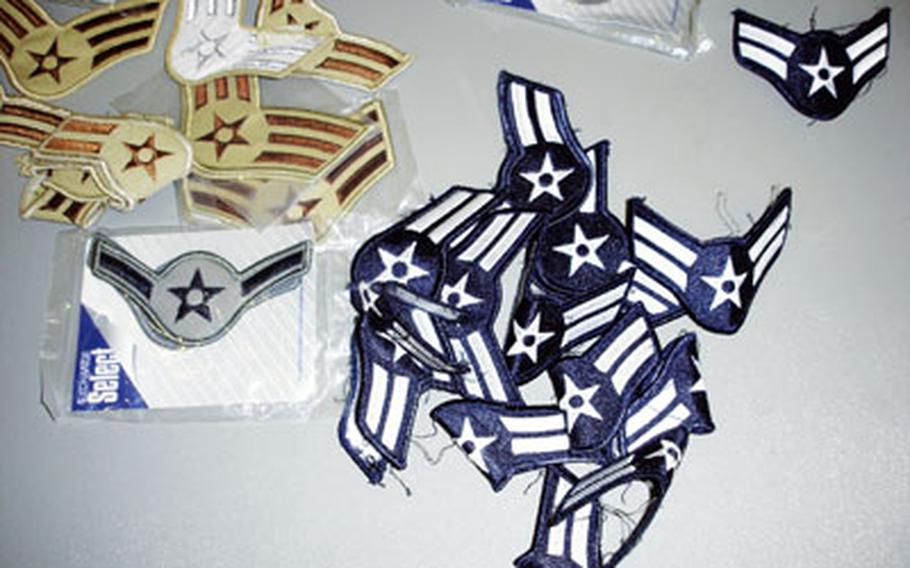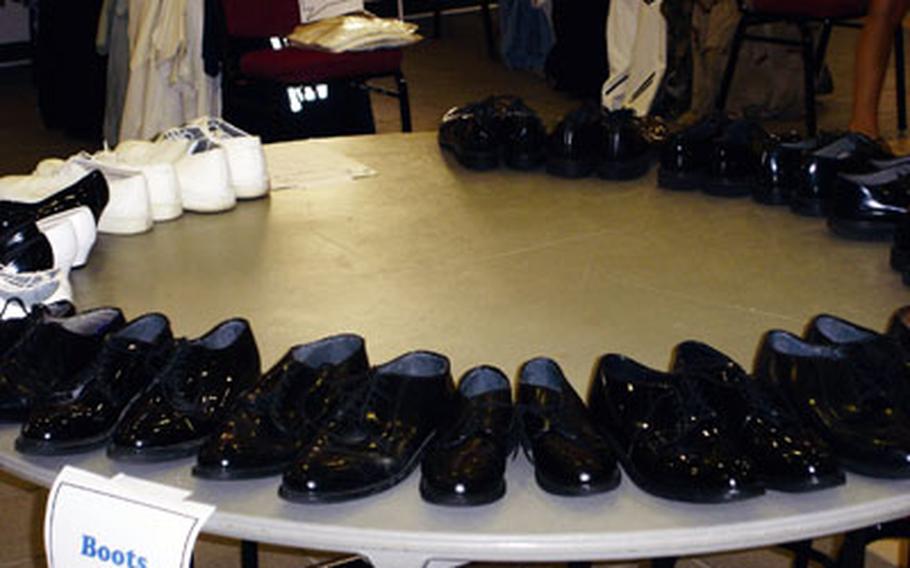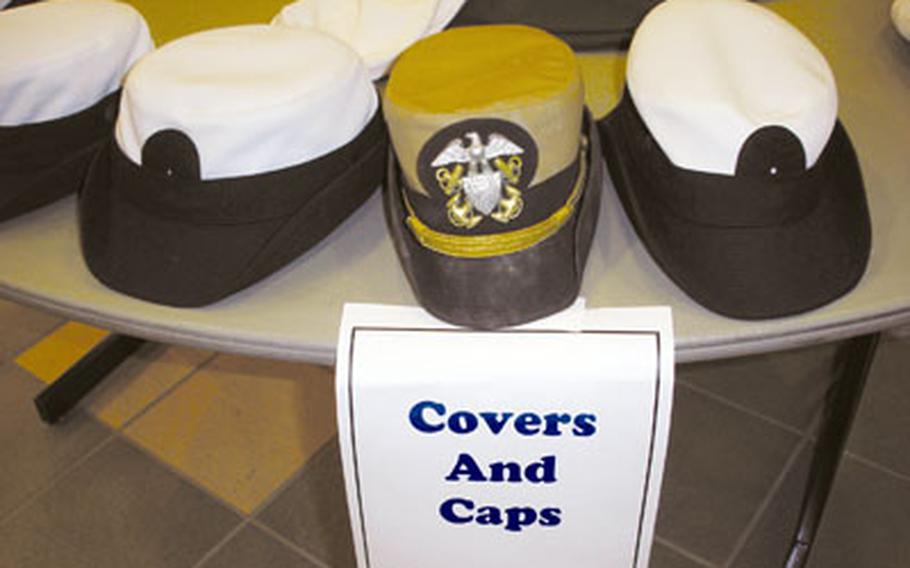 NAPLES — Petty Officer 2nd Class Ron Cliatt has a hard time shopping for shoes. He wears a size 13E, not easy to find in small uniform shops.
But last Wednesday was Cliatt's lucky day. A first-of-its-kind used-uniform sale was held at the Capodichino Ciao Hall, and he found exactly what he needed at a price that couldn't be beat.
"I paid $4 for these, and they're practically brand-new," Cliatt said, showing off a pair of shoes. "They normally go for $60 — if I could even find them in my size."
Other bargains included uniform sets that normally retail for more than $100 selling for a mere $8.
The Naples Area Supply Corps Association was host for the sale last week to raise money for the Supply Corps Foundation Scholarship Program, which helps college-bound students pay for their education. The result was $1,000 for the scholarship fund and happy, bargain-hunting customers.
The idea for the sale came about when NASCA members were working at the support site thrift shop in Gricignano to raise money for their organization. Volunteers were helping sort through donated items, many of which included used uniform articles.
"The thrift shop doesn't sell uniform items, but people still donate them," said Cmdr. Betsy Jackson, a supply corps officer and member of NASCA who volunteered to help at the sale. "We figured we could sell them to servicemembers cheaply. It was one opportunity that came from another opportunity."
Over the past five months, volunteers collected donated uniform items that were still in good shape. Last Wednesday, they transformed the old base dining facility into a uniform boutique stocked with shoes, hats, jackets, belts, rank insignia and a slew of other uniform items in an array of sizes. All patrons needed to take advantage of the sale were a few bucks and a U.S. military identification card.
"We had a very successful event and raised money to contribute to the national scholarship fund," said Lt. Cmdr. Mike Benedetto, a Supply Corps officer who organized the event.
"The biggest winners were the sailors, soldiers and airmen who stopped by and purchased quality uniforms at huge discounts," Benedetto said.
Other winners are the students who will benefit from the money donated to the Supply Corps Scholarship Foundation.
The organization was created specifically to provide scholarship money for children, grandchildren or spouses of any servicemember in the Navy Supply Corps, including sailors and commissioned officers on active duty, in the Reserve or retired, according to the foundation's Web site. Last year, the foundation awarded close to $250,000 in scholarship money for the current academic year.
The NASCA volunteers said they might make the sale a quarterly event, since last week's was such a hit with the base.
For more information on the scholarship foundation, visit the Navy Supply Corps Foundation Web site at: www.usnscf.com.
---
---
---
---