From ring to movie screen, Cena gets tough for 'Marine' role
by
Leo Shane III
October 15, 2006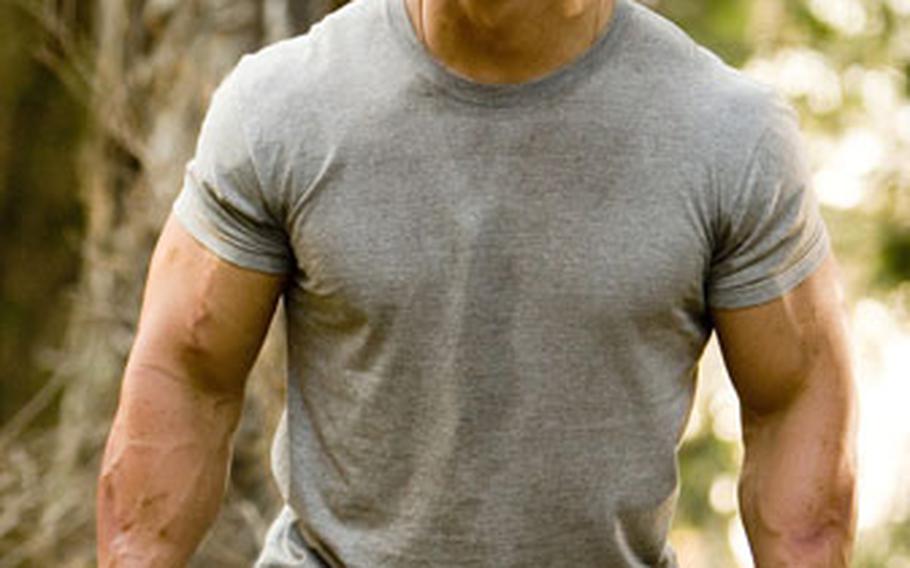 World Wrestling Entertainment champion John Cena works out six days a week, tosses 300-pound wrestlers around a ring, and has been kicked and punched too many times to keep count.
But when he recently spent a day at Marine Corps Recruiting Depot Parris Island in South Carolina, he met his match.
"We did it all – I went through The Crucible (a physical and mental endurance test), did the firing range, rappelled down a 50-foot wall," he said. "It was tough. I don't know if I'm cut out for that kind of work. Those guys earn every second that they wear those colors."
Cena has been up close and personal with servicemembers and military bases during the past few weeks in connection with his new movie, "The Marine."
The film follows a Marine honorably discharged from the service after disobeying an order that would have killed innocent civilians. While on a vacation to sort out what to do with the rest of his life, his wife (Kelly Carlson) is kidnapped by a band of thieves in need of a hostage for their getaway.
The movie doesn't focus much on the military — it's an action flick, with five gigantic explosions just in the trailer — but Cena said he's happy to play a member of the military in a movie he's sure servicemembers will love.
And even though the military connection is loose in the movie, Cena said, it helps provide a good backstory for his character: a man with morals and a sense of duty, but also a strong right hook and a working knowledge of weapons.
The 29-year-old kept up his normal training regimen during filming, even though his movie fights took a completely different toll on his body than his matches in the ring.
"There, you take a pounding, but it's just for a short time," he said. "With the movie, you could be filming a fight scene for six, 10, 12 hours. It really beats you up bad."
He has already returned to his old routine of beating up others, reclaiming WWE's World Heavyweight Championship title last month. But Cena has still taken some time out to promote the movie, and to spend time with the servicemembers he hopes will see it. On Oct. 3, Cena and other stars of the movie attended a special premiere at Camp Pendleton in California to let Marines get a sneak peak at their newest on-screen incarnation.
He and other WWE wrestlers have traveled overseas with Armed Forces Entertainment several times in the past few years, and Cena said the military crowds are his favorite.
"It's a whole different crowd with them over there," he said. "You get even more reaction from them. If we don't go back as a group, I'm heading over there solo."
On the Web: wwe.com; www.themarinemovie.com