For three friends, three crazy nights in Bangkok
by
Teri Weaver
December 11, 2005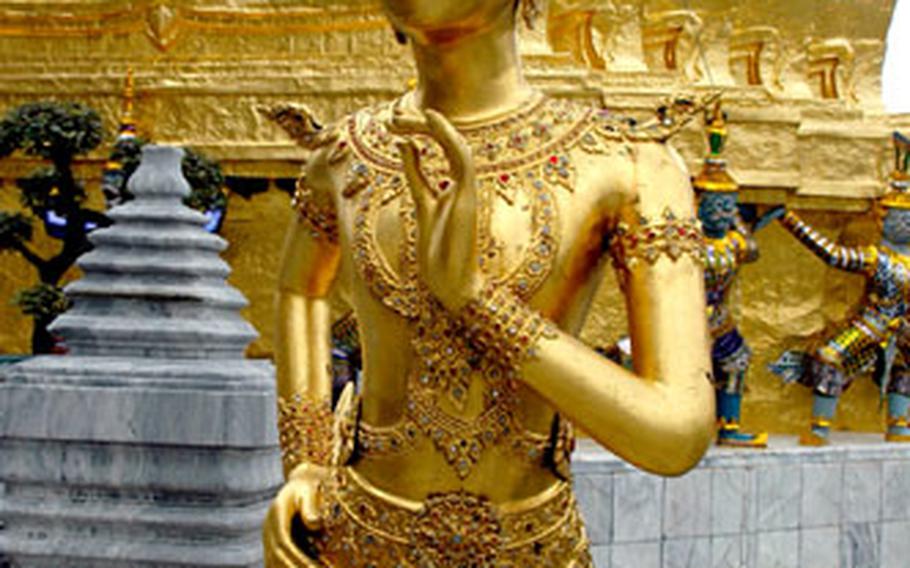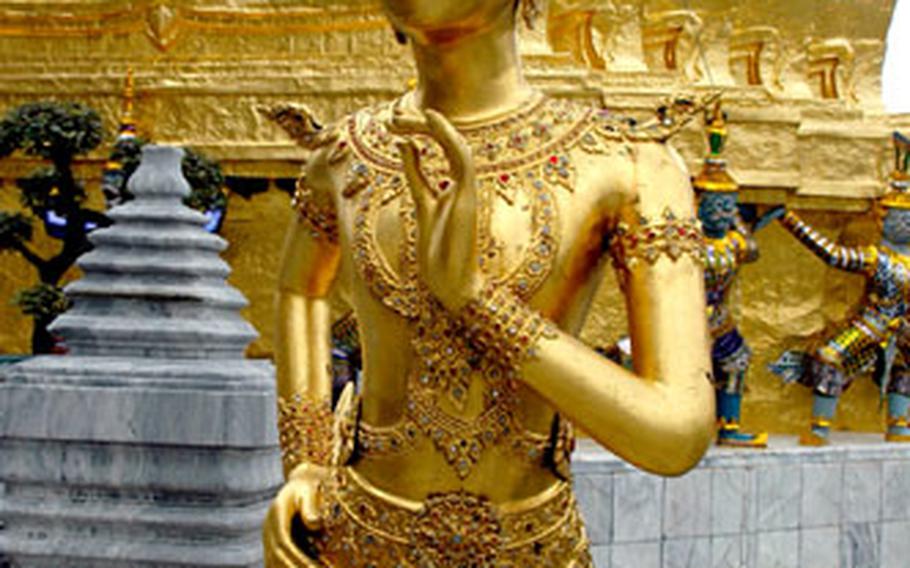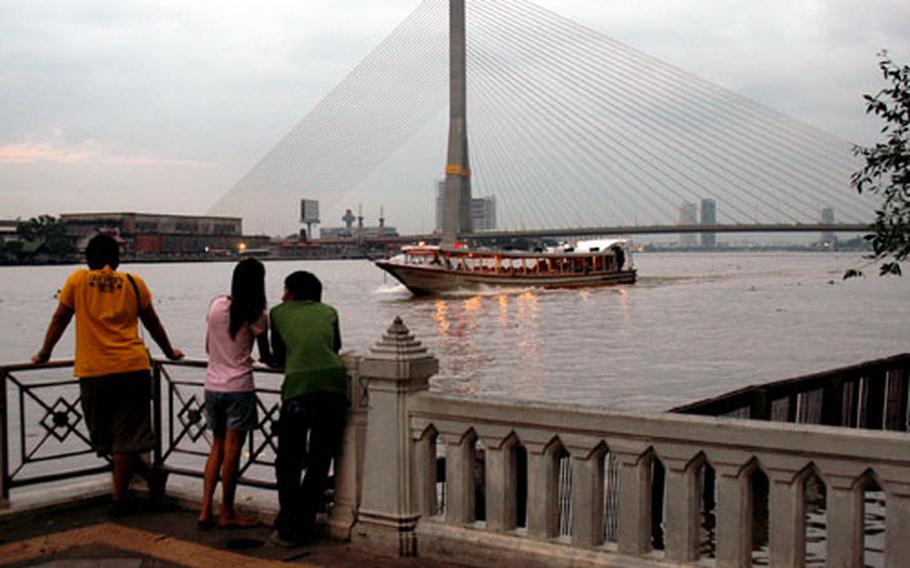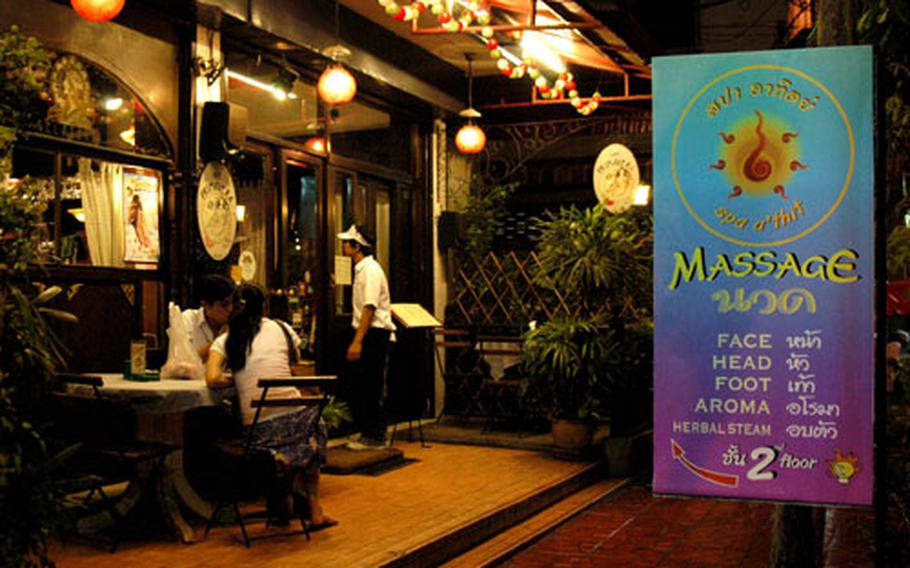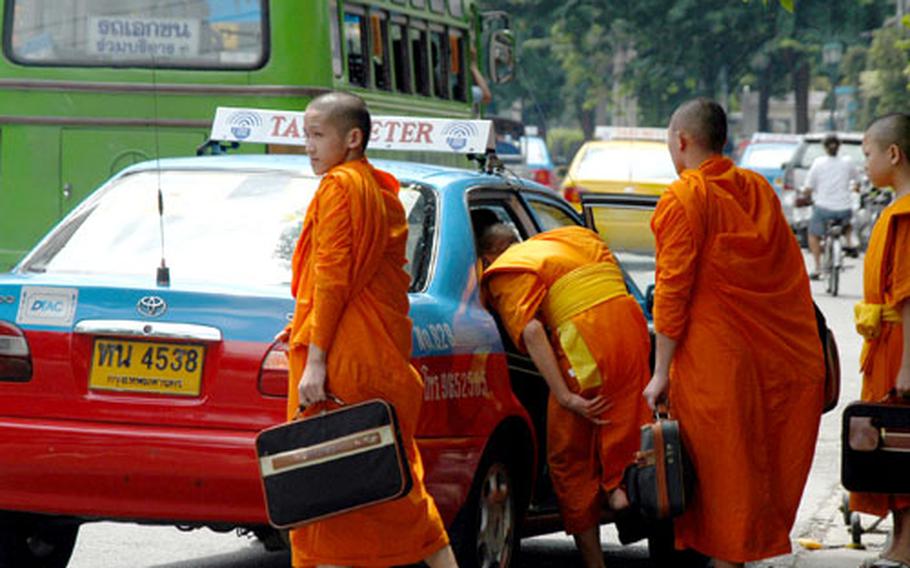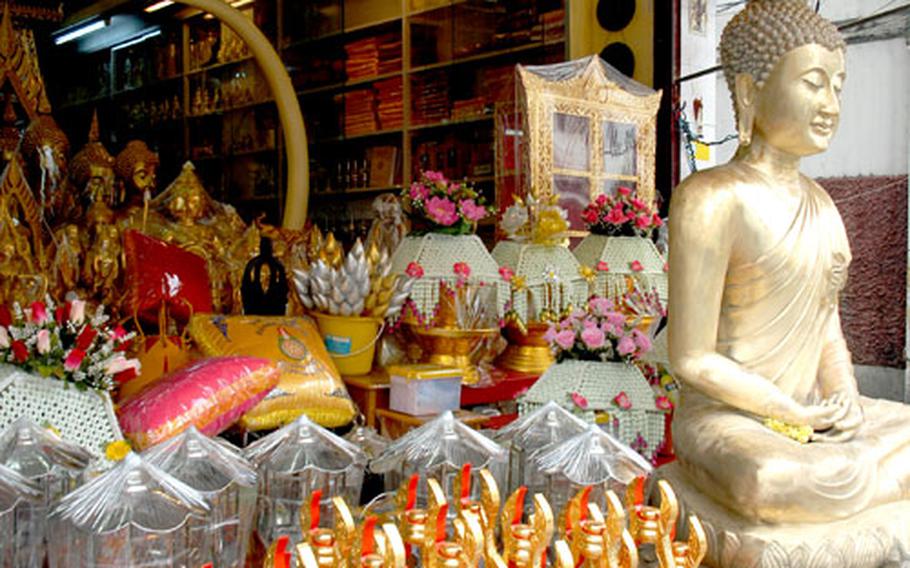 EDITOR'S NOTE: This is the first in a two-part series on visiting Thailand. Next week's story will take you from the belching buses and muffler-less taxis of the city and its bustling streets to the spas, beaches and sunsets of life at a Thai beach resort.
On our last night in Bangkok, we ate Chinese food in Texas.
"That just proves you can get anything you want here," said Michelle, one of two friends who took a 17-hour flight from New York to Thailand in October to meet me for a holiday.
Anything? Does an elephant snarf in the woods? (Well, yes, but more about that later.)
In Bangkok, you can shop on a floating market, get a full-body massage for less than $10, order pad Thai from the cab of a van, see a puppet show at the Joe Louis theater, or visit a mummified serial killer — allegedly the country's most notorious, making me wonder just what they've done with No. 2.
Hailing a taxi requires choosing among four, three or two wheels, or an outboard motor. The Buddha will accept simple gifts like flower leis and lighted candles, but he apparently also enjoys prepackaged beach buckets full of snacks, soaps and breath mints. If the free-for-all feeling of the streets ever wears thin, a visit to the city's National Museum provides a refuge to enjoy southeast Asia's largest art collection.
And, of course, there are Chinese hot pots bubbling away in the Lone Star state.
Michelle, Hema and I met in Bangkok for three nights in the capital city and four nights at a resort in Koh Lanta. Since they flew over the North Pole to meet me, and because it was our first time in Thailand, we decided a mix of cheap city living with luxurious beach spa (not to mention a spending-spree exchange rate) would even out to a manageable bill and a proper introduction to sanuk, the Thai concept that every part of life should include a little fun.
Oh, we had more than a little fun.
Despite it raining nearly every day — we went at the very end of the rainy season to enjoy even cheaper air fare and hotel rates — we made ourselves at home in Phra Athit, the artsy and quiet neighborhood just around the corner from Khao San Road, the backpackers' haunt that more resembles Bourbon Street than a woodsy trail.
We visited the 24-hour flower market near the Mae Nam Chaeo Phraya, the river that meanders from North to South through the city. We ate squid with black pepper sauce and cold, spicy shrimp salad at places called Fun & Delicious and O Hungry!, and snacked on chunks of fresh pineapple on the street for 25 cents a bag.
When the heat of the day became too much, we went our separate ways in search of facials, foot massages and pedicures in dark rooms perfumed with ginger and jasmine that quieted the noisy city outside. Hema swore her 30-minute Thai massage — which involves some vigorous limb-pulling and close proximity to your masseuse — was the best she'd ever had. It cost $5.
In between dining and shopping and catching up on gossip from home — let's face it, we were three friends who hadn't seen each other in a year and would have delighted in a reunion at a rest stop on the New York Thruway — we did manage to absorb a bit of Bangkok's culture.
On different mornings, Michelle and I separately wandered to a neighborhood market that served as grocery store to residents and meal service to the community's Buddhist monks. These men in brown and orange robes walk barefoot carrying covered pots to collect pre-made soups and other dishes from the vendors. The monks depend on the donations for their daily meals, which must be eaten before noon, and the devoted give the food reverently with a prayer. We both took pictures, and we both felt like intrusive idiots.
We also spent half a day at the Grand Palace. In the last year, I've been lucky enough to visit lush shrines in Tokyo, guard-changing ceremonies in Korea and the immensity of the Great Wall. But Bangkok's Grand Palace is the most breathtaking place I've visited.
With its gold-capped turrets and shimmering glass-flecked walls, the buildings' artwork celebrates an attention to detail I'd never seen anywhere else.
Wat Phra Kaew is the culmination of this richness. A viewing at the Temple of the Emerald Buddha requires discarding your shoes and kneeling on a wooden floor before a 26-inch-tall, solid-jade god. The Thai king himself comes in three times a year to change the Buddha's robes for the cold, hot and rainy seasons. His home is wrapped in a mural of Thailand's history of Rama rulers and wars, though the Buddha himself gets to enjoy the view of a voluptuous woman smiling from the back wall.
On our last night, we took a trip to Chinatown. We hailed a tuk-tuk, a three-wheeled, open-air taxi, and negotiated a price for the ride: $1. We crawled onto the bench seat and 15 minutes later (after going up on two wheels once, if not twice) we arrived in one piece. Hema, who thrives on speed in nearly any form, loved it; Michelle and I almost lost our Thai lunches.
Safely on the ground, facing another rainstorm and feeling a little worn from all the beer of the past few nights, we looked around for a little warmth and comfort.
It must have been a bit of sanuk, because we looked up and saw Suki Texas, a Chinese hot pot restaurant. As the rain started, a waitress poured chicken broth into our communal pot (think fondue but bigger). We ordered a few greens, mushrooms, pork balls and noodles to round out the soup. We weren't starving, but when the bill came it was clear we didn't order enough to justify occupying a table for an hour during a downpour: it was about 225 Baht, or $5.65 for the three of us.
After calming our stomachs and calling it an early night — well, Hema went back out and shopped for souvenirs until midnight — we were ready to abandon Bangkok for the beach. We ate our last breakfast at Ricky's, the cafe beneath our guest house that served the best coffee I've had since Zurich. Our hosts ordered us a taxi, and five hours and one plane, bus and boat ride later, we were staring at our new digs: a five-star resort on the southern tip of Koh Lanta.
We had our own house on a secluded strip of beach, a choice of an indoor or outdoor shower, a spa menu filled with scrubs, rubs and wraps, and four nights to figure out how to slow down and enjoy the second part of our trip.
We didn't waste any time. I ordered a bottle of champagne, Hema went looking for her swimsuit and Michelle ran into the surf fully clothed.
"We are so not in Bangkok anymore," she said.
---
---
---