Financial advisers, account options make overseas banking easier
by
Juliana Gittler Franklin Fisher
May 11, 2003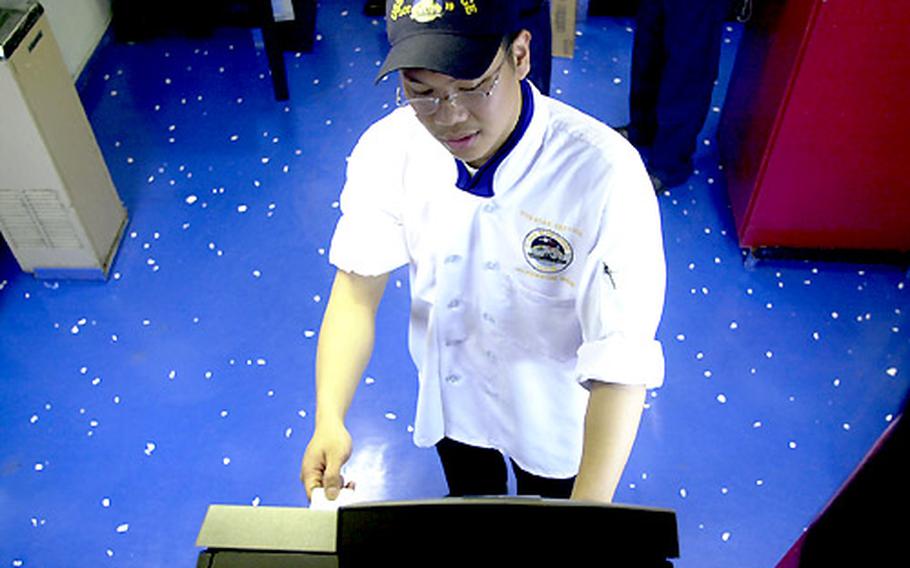 (See table with banking options for Pacific servicemembers at end of story.)
When Air Force Staff Sgt. Chris Canarina found he would be deployed to Yongsan Garrison in South Korea without his wife, banking probably wasn't first on his mind.
But like thousands of military families separated by duty, the Canarinas were faced with managing one checking account from opposite sides of the world.
"My wife and I have had a joint account. But we knew being over here and trying to keep track of the bank account from both sides would be trouble," he recalled.
He also would pay high fees for using his home cash card at ATMs abroad, he said. So the Canarinas opted for two accounts: the main one back home and a short-term base account in Korea.
Canarina now makes one withdrawal a month from his home account to deposit into his Korea-based account. "It was a question of convenience for both of us," he said. "I'm using this account over here for the bare minimum."
Army Staff Sgt. Eric Fisher, who's been in Taegu, South Korea, for 11 months, does the same. His wife maintains an account in the States; his is on base.
"I use it for a savings account because my wife's in the States, so I utilize two accounts, so there's no confusion," said Fisher, a platoon sergeant with the 188th Military Police Company.
Single or married, separated by deployment or not, servicemembers have unique banking circumstances, said Lt. Col. Rick Hewitt. An economics professor at West Point, he co-wrote "The Armed Forces Guide to Personal Financial Planning," published by Stackpole Books.
Deployment is one factor. Servicemembers also move every few years. Banking mistakes carry great stakes for those in the military: A few bad checks cost a civilian some money and possibly a fine. They can cost a servicemember that, plus career-damaging disciplinary action.
"It can really have a big impact on a military career," said Terry Lovely, financial management counselor at Marine Corps Air Station Iwakuni. The blot on a record can impact security clearances, promotions and duty assignments, she said.
To help servicemembers learn good financial management skills early on, most U.S. military installations have financial professionals.
Financial advisers teach incoming servicemembers about bank accounts as part of initial training. "They need to understand how to maintain an account," said Lovely, who offers banking help for Marines at Iwakuni.
Financial professionals on installations also encourage savings, especially for younger servicemembers. Lovely advises many to plan a strategy for savings. For instance, she suggested considering cost-of-living allowances: "You could spend all your base pay but put aside your COLA as savings."
The savings can serve as a cushion if an emergency occurs. It also can help cover costs associated with moving during a permanent change of station, she said.
Savings also can help servicemembers when they separate from duty.
"A lot of people come overseas and they have a goal, for a down payment for a car" or something similar, Lovely said.
Choosing an account
Almost every installation in the Pacific offers a commercial bank and a credit union. Each offers several types of accounts. Add options available through the Internet and choices swell.
Picking the appropriate type of account takes a little forethought, said Steven LaMontagne, financial readiness program manager for the U.S. Army in mainland Japan.
The banking seminar he teaches to new soldiers outlines four criteria — convenience, safety, fees and other services — for selecting a bank account. He recommends:
¶ Convenience: Think about what you need from your bank. Among considerations: access to ATMs, online banking, hours of operation and location.
¶ Safety: Check whether the bank is insured by the Federal Deposit Insurance Corp. (FDIC) or the National Credit Union Administration. If the institution fails, these agencies insure up to $100,000 of individual deposits.
¶ Fees: Learning how much you'll really pay to bank might take some detective work. "Today the banking industry seems to be nickel-and-diming everything," LaMontagne said. "You have to really look at it completely." Most banks offer free checking, for instance — but only if a minimum balance is maintained. ATM fees can add up, especially when a servicemember is deployed frequently. Whether an account pays interest also is worth checking. Even a little bit can add up over time, he said.
¶ Services: Look for services a bank offers that you might need later on, like credit cards or car loans. Establishing a relationship with a bank can help when it's time to seek a loan or credit, LaMontagne said: "It's like a friendship. It's easier to ask for something from a friend than a complete stranger."
Choosing between savings or checking accounts often depends on an individual's needs, financial advisers say. "There's no one right way," LaMontagne said. "If you're a single, young soldier, with no family and no bills to pay, get a savings account with a debit card attached to it."
Lovely from Iwakuni suggests checking accounts are better because they help people track spending. But they take more discipline.
"A lot of servicemembers are really uncomfortable about maintaining a checking account," she said.
To prepare, they should start with a checking account lesson from their financial services office, then get overdraft protection, which many banks offer for free to customers who request it.
Overdraft protection draws money from a savings account or line of credit to cover the cost of a check written for more than the contents of an account.
"You have to apply for it. It doesn't come automatically," Lovely said.
Banking at sea
Banking needs don't end on dry land.
Sailors still must pay their bills even if they're at sea. And they still need access to their hard-earned cash, especially for shore leave. Enter the Navy's ATM-at-sea program.
"It's easier for the member — especially when we're underway," said Petty Officer 2nd Class Andra Homer, a dispersing clerk aboard the Yokosuka-based USS Blue Ridge.
Sailors can divert part of their pay into the shipboard ATM. They can withdraw cash to use in the ship's store, or to convert to a local currency for shore leave.
The ATM system has a special card used only on that ship. The system also helps some sailors stash some cash for their future.
"A lot of members use it for savings," Homer said.
Problem solving
Some problems can crop up wherever servicemembers bank, said Jessica Alm, financial readiness coordinator with Army Community Services at Camp Henry, South Korea.
Most often, she said, problems occur when spouses who share an account fail to tell each other of withdrawals.
Also, servicemembers often fall behind on regularly scheduled debt payments while changing duty stations.
Months after a move, said Alm, "a letter has been sent to their commander requesting payments and they'll be like, 'But, I haven't gotten a bill!'"
"They need to contact their creditors before they come here," she said. "And that goes for any deployment, whether they're coming to Korea or any future deployment. … When you have debt, contact your creditors. They'll be much more forgiving and willing to work with you if you tell them beforehand."
If a banking or other financial problem occurs, a servicemember can seek guidance from a financial counselor on his or her installation. Alm said many people who come to her have been referred by their units.
"Sometimes it's by their squad leader, some by their platoon sergeant, some by their first sergeant. It really depends on how that particular unit works," she said. "And people don't always bring it up to their chain of command either. They will just come in here to try to work it out without involving the unit."
Banking options for servicemembers in the Pacific