Far Cry New Dawn an entertaining return to Hope County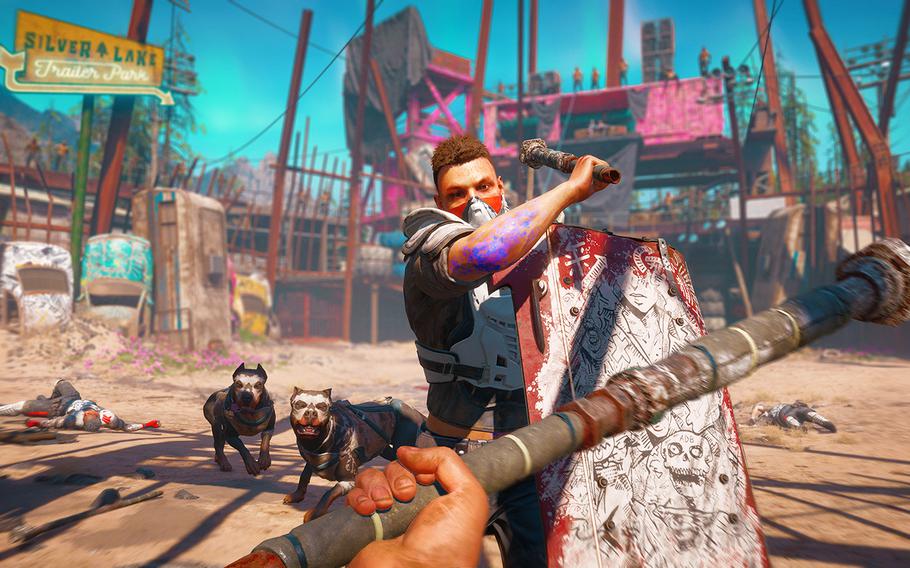 Nuclear Armageddon might not have improved things in Hope County, but it certainly didn't make them much worse.
A slightly irradiated Hope County, Mont., is the setting of Ubisoft's Far Cry New Dawn, a sequel to last spring's Far Cry 5. The first-person shooter is set about 17 years after the previous game's hero battled the Eden's Gate cult, which was terrorizing the rural county. During those years, nuclear war — a looming menace in Far Cry 5 — has come and gone, and survivors have crawled out of their shelters to establish new settlements.
Your character — known as the captain — is part of a team of do-gooders who have arrived to help the Hope County survivors learn to thrive. Unfortunately for the survivors and your teammates, a gang of ruffians called the Highwaymen has arrived to pillage and enslave.
As you roll into the county, the Highwaymen ambush your train and kill virtually everyone aboard. From there, you'll know the drill if you're a fan of the franchise. You'll explore a large open world, attack bases used by the thuggish overlords and tackle a wide variety of missions that lead to a final confrontation with the big baddies — a set of twin sisters in this case.
Along the way, you can gather a posse of sidekicks who can bring a variety of weapons and abilities to the fight. And you'll also need to ally yourself with the reconstituted Eden's Gate cult — now called New Eden — which has decided to disavow technology and return to the stone age.
The plot of Far Cry 5 was pretty much a downer. In comparison, New Dawn seems like a light-hearted romp through the forest. Part of that is because the story is less involved and the characters are a bit shallower. However, it also seems that the population is generally a lot less dour. The survivors are pretty pleasant. And most of the sidekicks you'll gather are off-kilter and entertaining — if you can tolerate a hefty dose of crude banter. The only "downers" this time around are a couple of very brutal cut scenes featuring the twins. Though brutality isn't new to the Far Cry series, it seems a bit more jarring in this setting.
New Dawn does introduce a few new elements to the series.
One of the most far-reaching changes is the addition of a ranking system for weapons and for enemies. In previous Far Cry games, you would acquire better weapons and face more difficult enemies as the game progressed, but things didn't really change that much from beginning to end. This time around, certain enemies are much more difficult and you aren't going to scratch them unless you have correspondingly strong weapons.
In order to get better weapons, you need to improve your primary base and its accompanying facilities. In order to upgrade your base, you need to recruit sidekicks and acquire ethanol. And the best way to get ethanol is to attack enemy bases.
Attacking bases has always been one of my favorite activities in Far Cry games. And this time around, it is even more fun. When you conquer an enemy facility, you can use it as a crafting center and forward operating base. Or, you can scavenge every drop of ethanol and let it fall back into the hands of the Highwaymen. If you let this happen, the bad guys return with more and meaner thugs. This makes the base harder to recapture — but also more exciting and much more lucrative.
Another new form of combat is the "expedition." In this, you leave Hope County via helicopter to tackle a search-and-grab mission in another location. These include a beached aircraft carrier, a bridge over a desert canyon and a New Orleans amusement park. These missions are fast-paced and exciting — and repeatable.
Another big change is the addition of special powers late in the game. These come from an unusual tree discovered by the New Eden cult. If you eat its fruit, you can unlock several new abilities, such as jumping farther, evading detection and moving super fast while resisting damage. These can be very effective and terrifically fun when assaulting a base or participating in an expedition.
The graphics are solid. Hope County is beautiful thanks to an explosion of vegetation that has covered many of the prewar structures. And character renderings and animations are very good — sometimes exceptional. However, you'll still notice a few visual glitches, such as rocks floating in the air.
The controls are well designed and very smooth. And the interface that brings up your map, inventory and abilities is efficient.
The game is rated mature, primarily because of a heavy dose of profanity and a few scenes of brutal violence.
While New Dawn isn't as deep as Far Cry 5, it still makes for an interesting visit to Hope County.
Bottom line: B-Platforms: PlayStation 4, Xbox One, PCOnline:far-cry.ubisoft.com
Ubisoft provided a copy of the game for review purposes.