Exhibit displays ukiyo-e prints, featuring the life of average Japanese person
---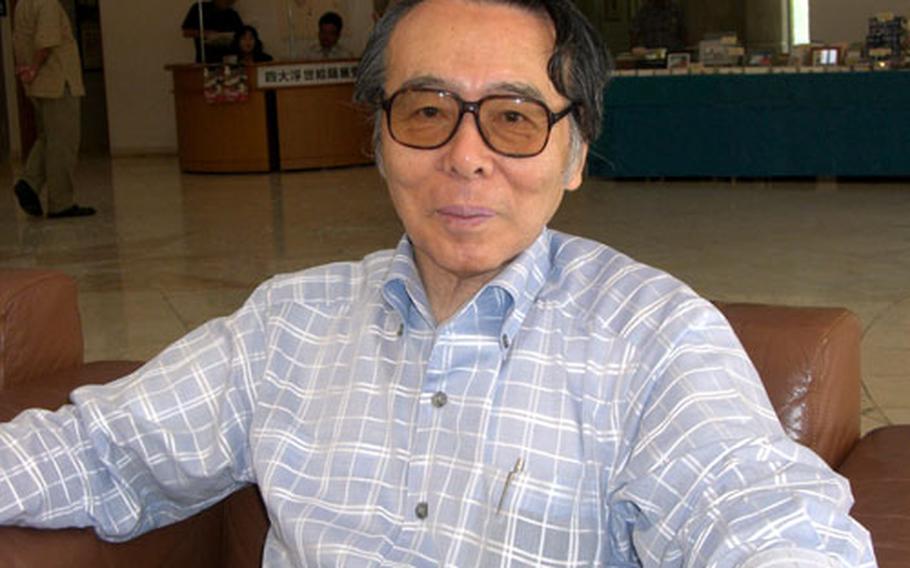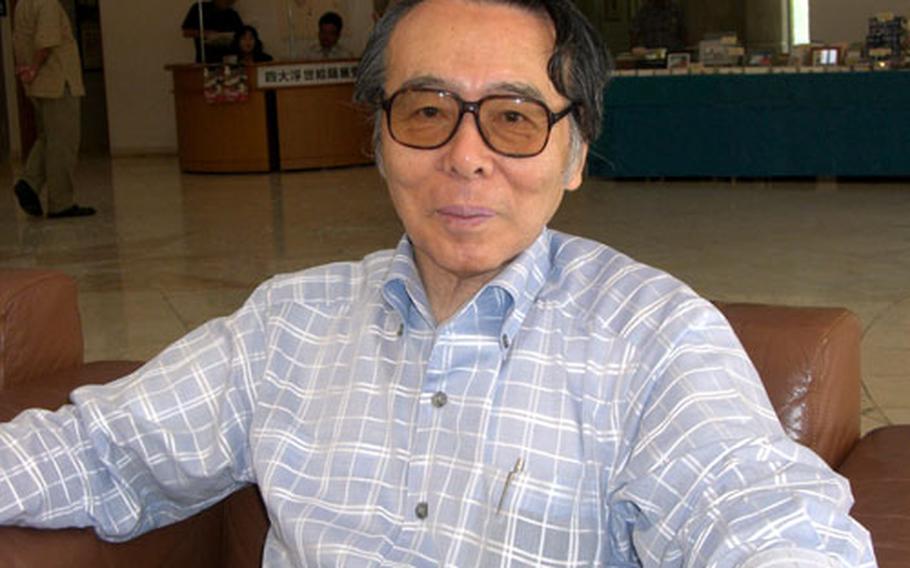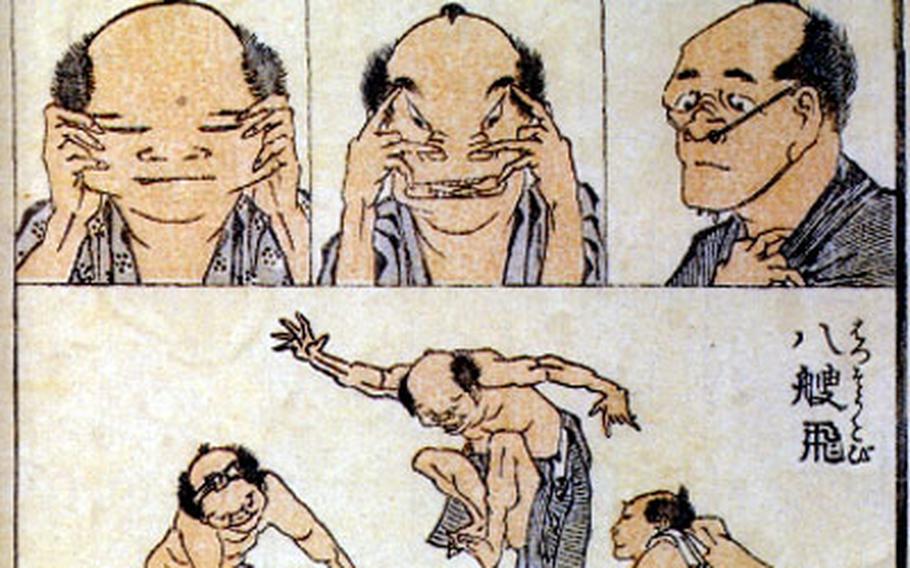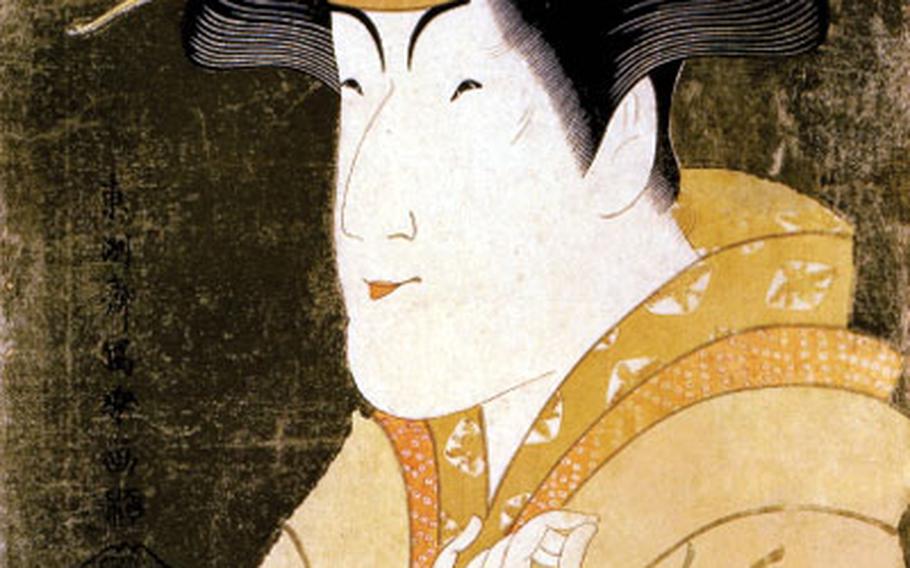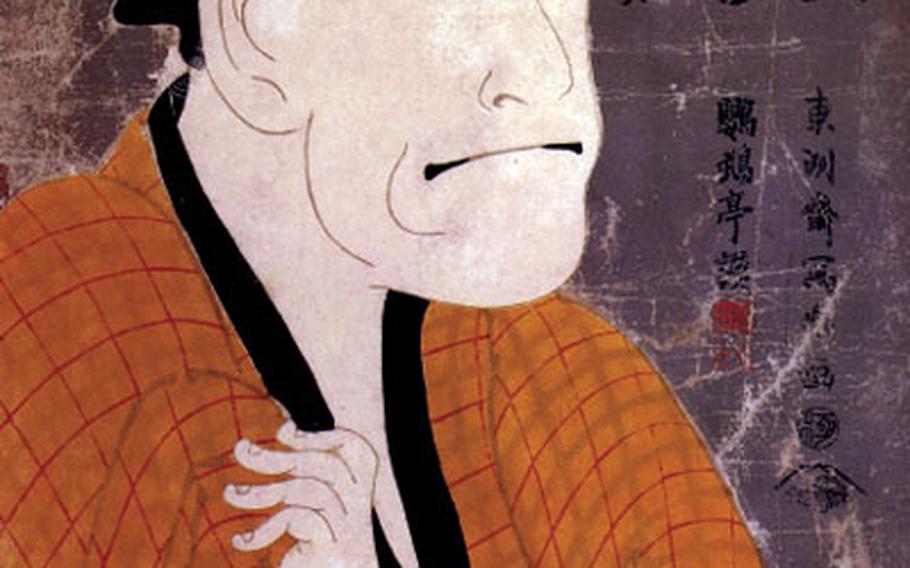 This is how the Japanese commoners lived during Japan's Edo period, when the island nation shut itself off from the rest of the world.
Ukiyo-e, or Japanese woodblock prints, are all about the joys of everyday life of the Japanese commoners, their adoration for the feminine form, their enthusiasm for the theater, and their love for nature's beauty, all preserved in vivid colors that continue to speak to viewers today.
An exhibit of ukiyo-e by four great artists is now on display in the Urasoe City Fine Arts Museum through Aug. 17. It's an exhibit that draws in visitors to the world of the metropolitan culture of the Edo period that flourished from the 17th through mid-19th centuries.
In one print, a comical cross-eyed kabuki actor poses. In another, a man attempts to blow out a lit candle with his nose. These scenes capture various moments of common people's everyday life – much like photographers of today do — showing a great sense of humor that resounds across the centuries.
Edo, now Tokyo, where the Shogun resided, was the center of politics, economy and the culture of medieval Japan after Tokugawa Ieyasu inaugurated the Edo shogunate in 1603.
Ukiyo-e, which literally means "paintings of floating world," was developed as mass media — posters for theatrical productions, portraits of kabuki actors and the famed beauties of teahouses and courtesans. In later days, as sight-seeing became a popular pastime among people, prints of scenic landscapes hit the market, providing postcard-like keepsakes.
The ukiyo-e exhibit at the city fine arts museum features four artists: Katsushika Hokusai, known for his work of Thirty-six Views depicting Mount Fuji; Utagawa (or Ando) Hiroshige, known for
his work of the Fifty-three Stages of the Tokaido (the main road that connected Edo and Kyoto); Toshusai Sharaku, known for his exaggerated style of drawing of kabuki actors; and Kitagawa Utamaro, known for his images of feminine beauties.
On display are 170 pieces owned by a ukiyo-e collector, Ei Nakau, a member of the executive board of the International ukiyo-e Society, an abstract artist and a businessman from Kobe on the mainland.
In the past 30 years, Nakau has devoted his passion, time and money in collecting ukiyo-e prints.
"It all started when I encountered a copy of one of the '53 Stages of Tokaido'," he said following the grand opening of the exhibition at the museum. "That one print made me want to have another, which led me to want another and then another, and here I am today," he said unpretentiously of his more than 2,000 prints, most of which are stored in a bank safe.
"It is my great pleasure to share with many people the joy of ukiyo-e through an event like this," he said.
On the first day of the exhibit, Nakau gave a tour to a crowd of ukiyo-e fans who flocked to the museum early in the morning, sharing his views on some of the best known works.
"Please note the tip of the breaking waves," he said, pointing at Hokusai's Namifuji, or Waves, and Fuji.
He said the artist managed to capture a fraction of a second of a breaking wave. Catching such a moment on a camera would be only possible with high-speed lens, he said, admiring the artist's visionary powers.
About half way through the tour, Nakau stopped in front of a print by Hiroshige that depicts people on a bridge running in a sudden afternoon shower.
"This was one of the works that deeply moved Van Gogh," he explained. He said that Van Gogh was known to copy two of Hiroshige's works, the rain scene and a Japanese apricot garden, the next print on display.
Nakau smiled as he pointed to Sharaku's works featuring kabuki actors.
"The kabuki actors he depicted were full of mysterious charm," he said, adding that Sharaku is regarded as one of the world's three greatest portrait artists, standing alongside the Spaniard Velazquez and the Dutch painter Rembrandt.
Yoshitsuji Kamimura and his wife, Mei, were among more than 50 people who crowded into the museum on the event's first day.
"I was impressed to see how fine the touches and how pretty the colors are," said Yoshitsuji Kamimura.
Another couple, Katsutoshi and Michiko Ono were also excited about the rare opportunity.
"When I learned about the exhibit, I thought we should never miss it," Ono, the husband, said.
"Rain, morning mist, a woman inside a mosquito net — how was it possible to portray such delicate scenes in woodblock prints?" he said, admiring Hiroshige's work.
"Hokusai is very dynamic," his wife chimed in.
"If he was alive today," she said, "he would be a world-class designer or illustrator."
Know and Go: Urasoe Fine Arts MuseumDirections: Drive Highway 330 south from Camp Foster. Stay on the highway until you pass through a short tunnel and then a pedestrian bridge. After the tunnel, look for a sign for the museum on the left. The Urasoe Fine Arts Museum, with a dark brown roof, is on your left. Follow the sign to the museum's parking lot.
If you go on a toll road, take Okinawa Expressway south and get off at Nishihara. (No. 2) Take the left road after the exit to get on Highway 330.
Info: The exhibit is open through August 17. Admission is 1,000 yen for adults and 800 yen for students and children 15 years and younger. The museum is open 9:30 a.m. to 4:30 p.m. Tuesday through Sunday, and until 6:30 p.m. Fridays. The museum is closed Mondays.
---
---
---
---