'Everything looks like slow motion'
---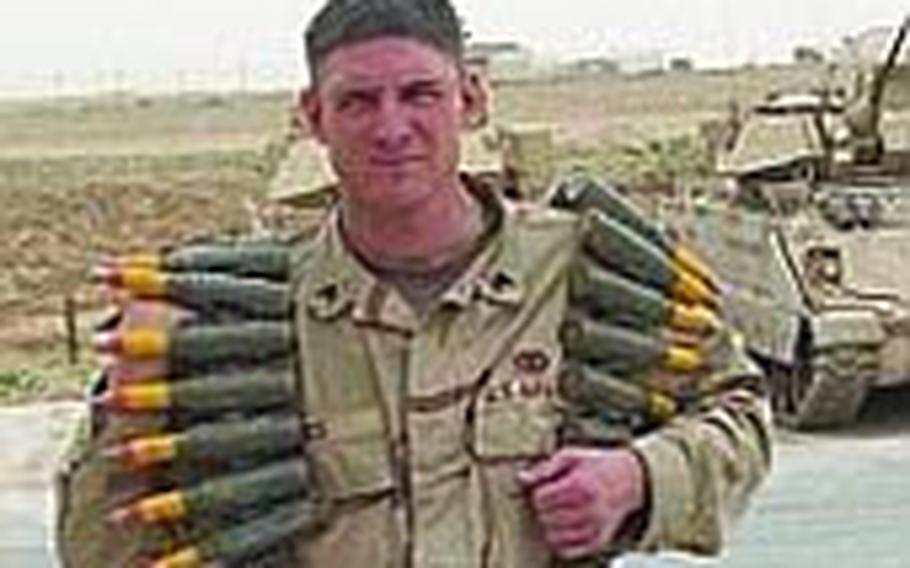 Staff Sgt. Murray Rice doesn't remember much about his first ambush — just a five-minute blur of firing his M-16 at insurgents hidden behind mounds of sand on a desert highway.
But he can vividly describe how an exploding grenade looks like an orange basketball on fire. And how a rocket-propelled grenade looks like a slow-moving boat, even as it hurtles toward you.
"I don't know why, but everything looks like slow motion coming at you," said Rice, a combat medic who on July 20, 2003, was caught in one of the earliest roadside ambushes against American troops in Iraq.
At that point, the ambushes were still rare. In fact, Rice, then with the 3rd Armored Calvary Regiment, thought the war was essentially over and he would be going home in a few months.
That day, he was part of a small convoy delivering $750,000 to the mayor of Anah. The money was earmarked for police salaries, water and sewer services — money to make the city function.
Rice waited outside while a civil affairs team ate lunch, drank tea and delivered money to the mayor. They were about 30 miles from Haditha, and out of radio range.
"We didn't have the kind of secure communication that units with more money and equipment had," Rice said. "Whatever we encountered, we have to deal with on our own."
After lunch, the three-vehicle convoy pulled onto Iraq's Highway 12. Fifteen minutes later, four insurgents — two on each side of the road — attacked.
Rice was riding in the back of an open Humvee when the Iraqis opened fire. He kept shooting, and the convoy kept driving.
"All I know is I had three magazines changed and rotated through my weapon before I even knew I was doing it," he said. "I didn't think of anything except shooting back, because that's how they trained me."
As a combat medic, Rice's job is first to shoot during an attack and then treat the injured. It wasn't until the convoy was about three miles past the ambush site that he realized several Americans had been hit by shrapnel, though they had been able to keep shooting
"They were the walking wounded," he said. "I actually know what white as a ghost means now."
Rice treated the soldiers, though none of their injuries was life-threatening. Three were awarded Purple Hearts, and Rice and several others were awarded the Army Commendation with "V" device.
"I didn't think I deserved it, and I still don't. I think the reason we got it was because it was the first ambush, but it became a daily activity over there," he said.
Rice, now with the 568th Medical Company at U.S. Army Garrison-Humphreys in South Korea, said he expects to return to Iraq someday. For now, his focus is training his medics for when they'll be in combat.
He says he thinks he lived through about 10 ambushes before he left Iraq in April 2004, but said he stopped counting after a while.
And each time something blew up, he said, he was afraid.
"Anybody that says they weren't scared, something's wrong with them," said Rice, who is married with three children. "Yeah, I was scared. You don't think about it then, but when you're sitting in your safe secure zone, you just think about how lucky you are."
But every time they were attacked, his training kicked in. That training — and knowing he might have to save another soldier's life — outranked his fear, he said.
"You know their family, you know how many kids they have. You basically know what their car payment is," he said. "You can't say, 'I won't go out on this mission with them,' because if they get hurt, I'm there to plug bullet holes."
Staff Sgt. Murray Rice
Unit: 3rd Armored Calvary Regiment
Medal: Army Commendation with "V"
Earned: July 20, 2003, Iraq
---
---
---
---