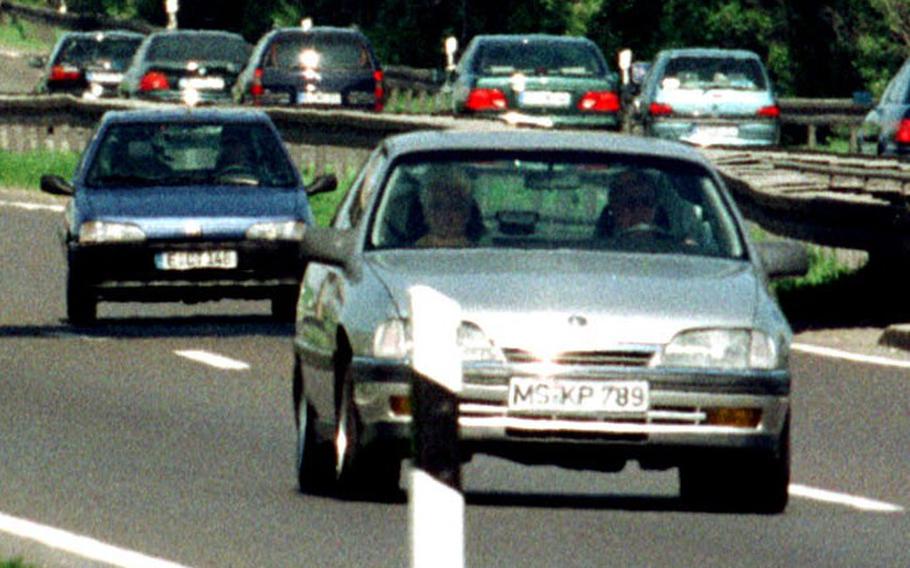 Taking a road trip, navigating the countryside of Ireland and whipping down the autobahn all have one thing in common: it is best done driving a car. Rental car policies vary from one country to the next; however, there are three main differences between renting a car overseas and renting one in the United States. It comes down to size, insurance and age.
Size and SubstanceColossal SUV's can make you feel like you rule the road, except when it comes to driving in Europe. It is far easier to blend in and navigate village roads with a more compact vehicle. Tight turns, curves and miniscule parking spots will make you thank the makers of mini autos. If offered an upgrade at the rental counter, fight the urge to respond with a big enthusiastic, "yes!" Ask exactly what an upgrade means. The company could be trying to push you into a larger vehicle they want to pawn off, instead of sticking you in a desirable coupe or intermediate size car. Take into consideration what it would be like to drive a beast with high gas prices, unfamiliar terrain and narrow roads. Maneuvering a giant vehicle or van can make you feel like the roads are ruthless.
Automatic transmissions are more expensive to rent because there are less available. Book well in advance if you are unable to drive stick shift. Manual transmissions are more popular in Europe and the supply is higher. Renting a manual will save you money on the rental price, gas mileage and offer better handling when climbing mountains.
Before you peel out of the rental parking lot, get to know your temporary vehicle. Make sure you can start the vehicle and work through all the gears. Check for any scratches and dents. Renters are advised to take the extra step and photograph any damages found prior to leaving the lot. There have been cases of companies charging for car damages that have previously existed.
Find out what type of gas your rental car takes: unleaded or diesel. Pumping the wrong type of gas can be damaging to the car. Both diesel and unleaded can be found at gas stations throughout Europe. You will find diesel is cheaper and used in some rental cars in Europe.
Are you are allowed to cross the border into a different country with the rental car? Voice your driving plans to the rental company. Enterprise, currently located in Ireland, Germany and the UK, prohibits driving into another country. Auto Europe states that most car categories can be driven anywhere in Western Europe without restriction. Due to insurance regulations, there are restrictions on luxury car categories when traveling in certain countries. If you have approval to enter another country, ask if any required paperwork, documentation or insurance is necessary. This is especially important when it comes to driving to Italy and Eastern Europe.
InsuranceShop around for a rental car. Compare prices for the same size vehicle, including insurance costs, at each company. Over the phone the quote will usually be for the cheapest available car, excluding additional costs such as insurance.
There are basic and all-inclusive rates. The basic rate includes public liability insurance, fire insurance, value added tax and unlimited kilometers. The inclusive rate includes everything offered in the basic rate, plus: Collision Damage Waiver (CDW) and theft protection. In Italy, CDW and theft insurance are mandatory. AutoEurope.com explains "In case of an accident or theft, CDW and theft insurance releases the client from full financial responsibility for the vehicle. In most cases, the client will still be responsible for a deductible of some sort, even when collision and theft are purchased. Most car rental suppliers will offer insurance locally which can reduce the collision and theft deductible if the client wishes to do so."
CDW insurance charged by rental companies can be expensive. Certain American credit cards may cover the insurance, but be sure to double check. It is always important to check with your bank or credit card before assuming you have total insurance coverage. Many credit card companies limit the amount of protection you receive when renting a vehicle overseas. Some may require a deposit on your card worth as much as the replacement value of the car. This could present a problem if your credit limit is less than the rental car value. Or your card might be over the limit next time you try to use it.
"Paying for full CDW coverage through the car rental company is not mandatory, but hassle-free and will save you time and stress," said Daniel Herrmann, representative from Enterprise Rent-A-Car in Kaiserslautern, Germany. If you get into an accident without CDW, you will have to pay your own money upfront for repairs. Only after shelling out the cash can you seek reimbursement from the credit card company. Plus, there is plenty of fine print that can disqualify you. "Full coverage will protect you in case of an accident and there is no need for reimbursements," Hermann said. It is important to check with your bank or credit card company before booking to make sure what insurance coverage you possess. If you have an accident, be sure to get a police report. You will need this when returning the car.
If you decline CDW with the rental company, in order to use coverage on your credit card, Auto Europe advises renters to consider the following:
Coverage may be limited to the value of your personally owned vehicle, not the rental.Some policies only offer coverage on a rental car if your personal vehicle is in need of repair. The insurance premium could be raised due to a claim. You could be put in a "high risk" bracket and the insurance policy could be canceled.Most policies do not cover damage or theft of personal possessions, third party liability or medical costs. It is the client's responsibility to check with their credit card company or insurance carrier to determine their coverage.Age Requirements There are minimum and maximum age restrictions when renting a car in Europe. Limitations vary according to the individual rental car company, type of vehicle and by country. Certain countries maintain a national maximum age. In other countries without a nationwide age limit, the individual car rental companies set the cutoff age. For example: In Ireland, Budget requires drivers to be under 70 and Auto Europe allows anyone under 79 to rent a car. Further maximum age restrictions found in certain parts of the following countries are: Age 69 in the UK, 75 in Italy, and 70 in the Czech Republic, Greece, Poland, Romania and Turkey.
Younger drivers under 25 may be subject to surcharges and the use of certain large, luxury or specialty vehicles may be denied. Government or military personnel may rent at 18 years of age. Otherwise, general minimum rental age is 21, with some exceptions: Austria's minimum age is 19 with no maximum age limit; minimum age rental in the UK is 25, but rates just may be higher for renters aged 21-24. Alamo has a minimum rental age of 24 in Ireland and applies an underage fee per day of rental for drivers ages 24-26.
When in doubt, it is best to check with the car rental company regarding minimum and maximum age restrictions before making a reservation.
Where to Rent a Car?"Generally the best way to book rental cars in Europe is on the internet which should secure you the most competitive rates," said Andy Lewis, Head of Marketing & E-Commerce for Budget Rent-a-Car. There are many rental car companies to choose from in Europe: Avis, Auto Europe, Budget, Enterprise, Europcar, Hertz and Sixt. Each one offers special deals and perks. Sixt has a strong presence on military bases overseas. Enterprise in Kaiserslautern, Germany will pick you up at your door or in front of your military installation. Check with the individual companies to find the best rental deal for you.
Questions to ask when renting a car:Are there any age limitations for the driver?Is there a fee for additional drivers?What insurance is mandatory?Can you drive the rental vehicle to different countries?Are you allowed to change the pick-up and drop-off locations without being charged extra?