More to Bologna than sausage
by
Kent Harris
March 12, 2012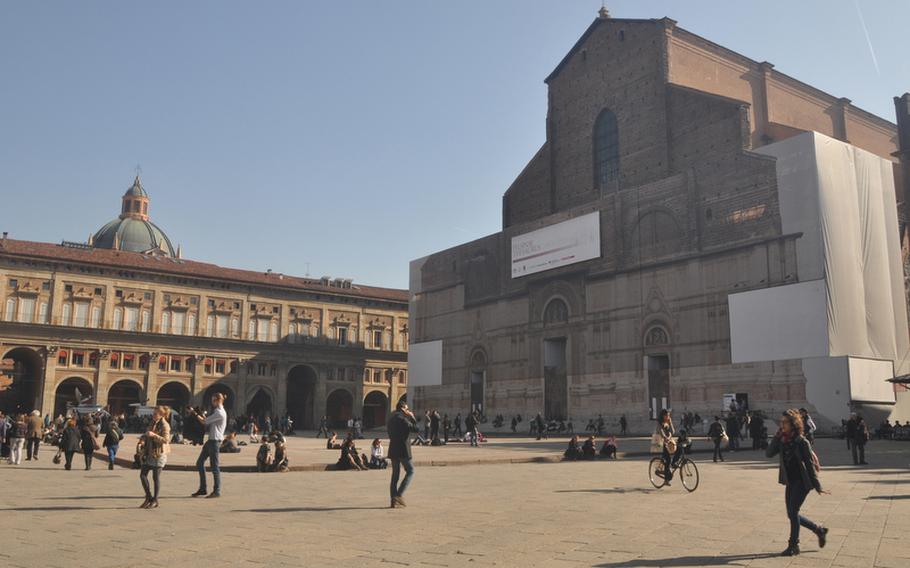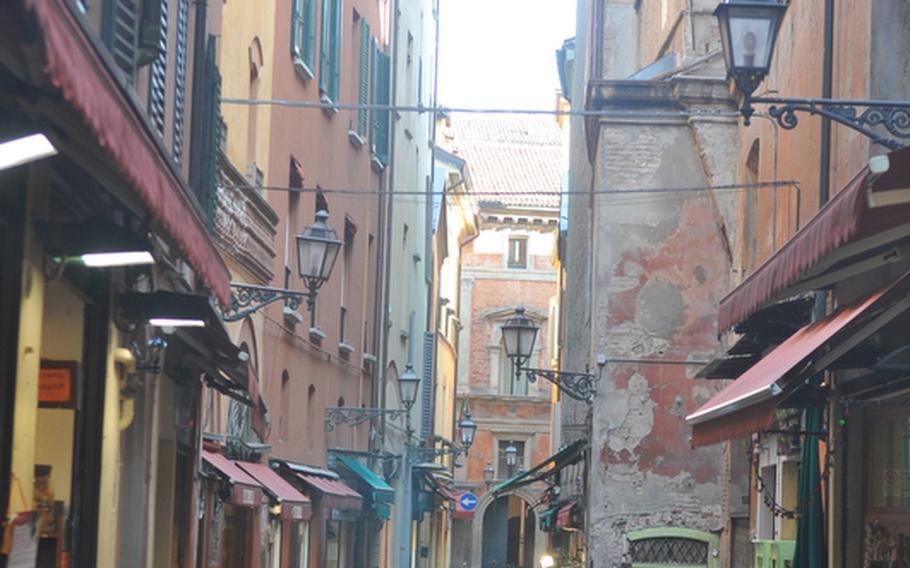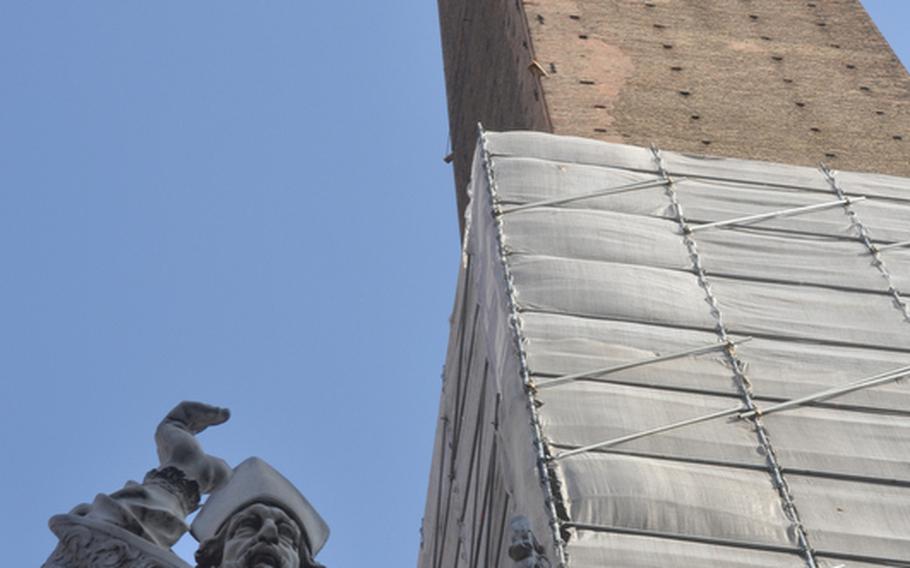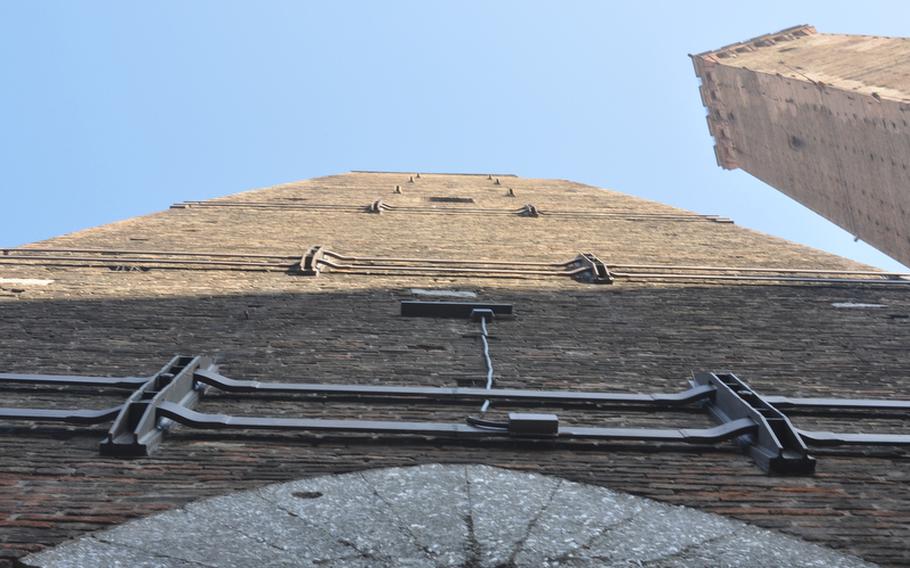 Bologna, the capital of Italy's Emilia-Romagna region, is known for many things, according to longtime resident and tour guide Carla Cesarani.
It's known as "Bologna the Red" for its red-brick buildings (and some would say far-left-leaning politics). Or "Bologna the Fat" for its not-exactly-diet-conscious culinary offerings, sometimes called the best in Italy.
And also "Bologna the Learned" as the home of the world's oldest university, which churned out a bevy of medieval lawyers.
But it's probably best known to Americans as one of the cities between Venice and Florence, or a place that sounds a lot like something produced by Oscar Mayer.
Both of those are true. Bologna sits about halfway between those two popular tourist destinations, but doesn't draw nearly as much attention.
And bologna is the Americanized version of mortadella, a pork sausage that's among the many things for which Bologna is famous.
Several other famous attractions are located in or near the main square, Piazza Maggiore.
The Fontana del Nettuno (Neptune's Fountain) draws attention for the Greek god standing on top and the four mermaids displaying their assets beneath it. Historians say it was controversial when it was unveiled in the 16th century, especially since it was funded by the Vatican. But what often goes unsaid, according to Cesarani, is that it was part of an aqueduct system designed to bring clean water for the local population, something that was in short supply at the time.
Bologna, one of a number of cities ruled for years by the Vatican before Italy became a unified country, could have boasted the largest church in the country. But the pope reportedly decided that Basilica San Petronio shouldn't be bigger than St. Peter's in Rome. He ordered a university building be built at one of end of the church, so the basilica couldn't be completed as planned, Cesarani said. Some say that the construction of the university in 1565 also served to allow the Vatican more sway over the students and their studies. Previously, classes were held all over the city.
Napoleon shifted the university to the northeast when he took over the city in the late 18th century. But some facilities still are open to the public today. Note the student crests all over the exterior and interior of the main building and a wood-paneled room inside where dissections used to take place.
Before Napoleon arrived, Bologna was already famous for towers — the product of a "can you top this" competition among powerful families in the Middle Ages. The two most famous, known today as the "Due Torre," are only a few blocks from the main square. The tallest, Torre degli Asinelli, has been standing about 1,000 years. Its companion, Torre Garisenda, looks like it's ready to fall over any day.
There's an array of smaller churches and museums nearby — most of them within a short walk of Piazza Maggiore — too short to burn off all the calories offered in the numerous fine restaurants across the city.
DIRECTIONSBologna is about a 90-minute drive southeast of Vicenza and about a three-hour drive south of Aviano. Taking a train is a good option. It takes just a bit longer than driving and probably costs about the same, once road tolls, gasoline and parking fees are taken into account.
TIMESMany attractions close for lunch and schedules change depending on the seasons. So be flexible and prepared to visit the next site on your list.
COSTSRound-trip train tickets from Vicenza or Pordenone near Aviano cost 37 or 38 euros, but it's possible to pay much less if you're flexible on travel times. A round-trip ticket from Vicenza can run as low as 11 euros. Similar trains from Pordenone cost 15 euros.
FOODThough Italians elsewhere would likely argue, Bologna is widely considered Italy's culinary capital. Mortadella, the local ham, somehow morphed into bologna in the U.S. Parmesan cheese (from Parma) and balsamic vinegar (from Modena) dominate the ingredients in Bologna's dishes. Bologna claims to have been the first to produce tortellini. Restaurants are numerous and many are considered top-notch. It's much cheaper to dine in them for lunch than for dinner.
INFORMATIONThe main tourist office is located in Piazza Maggiore. English is spoken. Maps, brochures, hotel booking services are available (though it's best to reserve ahead in peak seasons). Hours: 9:30 a.m.-7:30 p.m. daily. Phone: 0512-39660. Web: bolognawelcome.com (Italian and English). There's also a smaller office at the train station open 9 a.m.-7 p.m. Monday through Saturday and 9 a.m.-3 p.m. Sunday.
— Kent Harris
---
---
---