Know what deal will get you where you want to go for less
by
Karen Bradbury
July 1, 2010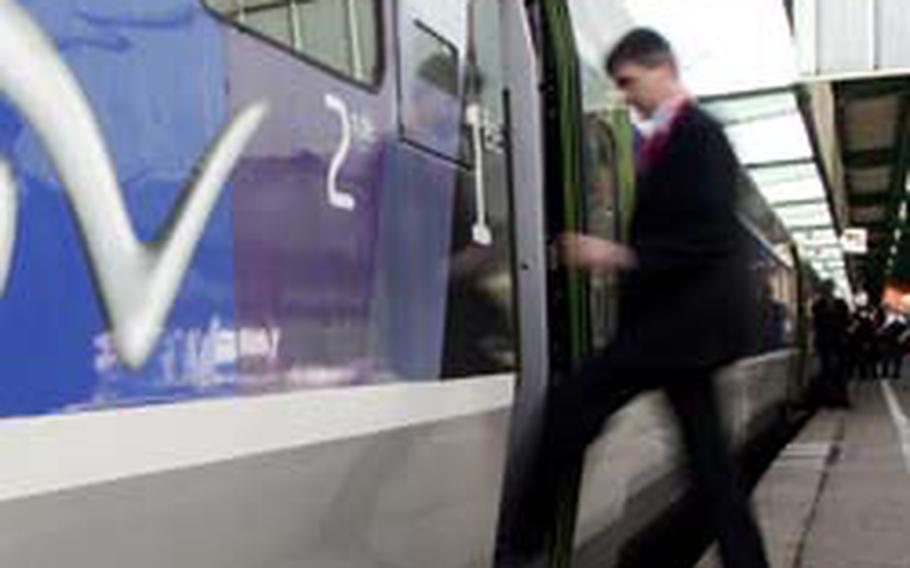 Train travel in Europe can make getting from the smallest of towns to the continent's thriving metropolises and anywhere in between a snap. However, unless you plan ahead or take advantage of some of the less-apparent options for savings, you might find yourself racking up a hefty bill for the privilege of riding the rails. Before hopping aboard, make one of your first stops the website of the national rail system of your destination country and other resources dedicated to travel by rail. Haven't yet nailed down a final destination, or traveling between two countries? Here's a great overview of traveling by train in Europe.
GermanyGermany's national rail system, Deutsche Bahn, operates 26,906 local and long-distance trains every day. With a route network like that, surely there's one heading your way. Not all trains are created equal, however. Regional trains link the smallest stations to neighboring cities or hub stations which in turn feed into the long-distance train network. In densely populated areas, the S-Bahn run along set routes at regular intervals. Intercity trains link major cities within Germany, whereas the Eurocity label denotes a train that crosses into one of the neighboring countries. These classes of train reach speeds of 124 miles per hour, with most offering a dining car or snack bar and electrical outlets by some of the seats. At the top of the heap, the Intercity-Expresses, or ICE, trains, are the fastest, reaching speeds of up to 198 miles per hour, and offer a range of niceties such as quiet compartments, family rooms, air conditioning and snacks and beverages delivered to your seat.
Generally, the faster you wish to travel, the faster funds will fly from your wallet. But savvy travelers will book ahead and rack up substantial savings. For example, a one-way ticket from Munich to Stuttgart booked one day before travel would run 47 to 53 euros, but by booking that same route one month in advance, you could take advantage of a special savings price of just 19 euros as of this writing.
There are other savings programs available for savvy travelers. On weekends, groups of up to five adults or parents and their children can travel together on the Schönes-Wochenende, or Happy Weekend Ticket, which allows for second-class travel on regional train networks for just 37 euros. If your travels will keep you within the boundaries of a single federal state, consider one of the "Länder" tickets. For example, up to five people can travel the length and breadth of Baden-Württemberg in a second-class carriage on the regional lines for just 28 euros any day of the week. This means that five friends could travel from Mannheim to Stuttgart and back again by kicking in just 6 euros each. Not bad! Solo travelers can pick up Single-Tickets with the same conditions of carriage for just 20 euros each.
Other Bahn bargains include packages allowing for both rail travel and entry to specific places, for example, Europa-Park, or city breaks, which include the cost of hotel accommodations. Many sizable train stations have a travel agency adjacent to the ticket office; waltz right in and see what they can do for you.
ItalyAlthough visitors to the Trenitalia website likely won't find it nearly as comfortable to use as the German Rail website, with persistence you should be able to obtain timetable information and tickets.
Classes of trains available in Italy vary widely. The speediest are those of the newly deployed Frecce railway system. Frecciarossa traverses the Turin-Milan-Bologna-Rome-Naples-Salerno high-speed line, achieves speeds of up to 223 miles per hour and can whisk a traveler from Rome to Milan in less than three hours; Frecciargento links Rome with Venice, Verona, Bari and Lecce, Lamezia Terme and Reggio Calabria, reaches top tempo at 155 mph and gets you from Rome to Venice in just three and a half hours; Frecciabianca trains connect Milan to Venice, Udine and Trieste; Genoa and Rome and Bari and Lecce, maxing out at 124 mph. Eurostar trains connect Rome to Ancona, Genoa, Lamezia Terme, Reggio Calabria, Perugia, Ravenna, Rimini and Taranto. Nipping at the heels of these trains are the Intercities, which travel medium to long distance routes. International train routes connect to destinations in Switzerland, Austria, Germany, France, Spain, Croatia, Slovenia, Czech Republic and Hungary. There is also an extensive network of overnight trains, linking cities such as Milan to Rome, Bari to Turin, Naples to Udine, and Palermo to Turin, with stops in major cities along the routes. Costs vary widely depending on comfort level chosen, from remaining seated overnight to traveling in style in an Excelsior Cabin.
Trenitalia runs promotions throughout the year, but you need to book in a timely manner to take advantage of the best deals. For example, a summer promotion allows for travel on Frecciarossa trains for just 19 to 39 euros in second-class carriages. These tickets must be purchased 30 days in advance via the web, through Trenitalia's call center or at some travel agencies. Another ongoing promotion is the Smart Price, geared to international travelers. If you are able to meet the advance-purchase stipulations, travel deals include Milan to Barcelona starting at 71 euros, Turin to Paris from 30 euros, Florence to Zurich from 35 euros, Rome to Munich from 29 euros, and Venice to Zagreb for just 15 euros.
United KingdomBritain's rail network is actually a conglomeration of many private companies, but the government makes sure they come together under the guise of National Rail. When traveling on any of these networks, the question you face is how to arrive at your destination for as little cash outlay as possible.If you simply must travel at a certain time of day, you may have to go with the "Anytime" fare, which is fully flexible, valid on any train at any time, and therefore your most expensive option. "Off peak" fares are valid on any train, but not during peak business travel hours of the Monday-to-Friday work week. Exact time restrictions vary depending on the route. The outward journey must be made on the date shown on the ticket, but you can return on any day within the next month. This type of ticket is valid anytime on the weekend and requires no advance booking. The cheapest option out there is the "Advance" ticket, which must be booked at least one day before travel, is valid only on the specific train booked and is non-refundable. Advance tickets are sold subject to availability and usually go on sale about 12 weeks before the date of journey. For maximum savings, book as early as possible.
For more tips and tools enabling you to book tickets at the best price, visit www.bestvaluefares.co.uk. The site offers a handy feature known as the Cheapest Fare Finder, which allows you to look for best-priced tickets on up to four dates. The key to finding the best fare will be flexibile travel dates and times. Another website worth visiting is www.thetrainline.com. Just plug in your departure and arrival stations, date and time of journey, and you will be presented with the times and prices for all trains traversing that particular route.
High-speed trainsDespite the popularity of budget airlines across Europe, high-speed rail networks are continuously being developed throughout the continent. With ever-shrinking journey times and the convenience of arrival and departure points in city centers rather than far-flung suburbs, trains can often make the total travel time less than it would take by air. The Eurostar links London to Paris, Brussels and Lille, France. As of 2007, when the service moved from Waterloo to its new home at St. Pancras station in London, Eurostar journey times have been reduced by at least 20 minutes on all routes. It is now possible to travel between the capitals of England and France in an impressive 2 hours and 15 minutes.
Other high-speed trains include Thalys, which is operated by a consortium of French, Belgian, Dutch and German railways and serves the cities of Aachen and Cologne, Germany; Antwerp, Brugges, Brussels, Ghent, Liège, Mons, Namur, Ostend and Charleroi, Belgium; and Paris, Avignon, Aix-en-Provence, Valence and Marseille, France. TGV, or Trains à Grande Vitesse, link up cities within France and to Brussels, and make it possible to travel between Paris and Lyon in less than two hours, or to reach Bordeaux from the French capital in just under three hours. Spain's answer to high-speed rail is the AVE, or Alta Velocidad Española services. Travel time between Madrid and Barcelona has now been reduced to just two and a half hours. Seville and Malaga are also accessible on the AVE routes.
Multi-country rail passesIf you've called Europe your home for the past 6 months, you are eligible to buy an InterRail pass, which allows you unlimited travel in one or all 30 participating European countries, with the exception of your country of residence. Costs will vary according to the pass' length of validity and class of travel, and special services such as seat reservations and sleeping berths must be paid for separately. You may also have to pay a supplement to use the top-of-the-line trains. For more, see www.interrailnet.com. Those who live outside of Europe may purchase a Eurail pass.
A final word on savingsIs it really worth the effort of hunting down national rail websites when you can engage in one-stop shopping? The website www.raileurope.com can help find visitors to Europe from North America tickets on routes throughout Europe. In comparing advance-purchase one-way tickets between Frankfurt and Paris, Raileurope's cheapest options came in at less than the prices proposed by the Deutsche Bahn website. Note, however, that the only option might be a paper ticket mailed to your home — and the company does not ship to APO addresses. While this takes this website out of the running as an option for those already based in Europe, travelers from the United States may well find this site an invaluable booking tool.