Europe Traveler's event picks for Oct. 11-13
---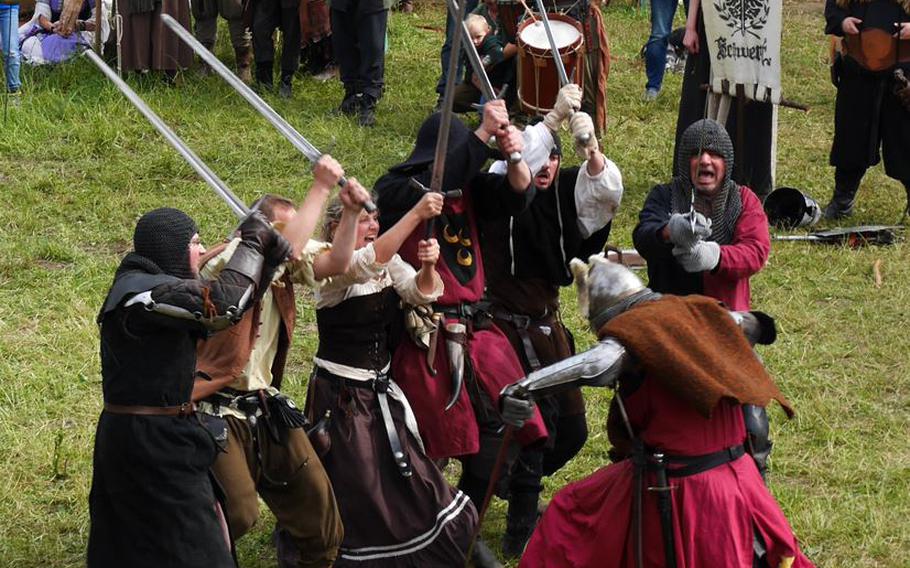 Oktoberfest on the Stubai Glacier
Location: Eisgrat Top Terminal, Neustift im Stubaital, AustriaDates: Oct. 12-13 Ski season on the glacier kicks off, as per tradition, with this Oktoberfest-styled celebration 9,500 feet above sea level. Skiers can enjoy Bavarian treats, traditional costume contests, and no shortage of beer. Live music plays on Sunday. A bonus is the chance to watch nostalgia skiing, with skiers using equipment from decades long past.Admission: Ski passes go for 40 to 50 euros, depending on the time of day a skier starts out. Guests who show up ready to ski in a Dirndl or Lederhosen receive a 50% discount off the price of a single-day ski pass.
Puces et Salon des Antiquaires / Antiques and Flea Market
Location: Ciney Expo, Rue de Marche Couvert 3, 5590, Ciney, BelgiumDates: Oct. 11-13 (10 a.m.-6 p.m. daily) Antiques and collectibles await discovery at what's billed as the country's biggest event of its kind. The highlight comes at the very start, when at promptly 2 p.m. on Friday, trucks in the parking lot unfurl their tarps to reveal the treasure inside and hectic bargaining commences.Admission: 10 euros on Friday or Saturday, 8 euros on Sunday.
Location: Dubrovnik, CroatiaDates: Oct. 14-20 In additional to the chance to sample delicious food and high quality wines, foodies can attend workshops, lectures, gastronomic tours and themed dinners. Several of the workshops are free when a space is reserved in advance. Dubrovnik Restaurant Week runs in parallel, meaning you can eat well in the city too. A highlight event on Oct. 20 is the Dubrovnik Table, a long table stretching along the entire main street, where hotels, restaurants, pastry makers and caterers present their skills and creations.Admission: Events are priced individually. To sample from the Dubrovnik Table, visitors must purchase vouchers; these cost 35 Croatian Kuna ($5.20) for food and 15 kuna for wine. Proceeds benefit charity.
Location: Prague, Czech RepublicDates: Oct. 10-13 See the beautiful city of Prague in another light during the Signal Festival, an event featuring light art, installations, videomapping and more. Participating properties range from the city's most iconic monuments to lesser-known corners of the city.Admission: Free
Location: Copenhagen, DenmarkDate: Oct. 11 (7 p.m.) One of the city's most popular and best-attended cultural events is this event in which more than 250 museums, theaters, libraries, churches, ministries, parks and plazas welcome visitors with an array of events from guided tours to concerts. The fest takes over not only the inner city but the outlying suburbs as well.Admission: A culture pass costs 95 Danish Kronor, about $14. The pass entitles the bearer to free use of public transportation.
Location: ExCeL London, Royal Victoria Dock, 1 Western Gateway, Royal Docks, London E16 1XL, England, UKDates: Oct. 12-13 (10 a.m.-5 p.m. both days) Those thinking of buying a dog, or merely curious about the traits of various types, have the chance to see and interact with around 200 breeds of dogs and their breeders. Displays and agility competitions take place in the main ring. Visitors will also find a wide range of products for man's best friend on sale here.Admission: 18 pounds ($22.20) adults; 12 pounds ages 9-15, those under the age of eight enter free.
Location: Pont d'Iéna, Paris, France Date: Oct. 13 (10 a.m.) This wildly popular running event starts and finishes from the foot of the Eiffel Tower. While it's too late to join the 30,000 runners already signed up to take part in this race, the atmosphere along the course is animated with live music and cheering spectators. A Racing Village on Place Joffre offers a range of sporty activities and concerts on both Oct. 12 and 13.Admission: Free
Location: Meersburg, GermanyDates: Oct. 11-13 (from 2 p.m. Oct. 11 and from 11 a.m. Oct. 12-13) A picturesque town on the banks of Lake Constance makes an ideal backdrop for this medieval-themed festival. Artisans and craftspeople ply their trades as market stall holders sell a range of curious wares, while jesters, minstrels and musicians provide the entertainment. Tasty treats based on food and drink recipes of the past are also available.Admission: adults pay 7 euros; children pay 3.50 euros; small children under the height of a sword enter free. Adults in convincing costumes pay just 5 euros.
Pig Slaughter and Sausage Festival
Location: Railway Museum, Vasuttorteneti Park, Budapest, HungaryDates: Oct. 11-13 (noon-10 p.m. Fri., 9 a.m.-10 p.m. Sat. and 9 a.m.-8 p.m. Sun.) The largest food festival of the Hungarian capital is a celebration of traditions, gastronomy and folklore. Visitors can witness the entire process of sausage-making from start to finish and sample many of the country's countless varieties of such, perhaps washed down with a bracing shot of schnapps. Kids can enjoy the petting zoo, face painting, archery and other old-fashioned attractions. Music and performances by folklore groups round out the entertainment.Admission: adult tickets cost 2,500 Hungarian Forint ($8.25), children ages 3-14 pay 2,000 HUF, and those two and under enter free.
Location: Dublin, IrelandDates: Oct. 11-13 Ireland's biggest festival of architecture offers over 150 free tours and events, including access to buildings usually off-limits to the public. Open properties include commercial and civic buildings, private homes, infrastructure and landscape projects. The majority of tours are offered on a first-come, first-serve basis.Admission: Free
Location: Katowice, PolandDates: Oct. 11-12 The world's biggest indoor blues festival has been organized since 1981, and attracts some of the world's greats of the genre. The lineup includes Polish and international names, with plenty of artists hailing from the U.S. On stage this year are Rick Estrin & The Nightcats and Irek Dudek on Oct. 11, and Hannah Wicklund and the Steppin' Stones, James Blood Ulmer, Memphis Blood Blues Band featuring Vernon Reid, Victor Wainwright & the Train, The Daniel Castro Band and Lindsay Beaver appear on Oct. 12. The festival starts early in the day with artists playing on a side stage, and artists on the main stage appear in the mid-afternoon. The final concert begins around 6 p.m. Rawa Blues takes place in two venues, the NOSPR on Oct. 11, and Spodek Oct. 12; tickets to each event are sold separately.Admission: Tickets are available online or at the door; prices begin at 90 Polish Zloty ($23).
---
---
---
---