Europe Traveler's event picks for Dec. 6-8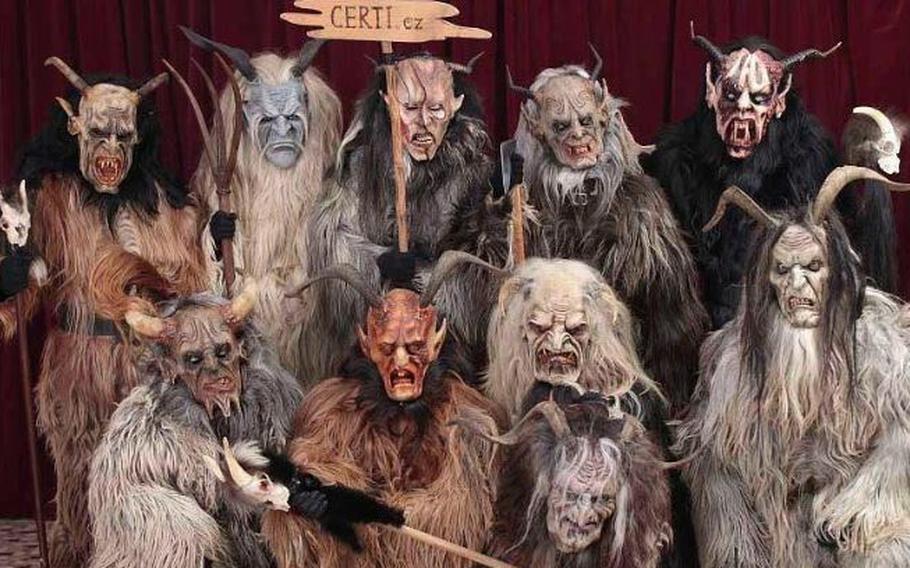 Location: Flanders Expo, Hall 2, Maaltekouter 1, 9051 Gent, BelgiumDate: Dec. 8 (9 a.m.-4 p.m.) Vendors from Europe and beyond set up more than 200 stalls in a vast heated market hall. Goods on sale include but are not limited to awards and medals, uniforms, headgear, footwear, personal kits, postcards and photographs and signs.Admission: Entry costs 6 euros adults and is free for those under the age of 12. Parking costs an additional 5 euros.
Location: Prague Exhibition Grounds, 170 00 Praha 7-Bubeneč, Czech RepublicDate: Dec. 7 (4 p.m.-9 p.m.) Fearsome, fur-clad beasts in their terrifying masks more typically associated with Alpine habitats will be wielding their pitchforks and rattling their chains in the Czech capital this year, giving a good scare to all. Their procession and drum show takes place in front of the Industrial Palace.Admission: adults 150 Czech Koruna (about $6.50), ages 4-15 pay 100 CZK, those 3 and under enter free. Entry is limited to 5,000 people.
Location: Den Gra Hal, Refshalevej 2, 1436 Copenhagen, DenmarkDates: Dec. 7-20 (noon-8 p.m.) In a nation known for feelings of domestic comfort known as hygge, a market with an mystical vibe and non-traditional gifts for sale can make for a nice change. The market takes place in the freetown of Christiania, founded half a century ago as an anarchist commune.Admission: Free
Location: Lyon, FranceDates: Dec. 5-8 The buildings, streets, squares and parks of the city are lit up by more than 40 dazzling light installations, creating a magical atmosphere. On Dec. 8, in accordance with a historical tradition dating back over 150 years, residents place lit candles inside colored glass holders outside their homes.Admission: Free
Location: Between Kueser Hafen and Alter Moselbahnhof, Bernkastel-Kues, GermanyDates: Dec. 7 (from 6 p.m.) More than 100 swimmers holding lit torches high aloft swim down the Mosel River, followed by St. Nicholas in his boat. Crowds gather along the riverbanks or upon the bridge to take in the sight. The city's beautiful Christmas market is fun to visit before or after the spectacle.Admission: Free
Location: Luxexpo The Box, 10 Circuit de La Foire Internationale, 1347 LuxembourgDates: Dec. 5-8 (6 p.m. - 11 p.m. Dec. 5; 4 p.m. - 10 p.m. Dec. 6; 11 a.m. - 8 p.m. Dec. 7 and 8) More than 80 galleries from Luxembourg, Europe and beyond are on hand to offer more than 3000 works, including sculptures, paintings, photographs and other forms of art. A restaurant, wine bar, lounge and creative space for children can also be found on site.Admission: 10 euros adults, free for those under 18.
Location: Leon, SpainDates: Dec. 4-8 Child of the '60s, or wish you were? This festival celebrates the music and culture of the era with concerts, all-night parties, vintage markets, a scooter run and more activities.Admission: 80 euros for an event pass; it's also possible to pay an entry fee to attend separate events.
Location: Geneva, SwitzerlandDates: Dec. 6-8 This festival commemorates an attack on the city ramparts carried out by the troops of Charles Emmanuel I, the Duke of Savoy, back in 1602. The defeat of the invaders is feted to date with torchlit processions, historical reenactments, folk music, and dancing. Another sweet tradition is the breaking of marzipan-filled chocolate cauldrons and the sharing of the sweets within.