Europe Traveler's event picks for April 19-21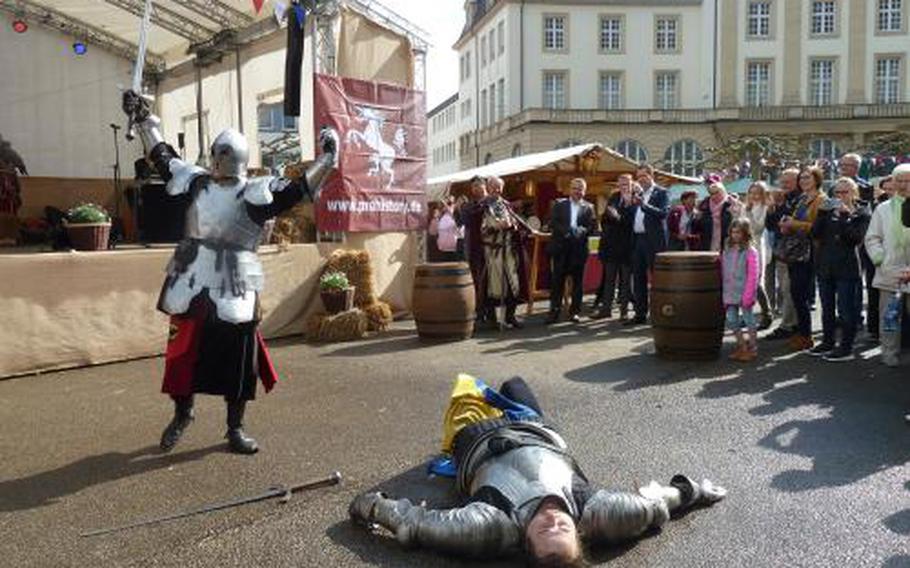 Ciney Flea Market and Antiques SalonLocation: Ciney-Expo, Rue du Marche Couvert 3, 5590 Ciney, BelgiumDates: April 19-22 (10 a.m.-8 p.m. daily) At the spring edition of this huge biannual flea market, around 500 exhibitors sell goods from art to antiques, furniture to porcelain, costume jewelry, glassware and more. At 2 p.m. Friday, April 19, trucks and vans in the parking lot unfurl their tarps, prompting a frenzied rush of bargain hunters. The indoor hall offers untold hours of treasure hunting too.Admission: Adult entry costs 10 euros on April 19 and 8 euros all other days; those under 12 enter free.
FolknamLocation: Namur, BelgiumDate: April 20 The culture of Belgium's Wallonia region is on full display as folkloric groups perform song, dance, flag waving and military maneuvers in the city streets. At 2 p.m., the various troupes come together to march in a colorful parade. Other things to see include a market of artisans and craftsmen, along with a folk ball that's open to all from 3:30 p.m.-5 p.m.Admission: Free
Cavalcade de HerveLocation: Chapiteau Place Albert, Herve, BelgiumDate: April 22 (from 2 p.m.) Each year on Easter Monday, celebration takes the form of a parade of brass bands and dozens of floats pulled by impressive draught horses. Performances by musical ensembles and dancing groups are capped off by a fireworks display at 9 p.m.Admission: Free
Easter Spectacle at the ReduitLocation: Mainz-Kastel, GermanyDate: April 20-22 The Middle Ages beckon time travelers with entertainment provided by knights and damsels, jesters and magicians, and powerful birds of prey. Live music in keeping with the spirit of the times is played upon two stages. Hearty foods and strong beverages are served up in the tavern.Admission: 11 euros adults, authentically costumed adults and school-aged children enter for 6 euros.
Ostermarkt/ Easter MarketLocation: An der Burg 3, 53894 Mechernich, GermanyDates: April 21-22 (noon-7 p.m. both days) The handsome Burg Satzvey castle plays host to its traditional Easter market at which craftsmen ply their ancient trades, musicians play and walking acts amuse. The Easter bunny stops by to help with an Easter egg hunt from 1 p.m.-4 p.m. both days.Admission: Adults 9 euros, youth 6.50 euros, ages 4-12 pay 5 euros; a family card for two adults and two children goes for 23 euros.
Tag des Bieres/ Beer DayLocation: Maxplatz, Bamberg, GermanyDate: April 23 Bamberg's brewing tradition dates back centuries, and with nine breweries brewing more than 50 beers to date, the city's connection to this age-old drink stays strong. Each year on April 23, a variety of the city's best brews, from smoke to pilsners to wheat beers await sampling in a handsome square.Admission: Free
Florence International Handicrafts Trade FairLocation: Da Basso Fortress, Florence, ItalyDates: April 24-May 1 (10 a.m.-10 p.m. on most days) Master craftsmen from Italy and around the world are on site to proudly display exquisite handmade products. Sections are dedicated to fashion and jewelry, home decor, vintage, green and recycled goods, wine and food, wellness and beauty and other topics. Iran is the guest land for this edition. Two exhibitions spotlight the handcrafted wonders of Florence and Tuscany and pay tribute to Leonardo da Vinci on the occasion of the 500th anniversary of his death.Admission: adults pay 7 euros while children under 12 enter free. After 8 p.m., entry is free for all.
EmaischenLocation: Fishmarket, Luxembourg City, LuxembourgDate: April 22 (market starts 8 a.m.) Tradition holds that the whimsical bird-shaped clay whistles known as Peckvillercher shall be sold just once a year, and that day is on Easter Monday. Markets and other festivities celebrating the day take place throughout the old town. The town of Nospelt also engages in the whistle-selling tradition.Admission: Free