Europe Traveler's event picks for April 12-14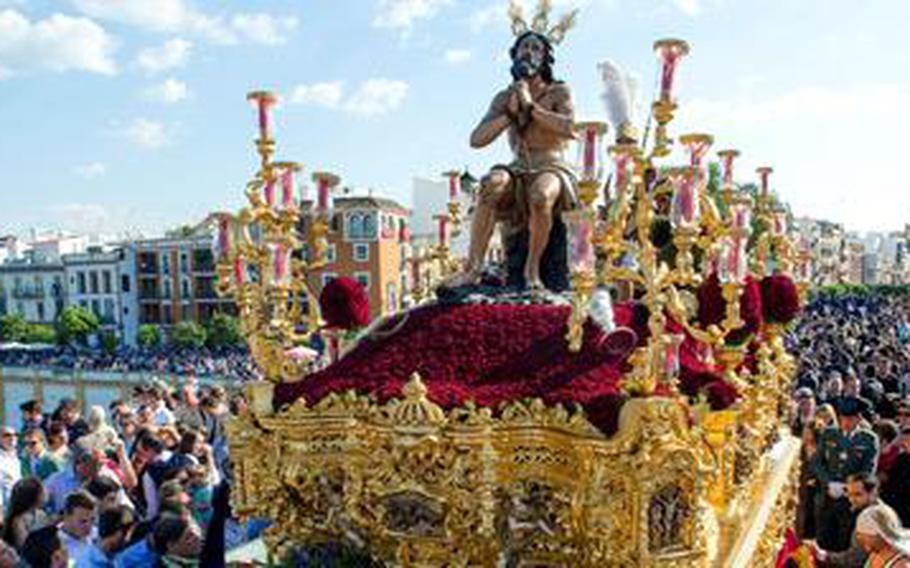 Namur Capitale de la Biere de Saison/ Namur Fest of Seasonal BeersLocation: Union Royale Namur, Place Andrei Ryckmans, Salzinnes, Namur, BelgiumDates: April 12-13 This festival centers around a type of beer known as saison. Originally brewed at the start of winter and served to field workers, it's now made year round by many breweries, and spring is as fine a season as any to enjoy its hoppy, fruity goodness. In keeping with today's taste for IPAs, the taste of naturally bitter seasons has been boosted with hops, and the results can be enjoyed in the form of a competition between styles: 25 Seasons will challenge 25 IPAs. Belgian and foreign beers are both in the mix at this fest organized in cooperation with the local soccer team.Admission: Free
Paris MarathonLocation: City Center Paris, FranceDate: April 14 While you won't be at the starting line without having planned for it months ahead, just watching this major annual event is an outing unto itself. Each year some 250,000 spectators energize and cheer the runners along the way, while musical acts amp up the mood for both runners and onlookers. The race starts from the top of the Champs Elysées at 8:09 a.m. and winds up at the bottom of Avenue Foch, with plenty of opportunities to watch the runners as they pass along the route. The Paris Discovery Guide offers suggestions as to some of the city's best vantage points.Admission: Free
ART COLOGNELocation: Hall 11.1 and 11.2, Cologne-Deutz Exhibition Centre, Messepl. 1, 50679 Cologne, GermanyDates: April 11-14 Originally founded in 1967, this art fair is recognized as one of Europe's most important international events for exceptional, high-quality art of the 20th and 21st centuries. Around 200 leading international galleries from more than 20 countries present a broad offering of modern and contemporary works by more than 2,000 artists across all price categories. A side program includes special events and exhibitions in museums and cultural institutions in Cologne and its surroundings.Admission: Single-day adult tickets go for 25 euros at the box office and 21.25 euros when purchased online; entry for children ages 13 and up costs 20 euros.
Torino ComicsLocation: Halls 2 and 3, Lingotto Fiere, Via Nizza 280, 10126 Turin, ItalyDates: April 12-14 (9:30 a.m.-7:30 p.m. daily) Fans of comic books, gaming and other types of fantastic play will be in their element at this vast fair comprised of four sections: comics, cosplay, games and entertainment. Sketch and signature sessions with various artists take place daily, as do workshops and lectures.Admission: Adult tickets go for 13 euros at the door; tickets for ages 7-12 go for 11 euros, and those ages six and under enter free.
Easter FestivalLocation: Karasjok and Kautokeino, NorwayDates: April 13-22 The indigenous peoples of the far north known as the Sámi would traditionally gather during the Easter holiday to celebrate the year's big events from weddings to christenings and other rites of passage; nowadays, the week has morphed into an event of appeal to a broader public, with a program to suit families and people of all ages made up of concerts, theater, exhibitions, art, cinema, reindeer racing and markets.Admission: Tickets to concerts are essential, but many other activities offer free entry.
Semana Santa / Holy WeekLocation: Countrywide, SpainDates: April 13-20The week leading up to Easter is cause for a wealth of spectacular one-of-a-kind activities throughout the land, as locals takes on active roles in carrying out age-old traditions. The beating of the drums, masses of colorful flowers, and art of religious persuasion combine to produce a solemn and heartfelt mood felt at no other time of year. While some of the best-known celebrations take place in Cuenca, Elche, León, Malaga, Salmanca, Seville, Valladolid and Zamora, smaller, lesser known celebrations offer similar pageantry.Admission: Free
RHS Flower ShowLocation: Bute Park, Cardiff, WalesDates: April 12-14 The RHS Flower Show Cardiff represents the first of Britain's major flower shows. This celebration of spring inspires visitors to creatively use their own outdoor spaces through beautiful gardens, stunning displays and plenty of opportunity to purchase the perfect splash of green for one's own garden or balcony. New on this year's agenda is a competition at a marquee dedicated to the art of floristry, along with a blossoming beds competition. Local flavor is delivered by the Green Lady of Caerphilly, her legend brought to life by a garden feature designed by the students of a local college.Admission: Tickets go for 12 pounds when bought in advance and 15 pounds at the gate.