Mario Kart 7: Treading over skill, luck and bananas
---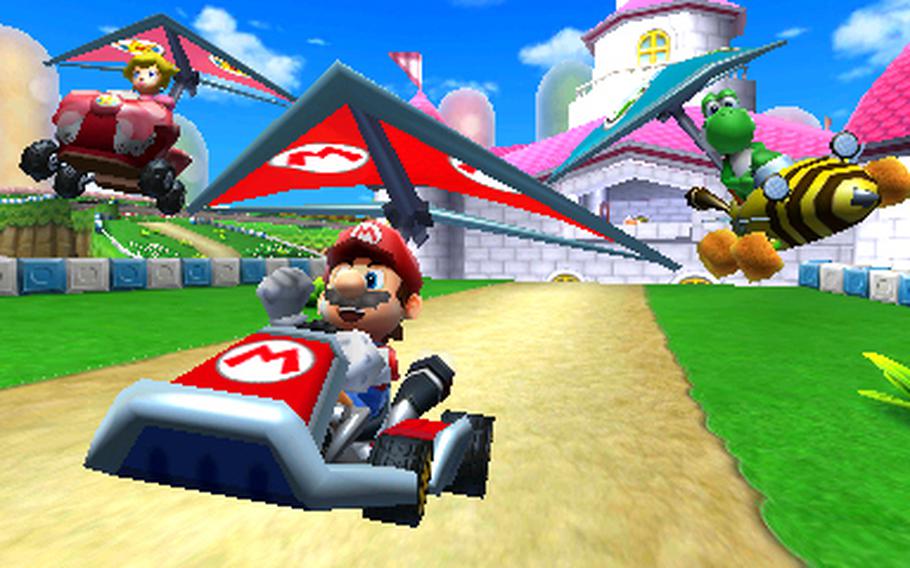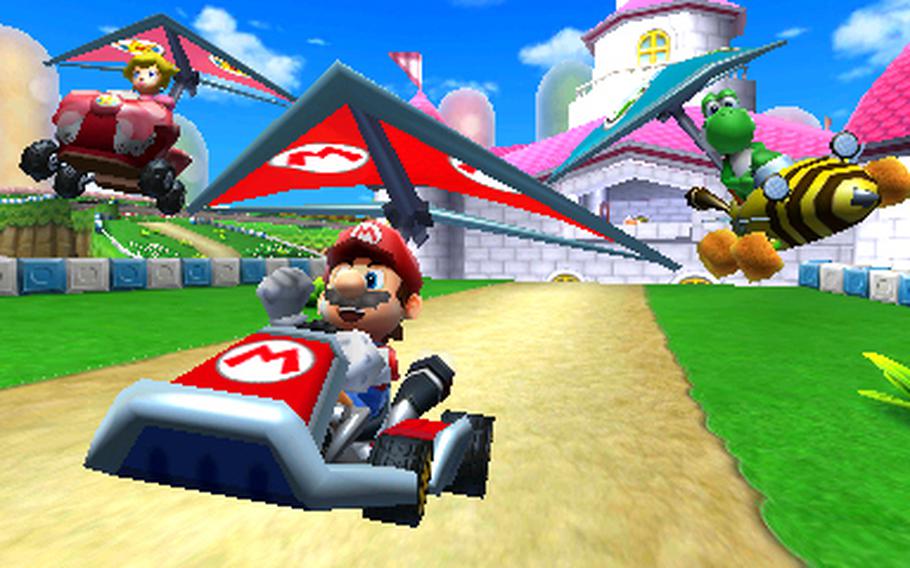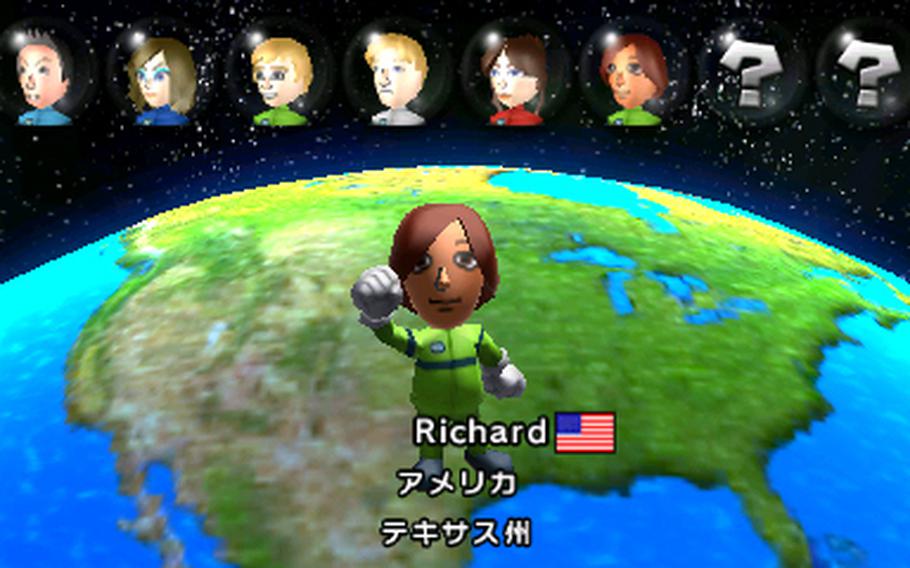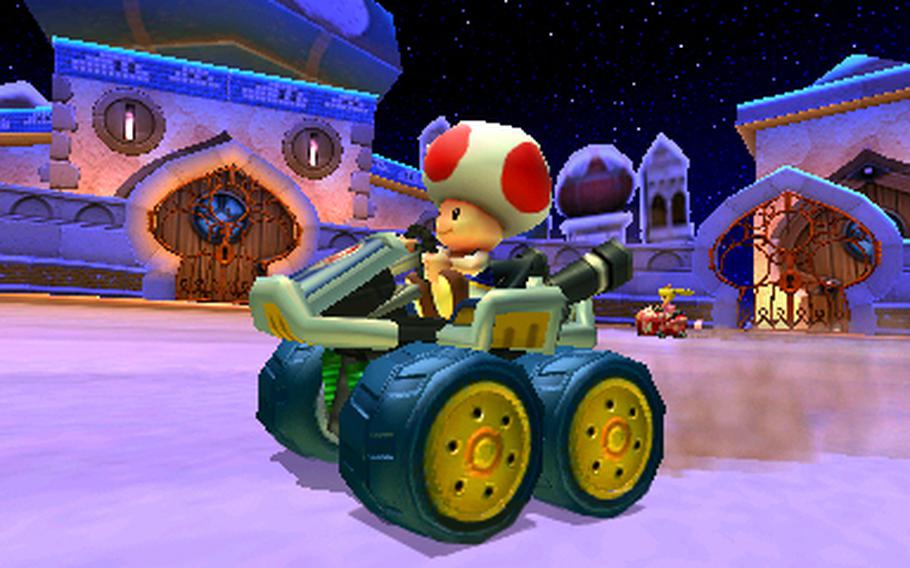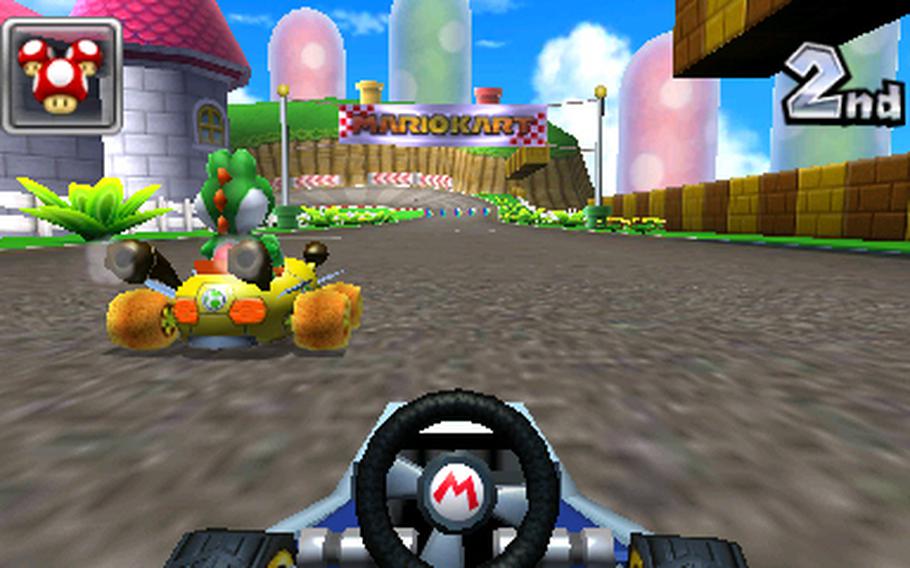 The red sparks and the blue shells are back. And this time, Mario and company aren't just throwing down on banana-riddled hills. "Mario Kart 7" takes to the sky and underwater with new courses, characters, karts and items, and it brings a great deal of much-needed multiplayer mayhem to the 3DS.
For the uninitiated, I'll briefly explain: this 3DS game is all about racing and chaos. A cast of Nintendo characters race, hurling various items — from homing-missile red shells to character-shrinking lightning bolts — in a scurry to get to first place. The farther from first you are, the better the items you get. Though much of the "Mario Kart" formula remains the same, there's enough stuff here — much of it requiring more skill than luck — to keep you coming back for more.
Par for the course in nearly every "Mario Kart," there's a set of 16 new levels and 16 classics. Almost all have players taking to the sky with hang-gliders, into the water and off-road via multiple shortcuts. There's also a handful of new items: a spinning raccoon tail (a la "Super Mario Bros. 3"), a fireflower for hurling fireballs, and a "Lucky 7," which actually sends seven items spinning around you at once — a sort of deployable roulette of death. More so than the returning throwables, these new items demand patience and skill. The raccoon tail, for example, can fend off shells and bananas if your timing is right, and the Lucky 7 is just as likely to blow you up as it is someone in front of you if you're not paying attention. In a series that's long been maligned for its "rubberbanding" — or allowing weaker players to catch up quickly — strides toward rewarding players' skills are much appreciated.
There are also tweaks to how the racing works, all of which help players looking for a deeper commitment. One is speed-boosting hops. Just like the "trick" system in "Mario Kart Wii," players have to master the timing for these slight jumps any time they go airborne. Collecting coins, which are littered across levels in sometimes inconvenient ways, also provides a moderate speed boost. You'll definitely want to swerve and pick those up, in fact. Not only do they help you in the race, they also unlock new stuff. There are scores of new karts, tires and gliders; all affect acceleration, max speed and turning in different ways. It might take awhile to find the right fit for your driving style, but when your traincart with golden rims and ridiculous-looking flower glider finally starts lapping opponents, you'll know the investment was well worth it.
As in the Wii version, this "Mario Kart" supports some great online multiplayer. Unfortunately, a few features have been dropped, -- the ability to watch the time trials of top online players most notably -- but a few additions more than make up for this. Players can race online against players worldwide (no more "regional" options), with little to no lag. But what if you've got a pack of friends? Nintendo's got you covered with an intriguing new idea: private "communities." Players can set up their own, permanent, online area, complete with leader boards to see who's on top. The creator chooses what items, what speed, and whether to battle or race.
But multiplayer's even better if you get everyone in a room together. Like other handheld "Kart" iterations, "MK7" supports eight players with just one game cart. You can battle or race, or, for the first time in any "Mario Kart," do any Grand Prix Cup with up to eight people. Multiplayer Grand Prix even counts toward earning the cup trophies and unlocking kart parts.
It's good that "Mario Kart 7" does racing so well; it helps counter the pain when you load up what's become a wretched battle mode. How did did battle mode fall so far? In seven games, we've gone from a tactical red-shell Cold War on wheels to standing in place over an item box until a timer runs out. Also disappointing is the lack of an options menu, and the inability to have multiple accounts in one copy of the game.
Still, if you're already a fan of classic "Mario Kart" racing, there's a lot for you here. The online options are really expansive (well, for a Nintendo game). Added functionality with StreetPass and SpotPass time-trial sharing are also huge bonuses. "Mario Kart 7" shows Nintendo continuing to bring the classic kart style into new, slightly more skilled territory. The series has managed to slide and snake its way onto nearly every Nintendo system, but "Mario Kart 7" isn't letting this franchise just coast.
Bottom line: Delicious racing mayhem with a side of red shells and skill. More, please! And next time, fix battle mode.
---
---
---
---