'Fire Emblem Echoes: Shadows of Valentia' an engaging trip through series history
by
Michael S. Darnell
May 31, 2017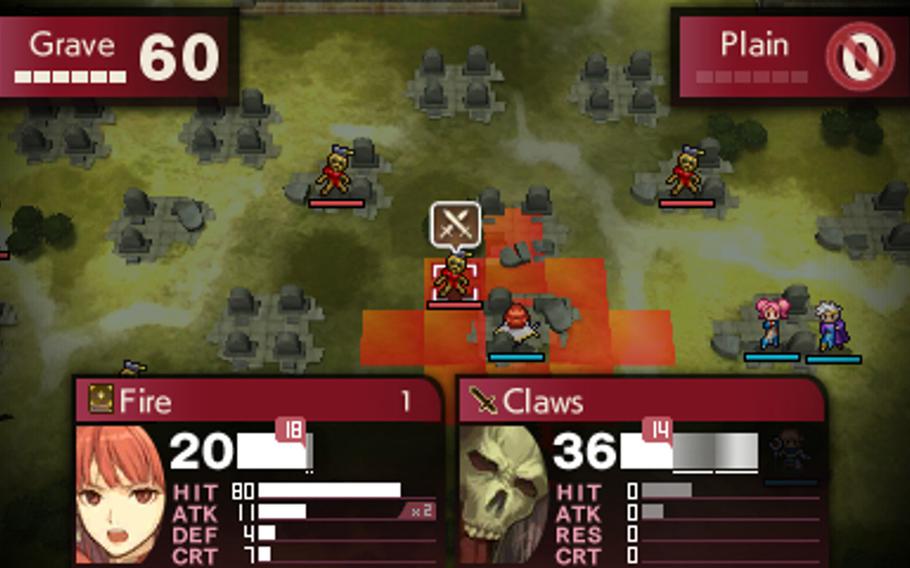 It's strange to realize that there's nothing else quite like the "Fire Emblem" series even though it's in its 15th iteration in more than two decades.
The mixture of whimsical anime tropes, deadly serious strategic roleplaying and delightfully frustrating difficulty remains a potent, but unique, concoction. Perhaps, other companies realized it's foolish to attempt to clone a series that has perfected its own formula — a fact the most recent release, the Nintendo 3DS "Shadows of Valentia," demonstrates.
While it's a remake of the second game in the "Fire Emblem" franchise, "Shadows" retains all of the charm and difficulty for which the series is known. The main story, which revolves around warring kingdoms and the unknown destiny of a simple farm boy and his childhood friend, is pleasantly uncomplicated.
Main characters Alm and Celica spout phrases no human being has ever uttered with such complete conviction that it rockets past lame and circles back around to disarming. The familiar roleplaying elements are here, from the spunky child with magic abilities to evil, mustache-twirling villains without a shred of depth. But as it's a game that is older than most of the people who will play it, "Shadows" can hardly be blamed for having some well-worn tropes.
So, if you want a deep, meaningful roleplaying experience, you'll want to look elsewhere. If you don't mind teenagers with magic swords talking about destiny and the power of true friendship, you'll feel right at home in "Valentia."
As a remake of a 25-year-old game, "Shadows" also stands as stark reminder of just how far the series — and gaming — has come. "Shadows" retains much of the classic strategic gameplay "Fire Emblem" has perfected over the years, but much of it is in embryonic form.
Exploring the map is largely linear. You'll go from one end of the map to another, engaging in battles both scripted and randomly generated. Certain locations can be explored, shifting from the top down view to a 3-D, behind-the-back point of view. These segments are mostly dull, with little of value to find. The best of these mini-dungeons have a shrine that allows you to change classes if leveled enough, but most of them are empty timewasters.
The combat has always been the meat of the "Fire Emblem" franchise, and it's still great here. Some of the more recent additions, like the partner mechanic, are in their beginning stages here, but the rock-paper-scissors battle system is still engaging.
The massively armored knight characters are still largely overpowered, but weak to magic. Magic users aren't as useful as they are in later series, as spells seem to take health points to cast, but can damage armored users. Bowmen have range but are made of papier-mâché, and so forth. In "Shadows," some of these pros and cons of each unit aren't as pronounced as they are in later titles, but they're enough to base some tactical decisions on.
The punishing, oscillating difficulty of "Fire Emblem" is another series staple that has returned in "Shadows." You'll face three easily dispatched units in one battle, but the next will pit you against 20 enemies that can easily dispatch most of your units in one hit. As you can't really adjust your unit makeup until the end of the game, this leads to plenty of frustrating moments in which it seems victory hinges entirely on the random number generator that decides whether your unit suffers one or two hits.
Luckily, the series has added two major components that mitigate the frustration of these difficulty spikes. The first is an element from recent games — the casual mode that allows defeated units to come back to life after the battle. Traditionalists might bemoan the mode because "Fire Emblem" was long known as the series in which death mattered, but hey, it's an optional mode.
The second addition to "Shadows" that helps reduce frustration is the turnwheel, which allows you to rewind time during battles. If you make a particularly egregious error, you no longer have to restart the game. You can simply undo your terrible tactical decision and try again. I made use of this mode fairly extensively, and thus had to turn in my official "Fire Emblem" veteran card, but at least I didn't have to restart my 3DS a hundred times.
"Fire Emblem" is a series you either love, or don't care to try. As a series fan, I'm always excited to have more "Fire Emblem" to play, but I understand it's a bit challenging to jump right into it. In some ways — the simple storyline, the linear map and casual-friendly modes — "Shadows" offers the perfect starting point for the curious gamer.
In other ways, namely the lack of some of the refined mechanics of later-in-the-timeline entries, "Shadows" is a step backward. I'd cautiously recommend this to new players, but in a lot of ways the previous 3DS titles, "Fates" and "Awakening," are better suited for welcoming new players. Still, the "Fire Emblem" formula remains one of the more uniquely intriguing draws in gaming, and "Shadows" retains much of the series' charms.
Grade: B-Platform: Nintendo 3DSA copy of this game was provided by the publisher for review purposes.