July 14
'War for the Planet of the Apes'
by
Gregory Broome
April 30, 2017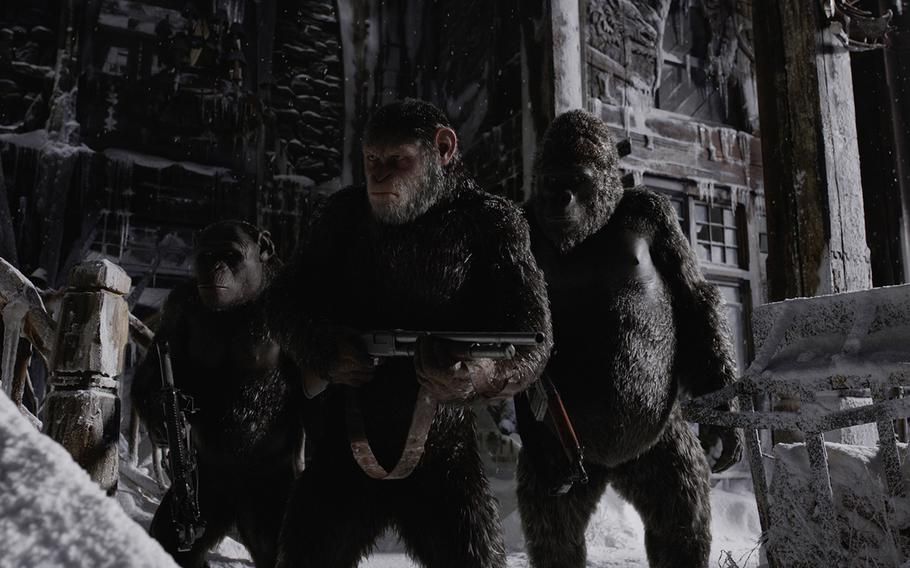 Creative stagnation and misguided nostalgia have led Hollywood to produce a lot of uninspiring and unnecessary remakes in recent years.
The ongoing Planet of the Apes film series, which presents its third installment, "War for the Planet of the Apes," this summer, is an exception — an unequivocal improvement over its predecessor in terms of storytelling, visual effects and entertainment value.
While the original Apes films are rightfully revered as landmarks of science-fiction cinema, they were in desperate need of modernization, Tim Burton's flailing 2001 attempt at the task notwithstanding.
Where the original relies on the retroactively questionable plot device of a spaceship's crew unknowingly crashing into their own home planet, the new series offers a much cleaner story arc in which a virus simultaneously enhances simian intelligence and drastically reduces the human population. Those species-specific changes in fortune make the third movie's titular war between the tattered remains of humanity and an emerging civilization of apes a plausibly competitive clash.
The original 1968 film has regrettably settled into the category of camp thanks to the histrionics of human lead Charlton Heston and makeup effects that were remarkable at the time but are now irredeemably dated. The new Apes movies, meanwhile, are mesmerizing to look at, whether in large-scale battle scenes or emotional moments of quiet dialogue. They feature compelling, restrained performances from an ever-changing cast of actors surrounding motion-capture genius Andy Serkis as ape frontman Caesar.
Steve Zahn and Judy Greer, two of Hollywood's most underutilized talents, are very welcome additions to this summer's cast of apes. They'll play opposite Woody Harrelson as human military leader The Colonel, a union of performer and character with the potential to become as iconic as this brilliant film series that produced it.
"War for the Planet of the Apes" opens on the U.S. on July 14.