English-language tees fashionable, incomprehensible
by
David Allen
November 12, 2003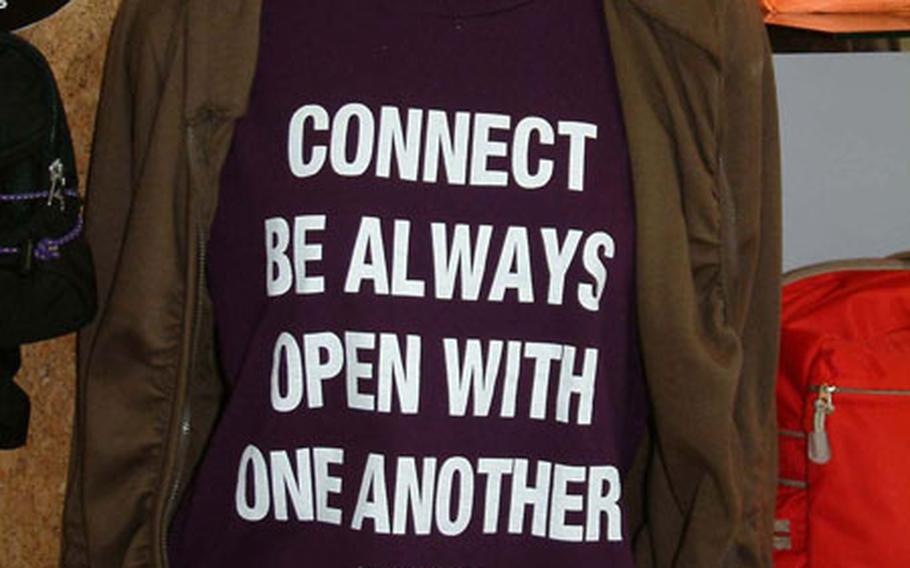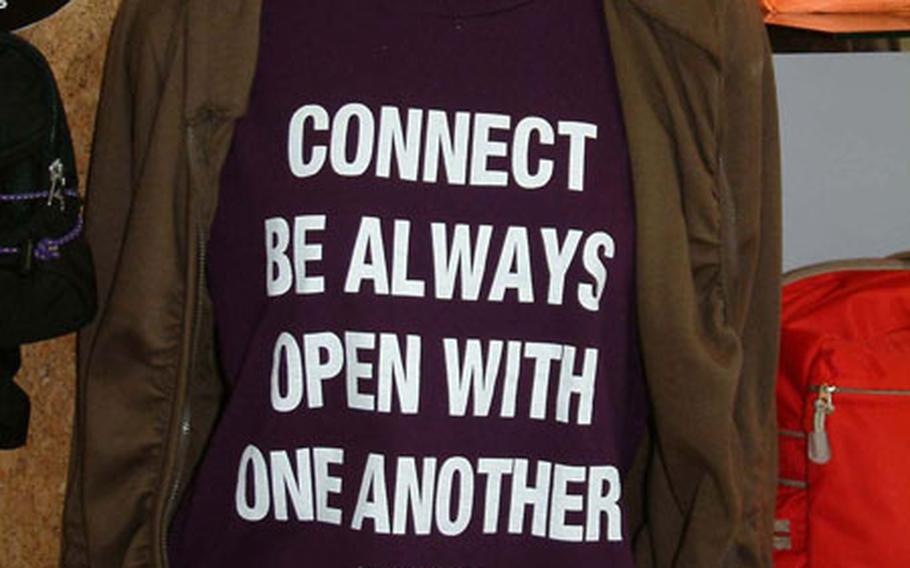 KITANAKAGUSUKU, Okinawa — When it rains and the beaches aren't options for an outing, I know a place that always promises a good time.
Well, it's actually many places. My favorite bad weather haunts are the racks of T-shirts in any Japanese department store. When my wife, Ruth Ellen, and I shop, I make sure we have a pen and notebook in hand. You never know when you're going to come across another great Zen T-shirt.
Zen T-shirts? No, I'm not talking about some yellow billowy thing like a Buddhist monk's robe, or some silk-screened image of the Buddha, perhaps a replica of the great statue at Kamakura.
What I'm talking about are the shirts found while stalking the aisles of the giant Jusco and San-A department stores and the smaller clothing outlets. There are days when we become lost in hours of searching for the perfect warped sentiment in what some critics of Japanized English call "Japlish."
The racks are filled with shirts printed with almost incomprehensible sayings. For instance, we once found a white T-shirt that bore the following phrase in huge block letters:
"FUNKY KID Creativ and challengi."
Anyone wearing such a shirt probably is a bit funky and English-challenged.
You can't spend a day in Japan without noticing someone walking around in a T-shirt emblazoned with a saying you can bet your life the wearer didn't understand. We've all laughed at the mistakes in spelling and context. They are amusing at first, then confounding. Why do the T-shirt makers persist in printing such stupid mistakes in a language everyone in Japanese schools spends years learning? Can't they afford translators to convey the sentiments in recognizable English?
"They don't care," said Paul Grundy, an Irishman from London who taught English in a Japanese high school. "Using English is considered cool; the meaning doesn't matter."
After failing to impress upon his students the importance of proper English, Grundy moved to Shanghai to teach in a private school for the children of capitalists taking advantage of China's emergence as a Pacific economic powerhouse.
"They are taking English much more serious over here," he said.
Ever since Japan opened its doors to the world after the Meiji era, Western culture, especially the English language, has been considered fashionable, said Masayasu Miyagi, a social anthropologist at the University of the Ryukyus.
"Those words on T-shirts don't have to be correct English," he said. "It just has to look good. Something that looks like English is good enough. Very few people pay attention to what it says."
But I don't know about the Japanese not caring. My wife, who enjoys the T-shirt safaris as much as I, believes something else is at work here. The authors of the fractured English, she believes, know what they are doing.
"They are Zen masters," she says. "It's obvious — once you forget about being a copy editor and become one with the shirt."
When you throw logic and rational thought out the window, these T-shirts, like the black shirt we found in the old Hypermart one day, make more sense. It read:
"We are lovely lad & lass/with warm heart and/strong power/we make mistakes/everything we do/But we enjoy our lives every day."
"Dig it!" an inner voice from the '60s whispered to me. "Don't get hung up on achieving perfection. We are stardust; we are golden. Wake up and smell the roses."
Sometimes that inner voice makes no sense. But isn't that Zen? The best moment is now. The statements on these T-shirts are what some poets call "found art."
"Every day is a good day," said the Zen master Yunmen. Every day we hunt for these T-shirt treasures, we learn. We approach enlightenment. It is a good day.
You never know when a T-shirt slogan will bowl you over. At a Fashion House in Yomitan we stumbled upon a shirt that admonished:
"Don't Let the Teardrops Rust Your Shining Heart"
And a white tee shirt in a San-A store in Chatan spoke of the transient quality of love:
"Let Us/Be Lovers/Get Ready/So Long."
Many of the shirts suggest living life large, but in harmony with nature. One shirt advised:
"Create a great sensation/Come to think of it, I've walked my/Life in futures Lap/Be known all over the world/The enthusiasm of youth. Go with the tide."
And just when you think you have it all figured out, a Zen shirt tells you:
"You don't know anything about it/I can answer that question easily/An honest man will succeed/In the end/We will have to endure man's difficulties."
Another head-scratching tee shirt stated:
"I've been set free and I've been bound. To the memories of yesterday's clouds. And now I'm set free. I'm set free to find a new illusion. I've been blinded but now I can see. What in the world happened to me?"
We wonder. But then, the next shirt advises:
"Be quiet my hot mind."
Still, the one Zen T-shirt that spoke to me the most was the simple black tee embossed with just two words:
"Glow Wild."
I'll try, man. Right on.