DVD series 'The Pacific' paints accurate picture of Marines' WWII experience
by
Warren Peace
November 9, 2010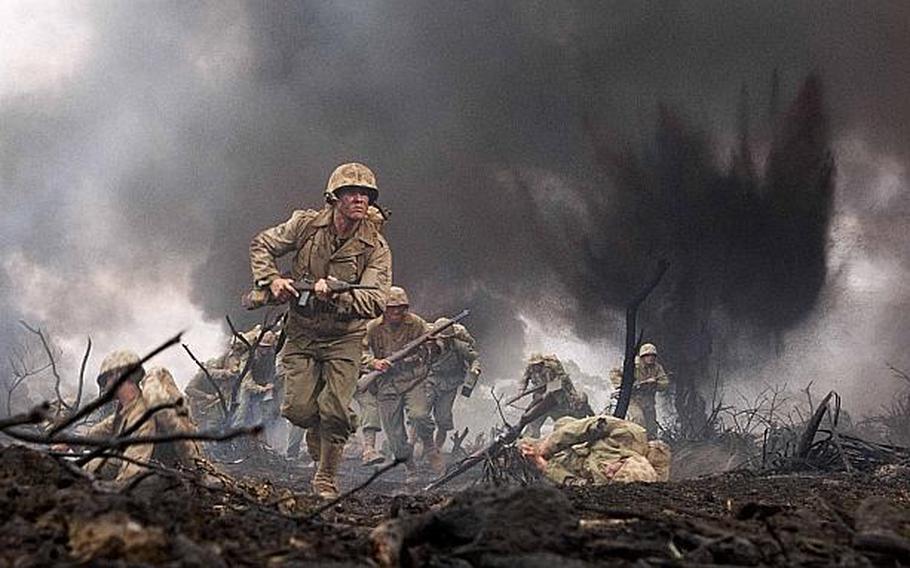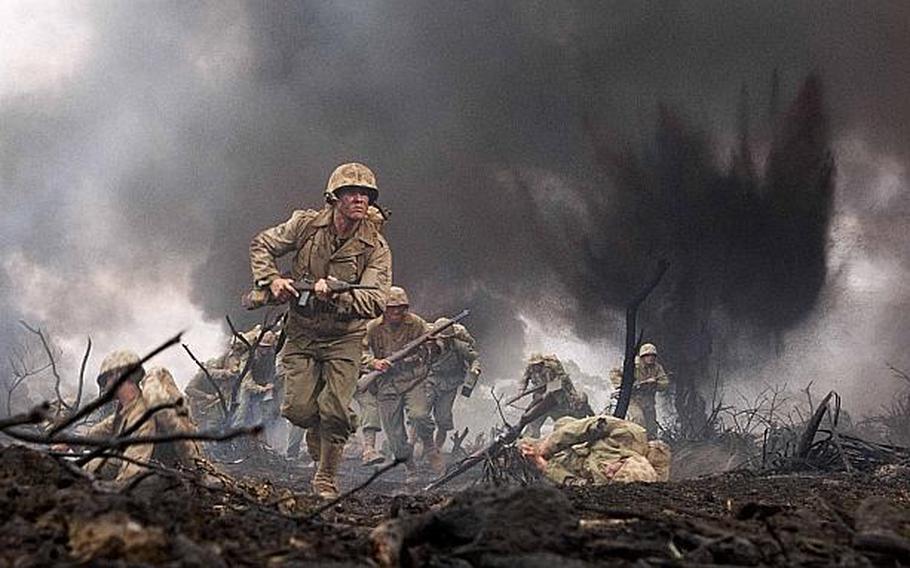 As a Marine interested in military history, I was eager to see HBO's 10-part miniseries focusing on the United States Marine Corps during World War II, "The Pacific" — and I wasn't disappointed.
Getting most of your history lessons from TV might not be the recommended method by scholars, but that is where I have gotten mine. If it weren't for shows like "Band of Brothers" or video games like "Call of Duty," I would know very little about my grandfather's generation of warriors.
My interest in World War II began when I was 15 and my grandfather brought me to England to see where he was based during the war. He was in the first squadron of B-17 Flying Fortresses to bomb Berlin, which I first learned from an embroidered jacket he still wears proudly.
I recently received the box set of "The Pacific" and watched the entire series during a marathon viewing with some Marine friends. We were all astonished with the accuracy of the battles as we compared it to what we learned in boot camp where we were continually bombarded with Corps history.
The series is based on the memoirs "With the Old Breed: At Peleliu and Okinawa" by Eugene Sledge; "Helmet for My Pillow" by Robert Leckie; and "Red Blood, Black Sand" by Chuck Tatum. The main characters are Sledge, Leckie and John Basilone, a Medal of Honor recipient.
The show paints an extremely ugly picture of the war the Marines fought in the Pacific. Of course war is ugly, but I wasn't expecting it to be shown at this level of gruesomeness after watching "Band of Brothers." "Band of Brothers" in no way glorified war, but it just wasn't at the same level.
I recognized only a few actors in "The Pacific," but was astonished by their performances. You can see the PTSD lurking in their eyes. Their depiction of these heroes made me truly feel for these men whom I consider brothers from the past.
It showed how these Marines not only fought through unknown territory against a determined Japanese military, but also their battle with the elements on their island-hopping campaign. Misery was definitely conveyed in this series, and how it can make you appreciate the smaller things in life like clean water or a pair of shoes.
However, the series wasn't all blood and guts. A cow was the only thing to die in one episode, and that was from an overzealous Marine firing from a train to Melbourne. This episode showed a little more of a personal side of the Marines as Leckie falls in love and Basilone reluctantly leaves his unit to return home and sell war bonds.
I was certain a lot of the story was created with artistic license until I watched the special features, where the actual Marines and their family told their stories to the camera. In the cases of the characters who died in battle, family and friends told their stories.
As much as I liked the series, the interviews were by far my favorite part of the experience. The stories told by the men and women who went through this ordeal were spot on with the story told by the episodes, or perhaps I should say that the episodes were spot on with what the veterans told.
Listening to these veterans recount the horrors and the good times they experienced together inspired me to call my grandfather that night. It hit home seeing men his age talk about death, fear and honor.
The special features also shed light on things that weren't covered in the episodes. Family life and character traits were much more detailed. The interviews alone are enough reason to recommend buying the box set even if you have already seen the series.
If it weren't for modern media telling these stories, I don't think my generation or the younger ones would know much about huge chunks of American history. Sure, there are still people reading books and taking history in school, but we are becoming a much more digital society, and I applaud those who use this outlet to keep us from forgetting how we got here.
"The Pacific" is a great watch for any military history buff and action fan alike. I will venture to say it is a few notches better than "Band of Brothers," but I am a little biased. Semper Fi.
---
---
---
---