Dog cafe on Okinawa a place for people to dine out with their pets
---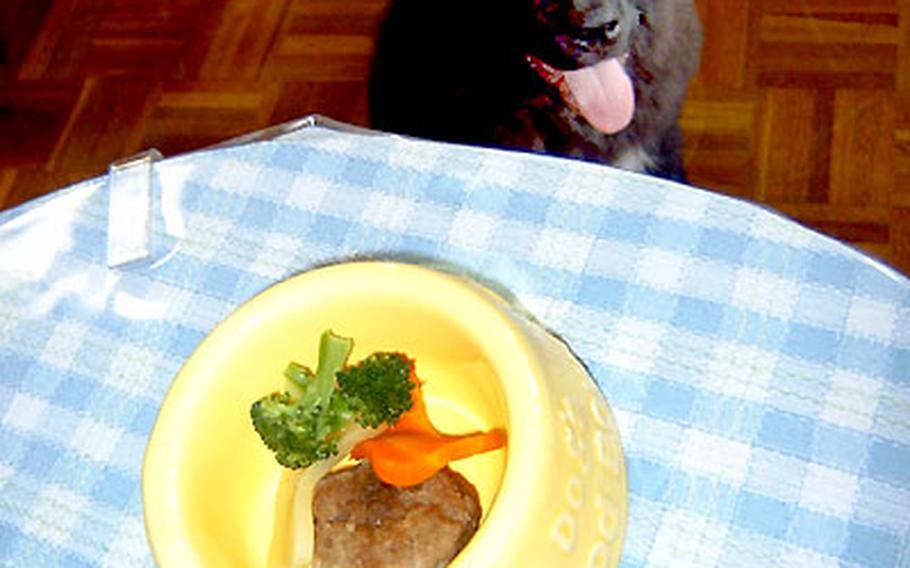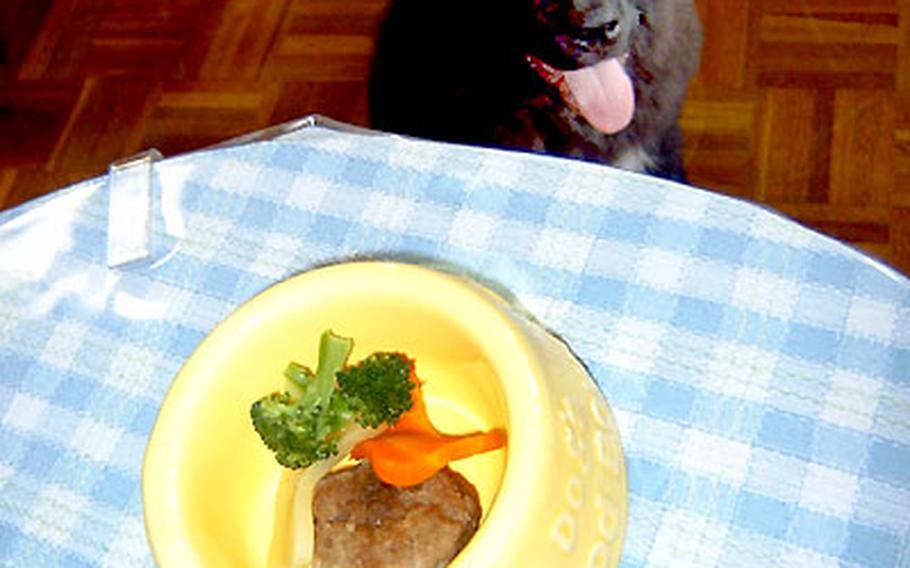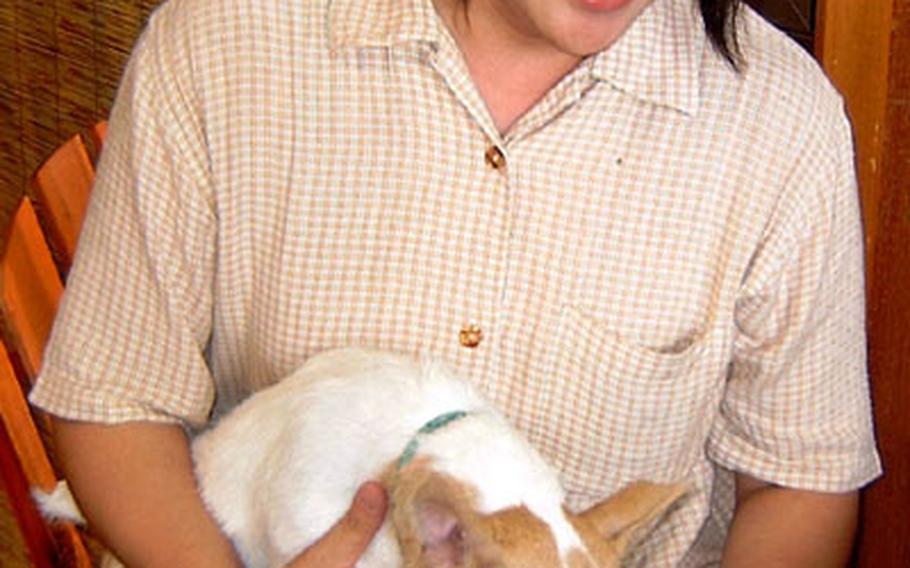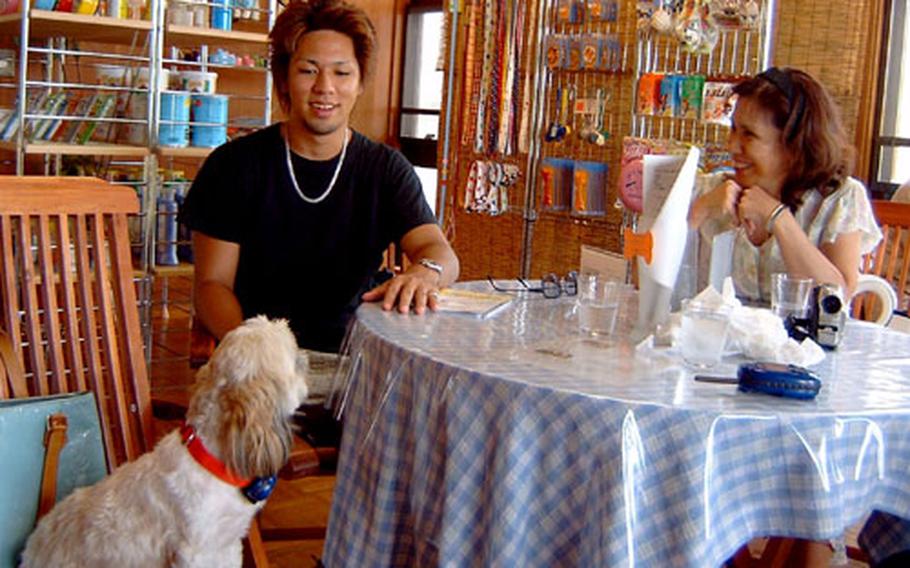 YOMITAN, Okinawa — This is a place for dogs and dog lovers only.
At Wonderland, it is truly a dog's life.
The new dog café in Yomitan, about a 10 minute drive north of the Army's Torii Station, is a dream-come-true for dog owners — a place to dine out with their pets.
Wonderland's tables offer two menus: one for you, and another for your dog. The dog menu offers two choices, beef hamburger and chicken pot-au-feu with no seasonings added.
The menu for humans has a little more variety, including hamburgers, spaghetti, fried rice and hot dogs.
For Biku, a 5-month-old Jack Russell Terrier, coming to the café seemed to be one of the most exciting experiences.
"This is our second visit," said his owner, Takeshi Baba from Okinawa City. "He really liked this place since we brought him over last time."
"This is a great place for Biku to meet and play with other dogs," said his wife, Kiyomi.
While the couple sipped iced coffee, Biku ate up a bowl of pot-au-feu — a meat and vegetable stew.
Then Biku slipped off his owner's lap and joined the café's two mascot dogs, a 4-month-old Newfoundland named Queen, and a longhaired dachshund named Wonper, for some fun.
While the three tumbled and rolled about, an 11-year-old Shi-Tzu from Urasoe barged in. More tumbling and panting, accented by a few yelps, invited laughter from the human visitors.
The Babas found the dog café a great place to stop and relax without leaving their pet alone at home. Takeshi Baba said they were reluctant to go out on weekends once Biku became an important part of their life.
"It is good to have him with us like this," he said.
Bringing Biku to the dog café brought an additional and totally unexpected benefit to the Baba family.
"He used to bite me a lot and I had scars all over," said Kiyomi Baba. "It was only because he did not know how hard he could bite without hurting me."
But, after playing with other dogs at the café, the biting stopped, she said. "It made me realize that dogs are educated by other dogs."
That is one of the reasons Elena Matsuda opened this dog café.
"I wanted to offer a place where dogs can meet other dogs," she said. "Dogs must socialize with other dogs to develop their social nature."
She said the personality of dogs that live in an environment where they can play with other dogs is different from those raised alone.
But some dogs are not ready to socialize. Fujiko, another Shih Tzu who lives in Urasoe with her owner, Sugako Hasegawa, was apparently not ready to make her social debut.
She remained on the chair, watching the bundle roll and pant among the tables. Hasegawa brought Fujiko to the café with her son, Ippei, and his friend.
"We wanted to give her a chance to play with other dogs, but she seems to be not ready yet," Hasegawa said.
Still, the outing was a joy for the whole family.
"It is good to eat together," said Ippei Hasegawa. "At a regular restaurant, (Fujiko) has to wait for us outside and that makes us feel guilty," he said.
"We have not yet given up," he said. The Hasegawa family plans to return to the café until Fujiko is ready to make friends among her own species.
Dog toys are provided free. But while balls and rubber toys may be for dogs to enjoy, a new high tech toy, Bowlingual, is probably more for dog owners.
Bowlingual is an electronic device that translates dog into Japanese. Biku, the Jack Russell terrier, wore the Bowlingual microphone when he went off to play with his dog friends.
"Bow wow," he barked. "Let's play," said the words on the palm-sized screen display held by his owner.
Biku and Queen started tumbling together. He barked again. "You wanna fight?" was the translation.
Soon, Wonper came in and Biku yelped happily.
"This is great! It's so much fun!" the translation device again interpreted.
The main theme of the dog café is for both dogs and their owners to play and have fun, said Matsuda.
"This is a place where people can play with their dogs and enjoy quality time together," she said.
How to get there ...
If you're on Okinawa, take Highway 6 north from Torii Station and drive for about ten minutes. After passing Family Mart convenience store, turn left onto a narrow path at Coca Cola storage house. Turn right at a corner where a clinic and pharmacy are. Dog Café Wonderland is a corner house on your left. The café is open from 10 a.m. to 8 p.m. and is closed Wednesdays.
How 'bowlingual' device works
Bowlingual is a translation device invented by Japanese toymaker Takara. It is made up of two parts, the main palm-sized component and a microphone. When a dog barks, the voice is relayed and recorded into the main component from the microphone attached to the dog's collar. Among approximately 200 translation patterns in its database, the best suited words will come out on a screen display with a cartoon face of a dog that shows how the dog is feeling at the moment. It also records sounds the dog made during the absence of his owner. The owner can later check them to see how his dog spent the day.
---
---
---
---