Distinctive 'lion dogs' a defining facet of Okinawa's culture
by
David Allen Chiyomi Sumida
October 15, 2006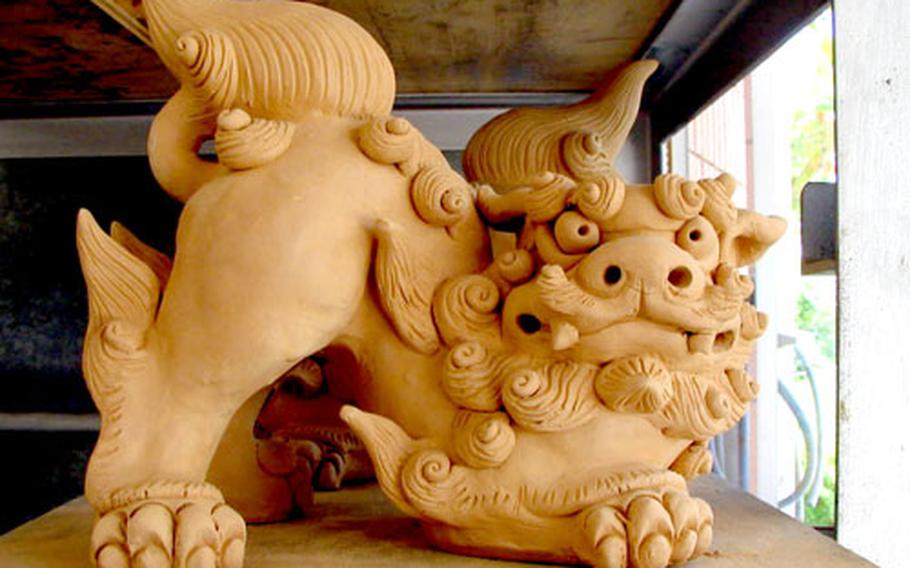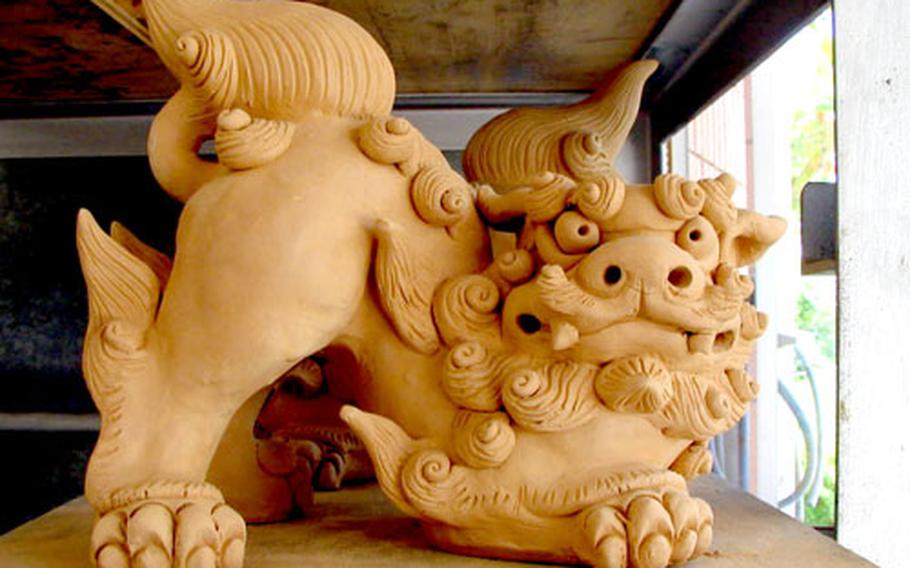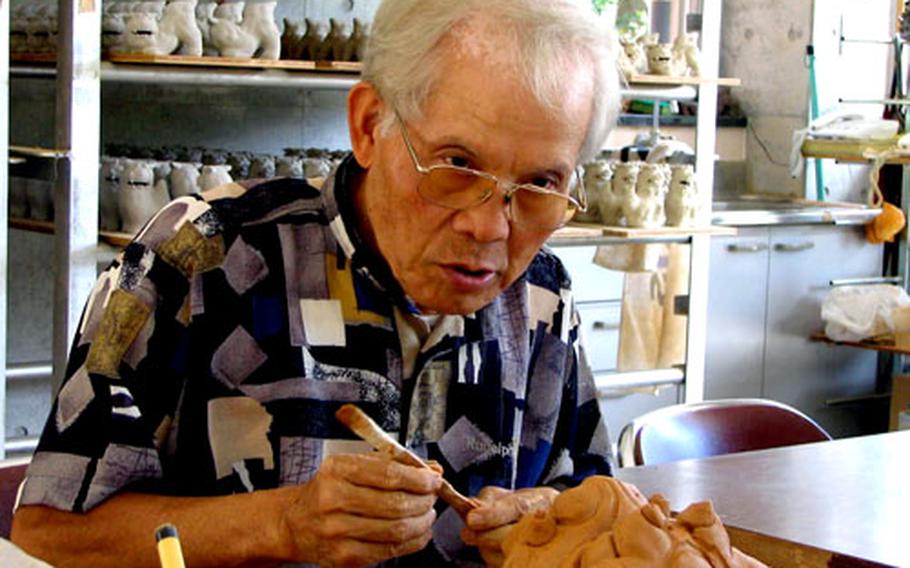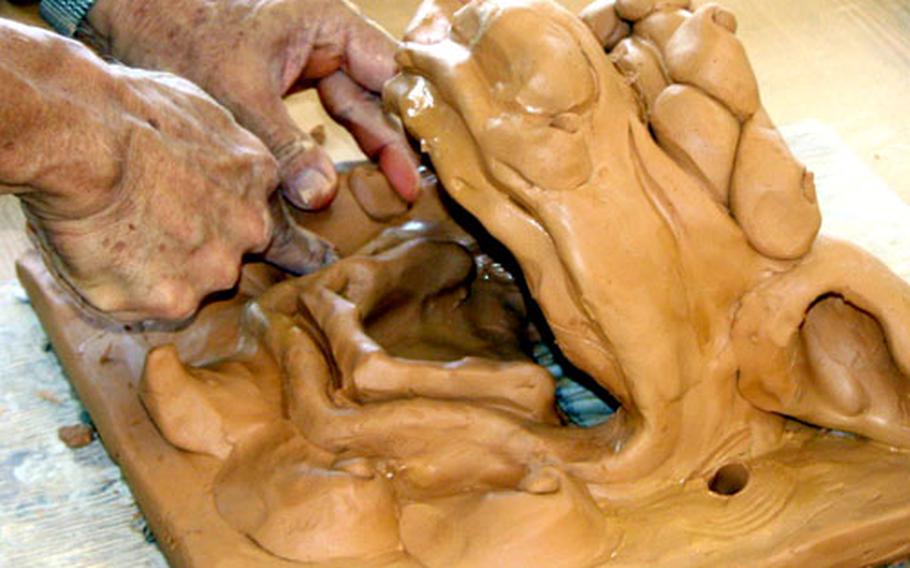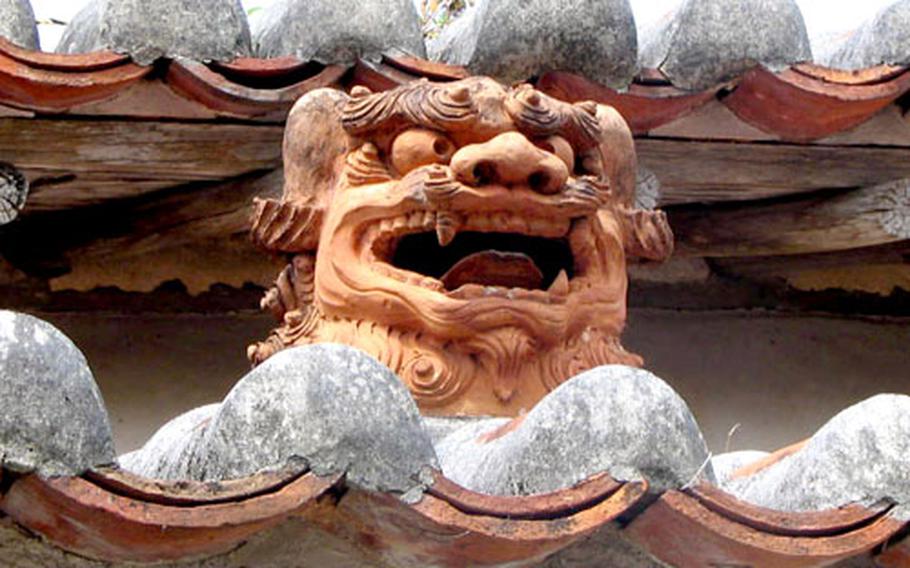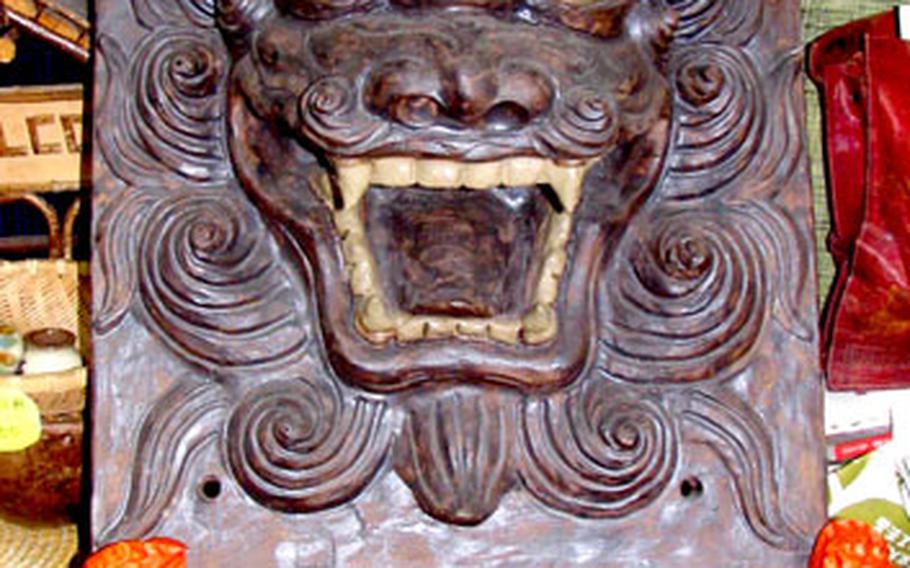 If there is one thing identified with Okinawa more than any other, it's the ubiquitous shisa — or lion dogs — that grace tiled rooftops, walls and entryways throughout the island.
The clay and tile creatures, sometimes called "shishi dogs," have been around for centuries, making their way from the Middle East, where they took the form of traditional lions, along the Silk Road to the Far East, where they morphed into more doglike shapes because no one had much contact with real lions.
The Okinawa models are primarily Chinese, but have changed from the fearsome and regal guardians of royal palaces to more frolicsome, almost cartoonish figures found in tourist gift shops. The oldest shisa on Okinawa is a worn lion-dog that stands guard on a bridge in Shuri. It was constructed in 1498 at Enkakuji Temple, according to prefectural records.
One of the masters of making the more-traditional Okinawan shisa is pottery artist Jouei Shimabukuro. The eldest son of a family in the Tsuboya district of Naha known as a village of potters, Shimabukuro said he naturally followed his family's 200-year-old tradition.
"I grew up watching my father making shisas," Shimabukuro, 63, said while working on a shisa faceplate in his Naha City Traditional Craft Pavilion workshop in the Kokusai Street shopping district. He began as a teenager, lugging heavy bags of clay soil on his shoulders down from the steep mountains of northern Okinawa.
Shisa come in pairs, one with a closed mouth to keep in the good spirits and the other with an open mouth to chase away the bad. And although such guardian lion-dogs are found throughout Asia, it is believed that only on Okinawa are they placed on homes and commercial buildings. Elsewhere, they serve as symbols of authority at royal palaces and shrines.
There is some dispute as to the sex of the shisa. Some traditions hold that the closed-mouthed ones are female and the fiercer roaring shisa are male, but Shimabukuro favors an opposite view.
"The one with its mouth closed is male and the one with its mouth open is female," he said. "The open-mouth shisa traditionally holds a baby. She is in an intimidating pose to protect her baby. The one with its mouth closed is the father who is protecting the family's treasure.
"It's also an explanation that has found favor with Americans who believe women are always talking," he said, laughing.
"As guardians of peace, my wish is to spread shisa throughout the world so that the peace of the shisa will prevail on earth," he said.
Tsuboya Pottery was designated as one of Japan's traditional crafts in 1975. In 2002, Shimabukuro was named a Traditional Craftsman of Japan by the Minister of Economy, Trade and Industry. He is invited to give demonstrations of shisa-making throughout the country.
As he talked to a reporter, Shimabukuro's dexterous fingers moved quickly, almost playfully, shaping the clay shisa head. From time to time, he slowed and gently brushed a finger across the face as if stroking it to life.
In recent years, shisa have expanded their domain from rooftops and gateposts to good-luck charms on cell-phone straps.
"Many humorous-looking shisa are now in market," he said. "That's OK. But I see many of them are deviations from tradition, and I believe the Tsuboya shisa must be based on the tradition."
Shimabukuro is director of the Tsuboya Pottery Association, and leads Naha city's project to train young potters. One of the traditional methods Shimabukuro highly values is hand-kneaded technique. His clay shisa are always made by hand, never from molds.
"The hand-kneaded method makes more animated and powerful shisa," he said. He has handmade countless shisa during his lifetime.
"Each and every one of them is my child," he said. "After leaving my hands, there is no way for me to know where they will be going. I only hope that all of them fulfill their roles as guardians no matter where they are."
Shimabukuro can be found practicing his trade weekdays at his shop at the Naha City Traditional Craft Pavilion, located on the second floor of the Tenbusu Hall on Kokusai Street, across from the Mitsukoshi department store. The pavilion features traditional Okinawa pottery, glassware, textiles and lacquerware.
The pavilion is open daily from 9 a.m. to 5 p.m. A two-hour shisa-making class is offered to visitors for 3,000 yen (about $25). No reservation is required.