Discovering the quieter side of Thailand
by
Teri Weaver
December 18, 2005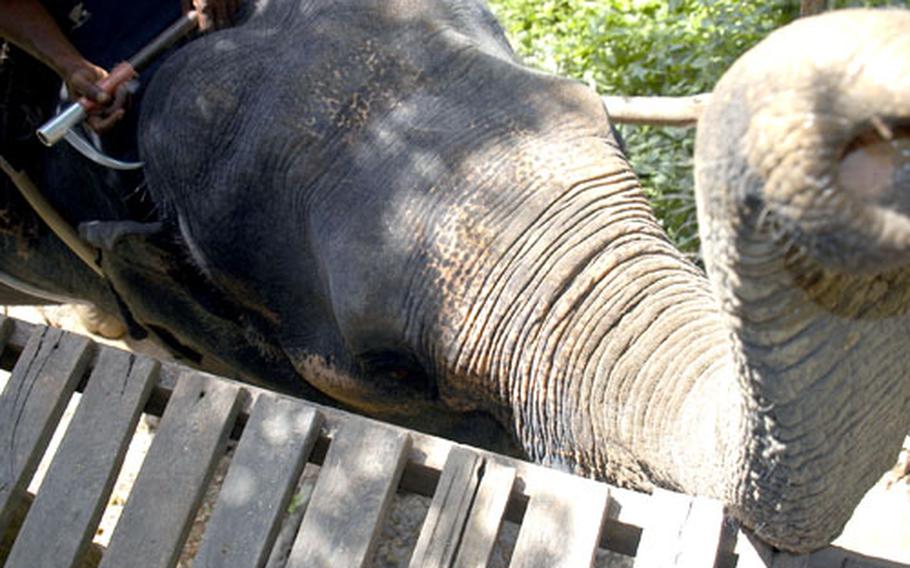 Editor's note: This is the second in a two-part series on visiting Thailand, from the street vendors and bars of Bangkok to the spas on Koh Lanta.
On our third night on our island paradise, we found ourselves tucking into a beach-side barbecue buffet and wondering aloud if our resort would be kind enough to adjust our spa appointments for the next day.
Michelle brought us back to reality.
"You can order up an elephant, for heaven's sake," she quipped, making it blissfully obvious that there was no end to the hospitality or extravagance we had found on the southern tip of this island facing the Andaman Sea.
Michelle, Hema and I met in Thailand in October for a two-part holiday: four nights in Bangkok and five nights on the beach. We'd spent our time in Thailand as typical first-time (female) travelers. We stuffed ourselves with cheap food and beer, shopped so much that we mailed boxes home ahead of us, and caught a few of the capital city's shrines and museums. (Sorry, our Thailand trip was rated PG.)
By the time our boat pulled up to Koh Lanta, we were ready to forget the belching buses and muffler- less taxis of the city and lie around in paradise.
Earlier in the fall, we had typed several e-mails debating which beach would be best for our holiday. Friends who already had traveled to Thailand suggested that the farther south we went, the more beautiful the water and beaches would be. Michelle also found out another helpful, yet tragic, tip. The massive tsunami last year not only lowered some hotel rates, but the cleanup afterwards had left the western shores even more pristine.
So we opted for a five-star resort at the southern tip of Koh Lanta, an island off the western side of Thailand. It was a mix of summer camp and cruise ship — snorkeling and kayaking that ended with French-inspired Thai cuisine at the end of the day.
We relaxed into our little corner of the island with ease. I read two books in two days. Michelle took a cooking class.
Hema opted for just watching the waves. "I would read, but it would get in the way of doing nothing," she wisely said. She managed to pull out her sketchpad instead. The thrill of each day came at sunset, which varied each night from baby pink to deep purple. It was like watching a color wheel in motion.
At the risk of becoming completely pathetic, we did pull ourselves away from watching the changing tides to see a little more of our surroundings. And, so, we ordered up a couple of elephants.
Already sunburned and still queasy from the previous day's snorkeling trip (and probably the wine from dinner), we were all a little uncertain about perching on top of an 8-foot-high animal.
Maybe we should have trusted our instincts. Riding atop an elephant feels like, well, riding atop an elephant. If the elephant were wearing roller skates. And jumping moguls. All while moving like a child taking his first bike ride without training wheels.
Still, I trusted the elephant was better prepared for the trek than I, and in about 20 minutes we were safety deposited inside the forest. After Hema fed the elephant a pineapple — in one bite, stalks, husk and all — we went looking for a small waterfall.
Along the way, we spent time with a guide who grew up on Koh Lanta with dreams of visiting Paris. He spoke wonderful English, which he said he learned from talking with other tourists. We asked him about the tsunami, and he described how high the wall of water was and how he had scrambled into the trees for safety.
Then he asked us the most stunning question of all. "How did you know about it?" he said of the wave that killed more than 200,000 people last year. "Did you see it on TV?"
His view of his world brought us back to reality more quickly than any of our compliments about the scenery or fumbling attempts to tip well could.
As did my elephant.
My ride was a 30-year-old male who was born in the northern part of Thailand but brought south just so he could take tourists like me 20 minutes into the woods. The routine must be tedious, and the handler riding on the beast's neck constantly urged him on. Once, while the elephant was stalled contentedly in a mud hole, the handler again ordered the elephant forward.
Instead, he brought his trunk around under one ear, pointed it toward us and let out a frustrated snarf. If ever an elephant snarfs toward you, you'll realize it's not a dry breeze capped with scents of jasmine. The handler and I both laughed as I used my shirt to wipe myself clean, and the elephant resumed his rocking gait.
Safely back in paradise, and a little embarrassed at all the riches we'd enjoyed for the past few days, we turned on CNN and began to pack for home. It took an hour boat ride from the island, another hour in the bus to the Krabi Airport and nearly two hours on a plane before we were back in Bangkok, where we had to say good-bye.
We sadly went our own ways for separate flights. I went to spend my last few baht on Christmas gifts, and Hema and Michelle headed for a massage parlor. It was hard to say good-bye to each other, and to a country where even the airport offers the comforts of home-cooked, spicy food with fresh lime juice and foot massages in every terminal.
---
---
---