Dependent spouse pours culinary experience into book
by
Charlie Coon
April 23, 2006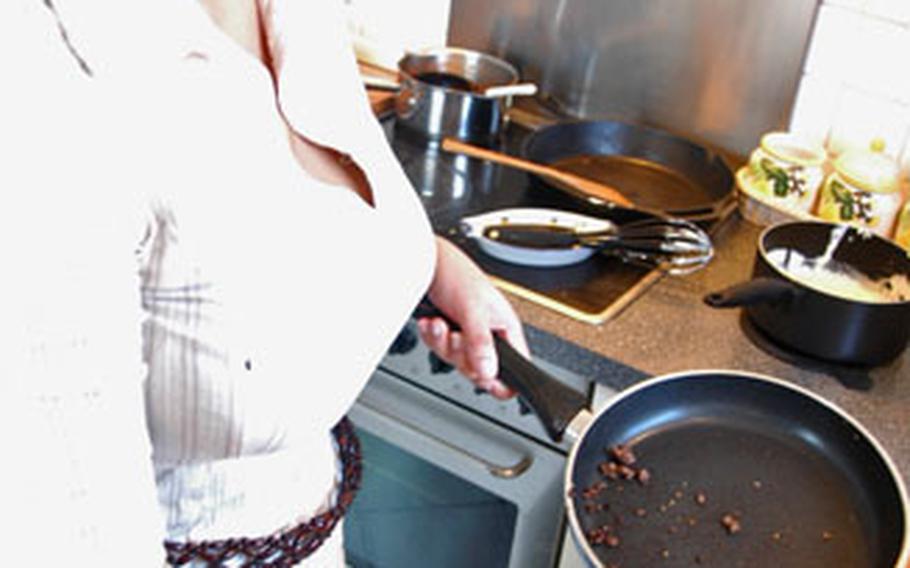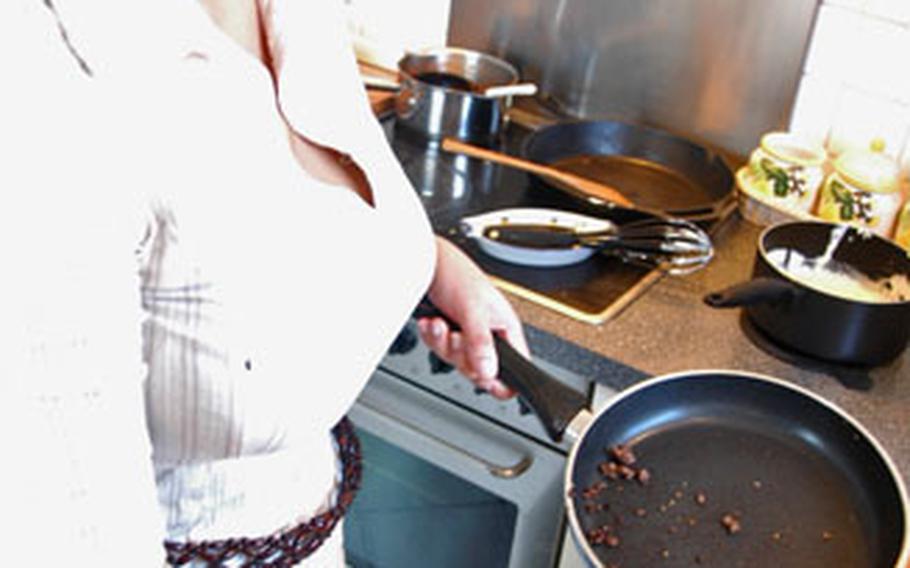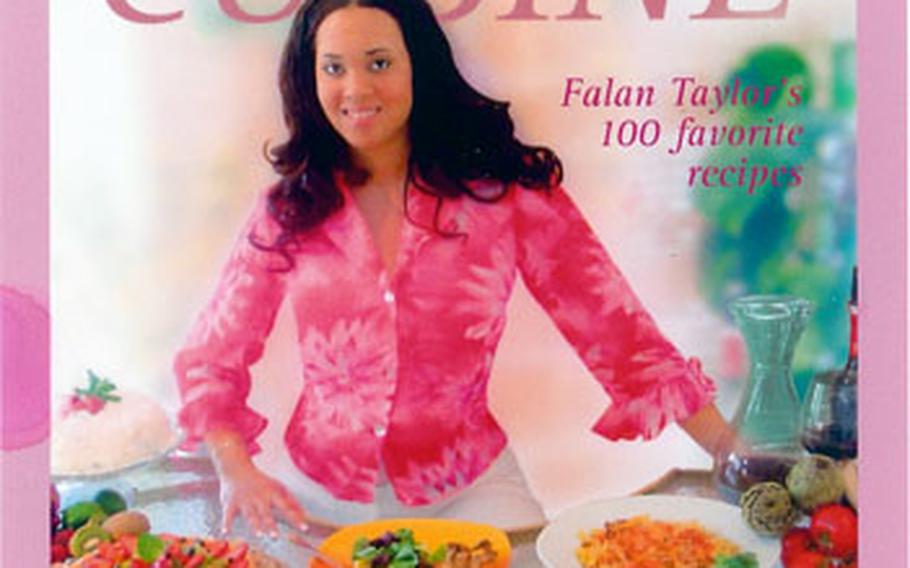 On the day she turned 17, Falan Ball became Falan Taylor. She got married the old-school way — young. And even though the bride had cooking in her genes, her experience in the kitchen was minimal.
"I just didn't have all the skills of a wife because I was still in high school," Taylor said.
Less than five years later, Taylor is the author of "Housewife Cuisine," a book with 100 of her favorite recipes. It's scheduled to be published by LuLu, an Internet self-publishing company, on May 6. She also designed her own Web site, www.housewifecuisine.com, which has recipes, a newsletter and info on getting the cookbook.
Taylor is aiming high: She wants her own cooking show. Watching her favorite chefs on TV's Food Network — Sara Moulton, Rachael Ray and others — gave her the bug.
But Taylor, who lives in Suttgart, Germany, with her husband and 18-month-old daughter, Timani, wants to keep her book and message simple. She wants young housewives, like many in the military, to be able to use it to make their lives better.
"I specialize in basic cooking techniques, using everyday ingredients you already have in hand," she said. "The cookbook is geared toward people who want to learn how to cook, or have cooking challenges."
Taylor has the background of a true food freak. Growing up in the Harlem neighborhood of 143rd Street and 7th Avenue, the young girl watched as her mom catered meals and her grandmother made hot plates of food for $5 a pop.
"Grandma's fresh-baked dinner rolls!" Taylor reminisced. "I was 3 and Grandma was in a wheelchair. I'd walk around and get the ingredients for her."
The family moved to Norfolk, Va., where she met Petty Officer 3rd Class Tim Taylor, who "bothered" her for a date when they met at a Montell Jordan concert. Soon they married, and the young couple headed for Tim's next duty station in Sigonella, Italy.
There, Taylor said she was inspired by the Italian tradition of eating, saying that it reminded her of the days back in New York City.
"In Italy, the family is centered around the dinner table, too," she said.
Taylor was hired in Italy to cook meals for one of her husband's fellow sailors, who was having trouble with her weight but didn't have time to shop and prepare healthy meals.
"She was a single mother, and I would make her dinner and her lunch for the following day," Taylor said. "I did it for seven months, and did really well with it."
She was inspired to pursue what she called "housewife cuisine" for other women who got married before they knew how to cook.
For many young women married to a military man, she said, being a housewife is not an outdated notion but a simple reality.
"I really do want to be a housewife, stay at home and have more children," she said. "There's also a lot of women who work [jobs] from home.
"I do believe a woman should learn how to cook. You don't want to be serving TV dinners and McDonald's every night."
After six years in the Navy, Tim Taylor got a job with a contractor at the U.S. European Command in Stuttgart, where he installs and services motion sensors and other electronic security gizmos.
He's a happy hubby.
"Most of my friends tell me how lucky I am," he said. "I can't begin to tell you.
"She enjoys being home and taking care of our daughter. She wants to go above and beyond making meals. She wants to do it all. It makes my job easier because a lot of the time I work long hours."
On their first anniversary, Tim rewarded Falan with a gift of true love. Not perfume. Not new shoes.
"A wok!" she exclaimed. "I was so happy!"
Scrumptious Samples
Here are some sample recipes from Taylor's book:
Italian Sirloin Stew
1 pound sirloin steak cut 1 inch thick, boneless1/8 teaspoon red pepper, ground14½ ounces tomatoes canned, with juice1 large garlic clove, crushed1 cup beef broth2 tablespoons olive oil divided2 medium zucchini cut in ¼-inch slices2 medium onions cut in ¼-inch slicesParmesan cheese, grated1 teaspoon basil, driedCut steak into ¼-inch thick strips. Cut each strip into 1-inch pieces. Combine garlic with 1 tablespoon oil, stir into beef and reserve. Saute onion in remaining oil in a large saucepan for 3 minutes. Sprinkle with basil and pepper, cook and stir 1 minute. Add tomatoes, beef broth and zucchini. Bring to a boil, cover, reduce heat and simmer 15 minutes.
Meanwhile, heat large nonstick skillet over medium-high heat. Cook and stir the beef 1 to 2 minutes, add to sauce. Stir 2 teaspoons cornstarch dissolved in 2 tablespoons water, into the stew and cook until slightly thickened, about 2 minutes. Sprinkle with grated cheese, if desired.
Preparation time: 30 minutes.
Chocolate Truffles
12 ounces real chocolate chips4 tablespoons butter (do not substitute)1 cup whipping cream1 teaspoon vanilla or your favorite liqueurPut butter, vanilla and chocolate chips in blender. Heat whipping cream until it is hot, but not boiling. Pour hot cream over ingredients in the blender and blend until all the chocolate is dissolved and smooth. Pour into a buttered dish and cover with plastic wrap and freeze until firm. Scoop out a teaspoon of the truffle mixture and roll into a ball with your hands. Roll in powdered cocoa or finely chopped nuts. Put into plastic containers with a tight lid and freeze. Thaw slightly before serving.
---
---
---