City breaks or beach-bumming? Go for both!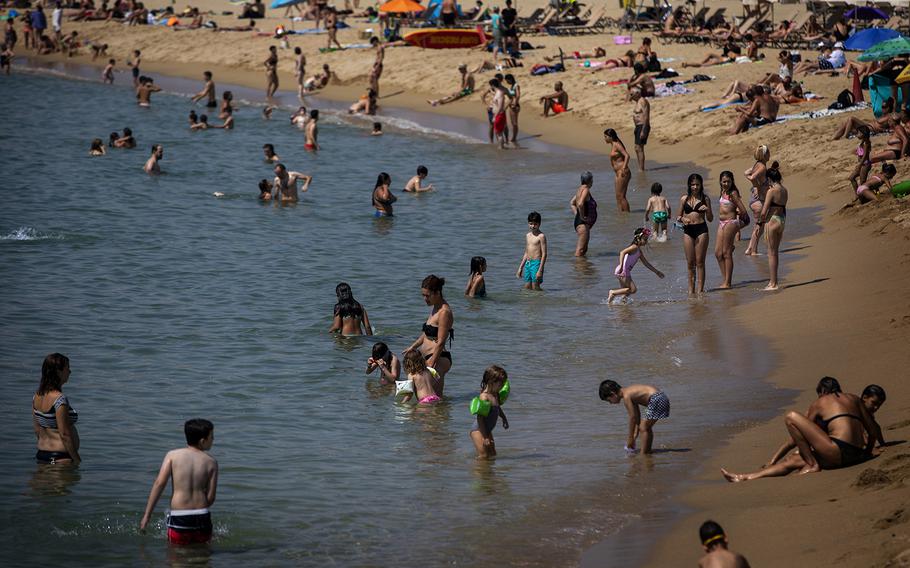 It's the long-awaited summer holiday season, we're aching to get away, and for those already in Europe, travel restrictions have been loosened up. With the newfound freedom comes a dilemma as old as the ages: a vacation full of culture and architectural wonders, or lazy days on the shore, sand between the toes? Choose your city break wisely and yes, both can be yours. Here are four of Europe's great capital cities from which a beach favored by locals can be reached by means of a quick ride on public transportation, and an even more gorgeous stretch of shore beckons one to travel slightly further.
LisbonOnce you've hopped a ride on an old-fashioned, yellow "Remod-elado" tram along route 28, listened to Fado music in the Bairro Alto and indulged in Pastéis de Nata custard treats to your heart's delight, head to:
Nearby beach: although you're spoiled for choice in terms of coastlines, a solid choice is the Costa da Caparica, a sandy beach stretching ten miles that's dotted with beach bars and stretches where you can watch surfers in action. A fun way to get to the less populated stretches of sand is by means of a mini-train, which runs in beach season only, June 1 through Sept. 30, from 9:30 a.m.-7:30 p.m. A round-trip ticket to its ultimate stop, the village of Fonte da Telha, costs about 8 euros.
Getting there: Travel on bus 161 from Praça do Areeiro in the city center. The journey costs around 3 euros and takes about half an hour.
Further out but worth the trip: with a rental car at your disposal, head south to the Serra da Arrábida Natural Park, where pristine sands and crystalline waters await. You might have to park up and hike to reach the Praia Galapinhos, a cove surrounded by rocks, but one look at this picture-perfect hidden gem makes all the effort worth it.
RomeNow that you've marveled at the Colosseum, tossed a coin into the Trevi Fountain and conquered the Spanish Steps, it's time to kick back at:
Nearby beach: the Ostia Lido is the quick and easy solution for sun-seeking Romans. Although it's a bit chintzy and dotted with members-only clubs, there are a few stretches of public beach here as well.
Getting there: From the Piramide metro station along line B, follow the signage leading to the Roma Porto San Paulo station, where you can catch a train heading to Roma-Lido. Disembark at Lido Centro, and from there it's a walk of just a few blocks. As Ostia's technically part of Rome, the train ride out there is dirt cheap.
Further out but worth the trip: Anzio Beach offers sun and sand and history too: here you'll find remains of a villa that once belonged to Emperor Nero and the Anzio Beachhead Museum, which tells of the Allied beach landings in World War II. Gelato and fresh seafood will make a good day out a great one. No car is necessary to reach Anzio. Take the train from Termini to Anzio Colonia and anticipate a moderate walk from there. Not enough off-the-beaten-track for you? From Anzio's harbor, take the ferry to the island of Ponza, where unspoiled scenery and an unpretentious style of vacation awaits.
AmsterdamOnce you've visited the Rijsmuseum, taken a boat cruise through the canals and sampled the notorious nightlife scene first-hand, there's time to chill at:
Nearby beach: some 25 miles west of Amsterdam you'll find the seaside resort town of Zandvoort an Zee, a cheery place where sun-seekers of all ages frolic in the frigid waters. As the afternoon stretches into evening, guests settle into comfy chairs at the beach bars to take in the sunset, cocktails in hand. Just to the north is found Bloemendaal Aan Zee, another beautiful white-sand beach famed for its late night, club-scene parties.
Getting there: More than 50 trains depart Amsterdam's Central station at regular intervals throughout the day. The ride takes an average of 36 minutes and will set you back roughly 6 euros each way.
Further out but worth the trip: for a gorgeous untouched stretch of beach surrounded by dunes and trees, make way to the shoreline by the town of Wassenaar. This long stretch of beach a few miles north of The Hague is just right for those looking for space. If you can get hold of a rental bike, the trails around the Duinrell Holiday Park make the perfect scenic backdrop. The train ride from Amsterdam to Wassenaar takes 1.5 hours by train, whereas a drive takes 45 minutes.
CopenhagenYou've strolled along the Strøget walking street, seen the diminutive Little Mermaid statue and had a go on the rides at Tivoli Park. Now kick back and relax at:
Nearby beach: The Amager Strandpark is the classic beach scene, with all the prerequisites of sand, surf and snacks galore. Toss around a Frisbee as you wade in the chill waters, or sit back and enjoy the sight of seafaring vessels chugging past. A 20-minute ride on bus 31 from Copenhagen Central Station gets you there, as does the M2 metro line.
Further out but worth the trip: the scenery doesn't get much prettier than that found in Tisvildeleje, a squeaky-clean, golden sand beach surrounded by pines. Its shallow waters make the place a hit with families. If time permits, walk or cycle through the Troldeskoven, or Trolls Forest, a magical green space full of trees with limbs twisted in all possible directions. This beach in North Zealand is 45 miles northwest of Copenhagen and can be reached by car in under an hour. Those riding the train should plan on closer to an hour and a half each way.
Other culturally rich cities where beaches aren't far off include Helsinki, Finland; Tallinn, Estonia; Riga, Latvia; Gdansk, Poland; Hamburg, Germany; Bruges, Belgium; Barcelona, Spain; Porto, Portugal; Naples, Italy; and Marseille, France, to name just a few.