China, paintings, dolls top bazaar shopping lists
by
Lisa Horn
October 7, 2003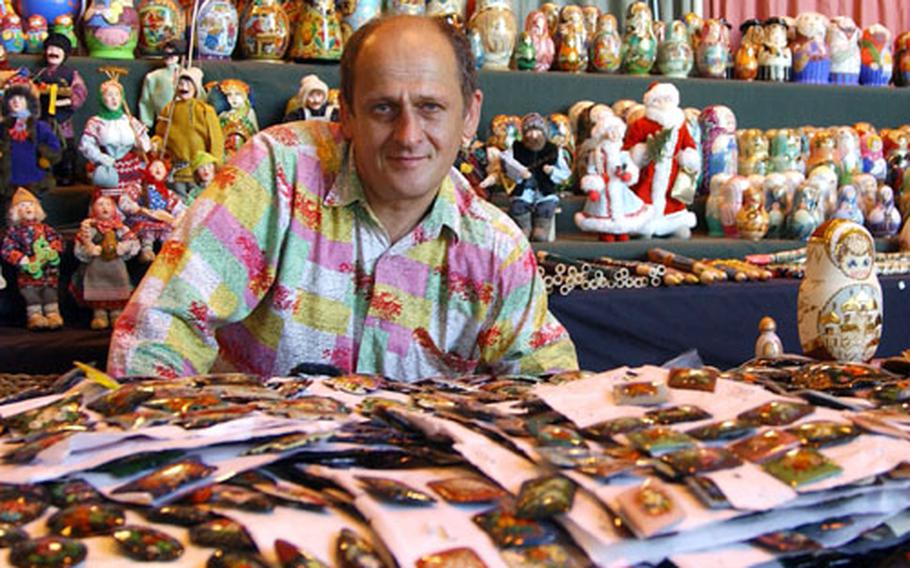 RAMSTEIN AIR BASE, Germany — Even though the huge bazaar here has come and gone, shoppers still can look forward to the rest of the European bazaar season. Many of the vendors selling their wares at the 86th Services Ramstein Welfare Bazaar last month will be at other bazaars all the way to Christmas.
With bazaars scheduled at military installations all over Europe, shoppers can expect to see products from vendors closer to home.
One vendor who is making the circuit is Rial.Moldov, owned and operated by Yori and Larissa Volnsky. The husband-and-wife team sells whimsical wooden Russian Santas, stacking dolls, handmade dolls in regional folk costumes, lacquer boxes and other Russian items.
The intricate detail of the Santas makes them costlier than other types of Santa figurines.
"Sometimes the artist takes between three and four months to make [one] and you have to know that the wood has to be dried at least two years before they can start."
The wood, also used to make the stacking dolls, comes from linden trees. Drying the wood makes it easier to work with and less likely to break, Volnsky said.
Rial.Moldov will be at the Oct. 10-13 Heidelberg Officers and Civilians Spouses Club Holiday Bazaar, the Nov. 7-9 Spangdahlem Eifel Bazaar, the Nov. 27-30 Heidelberg Thanksgiving bazaar and the Stuttgart bazaar in March.
Another familiar face on the bazaar circuit is Sascha Kijanovich, a portrait artist and Army and Air Force Exchange Service vendor. Using pastels and charcoal, Kijanovich can create a lasting portrait of a loved one from a photo or in person. The two- to three- hour process generally works well for people who have other shopping to do, Kijanovich said.
An artist for 25 years and a 12-year bazaar veteran, Kijanovich said he enjoys the bazaar scene.
"People are happy [with] what I do for them, [and] I'm happy, too," he said.
Canziani Ceramics, operated by Leonard Canziani and family, of Yorkshire, England, is also an AAFES vendor and has been a part of the bazaars for 22 years.
The family prides itself on its bone china.
"Because we are a small family business, we can do any place setting, any amount," Canziani said. "The biggest we've ever done is a 100-place setting."
He will not hesitate to stand on a dish or tap the side of a teapot to dispel the myth that the best place for bone china is in a cabinet.
"The biggest problem we have is teaching Americans about bone china," he said. "Most of us have had grandmothers that have had this stuff stuffed in a cupboard and she said to the kids, 'Don't you touch my bone china.' It is so untrue."
Canziani Ceramics will also be at the Heidelberg Holiday Bazaar and the Naples, Italy, bazaar, Oct. 16-18.
---
---
---