China: 'Nothing is forbidden anymore'
by
Teri Weaver
October 2, 2005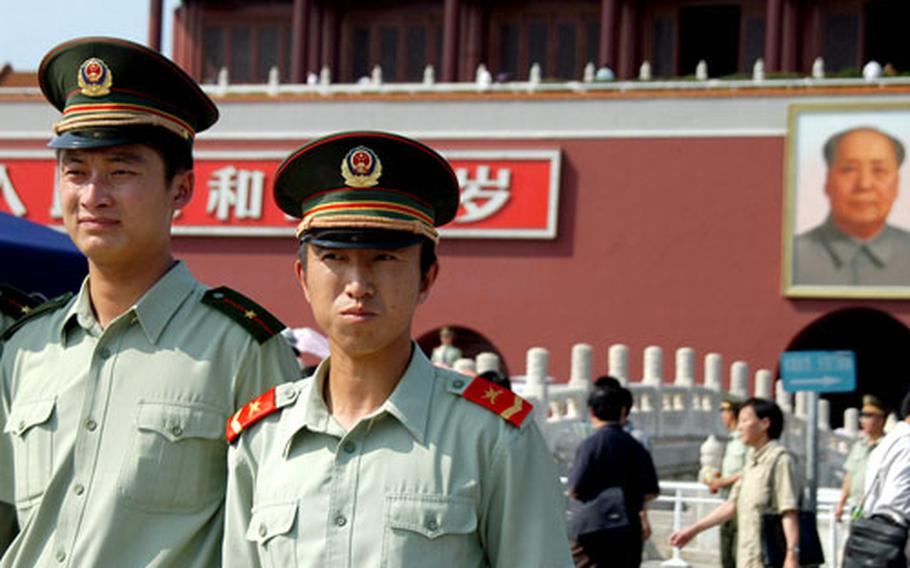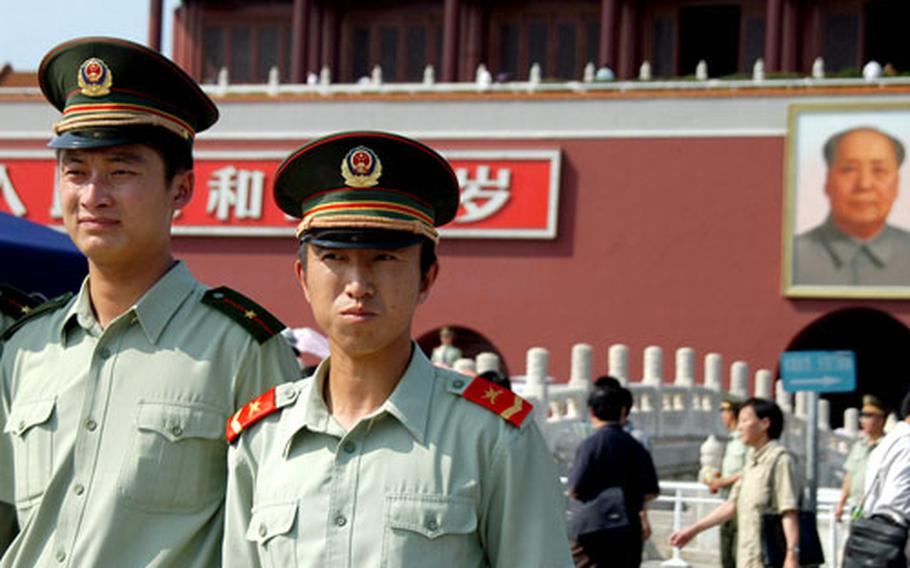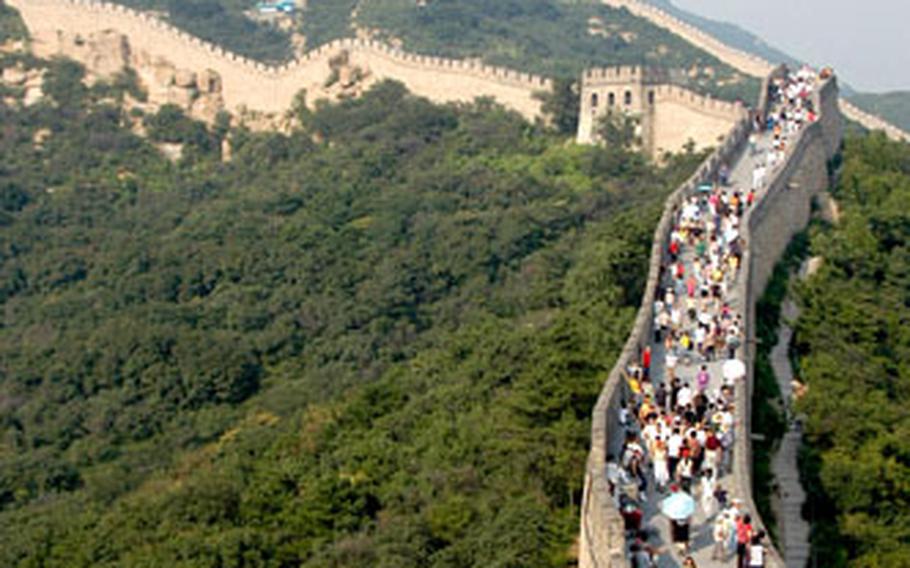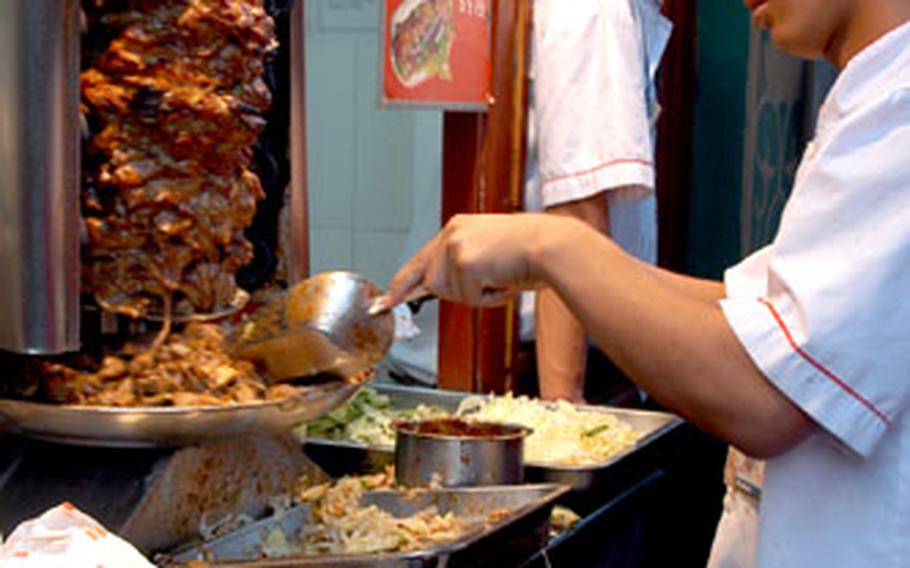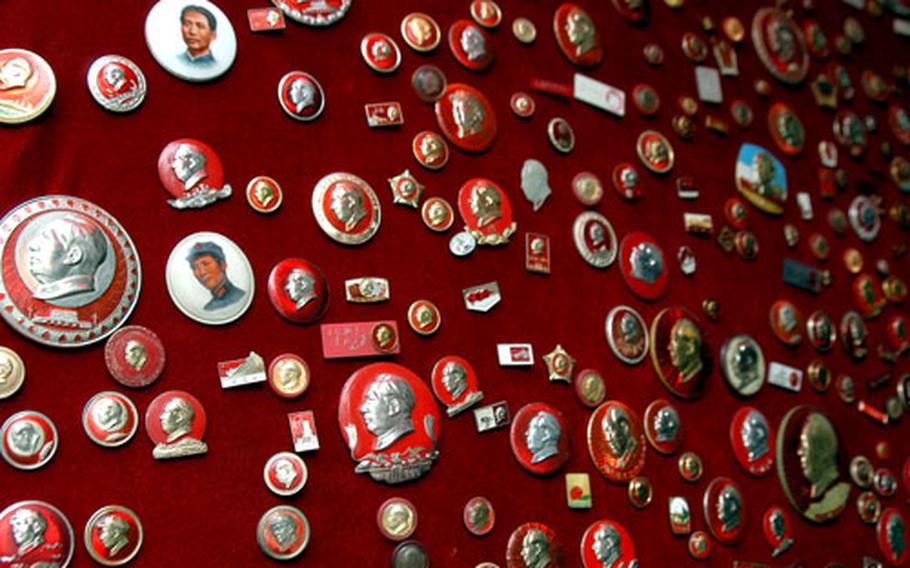 It was so amazing to believe this was China: Audis on the highways, Heinekens at the bars, Nine West and Adidas shoes available at non-knock-off quality and non-knock-off prices.
But when I heard there was a Starbucks in the Forbidden City — well, as a fellow tourist I met on the way to the Great Wall put it, "Nothing is forbidden anymore."
Certainly some things might still be off limits — I didn't see Ann Coulter or Molly Ivans among the English-language books in a five-story tall bookstore a few blocks from Tiananmen Square. Still, it's clear that western styles and dark-roasted coffees aren't just visiting here. They are already home.
I spent six days in Beijing in August, armed with little more than a Lonely Planet guidebook, a hotel with a concierge and the notion that as long as I could hail a taxi and provide written directions, I'd have no problems during my first trip to China.
I was right.
I stuffed myself with street food, bargained for silk pieces and watched calligraphers trace and retrace Chinese characters using water and 5-foot-tall brushes with pavement as their canvas. I walked alone across Tiananmen Square and through hutongs (alleys that lead to low-slung housing, restaurants and shops that once made up most of the city's neighborhoods), seeing how the tourist version of Beijing operates within a few hundred meters of the more realistic one.
I made a few mistakes, like paying $30 for a driver to take me from the airport to my hotel in the northwestern corner of Beijing when it should have cost about $10. But he spoke English, taught me how to say hello and thank you in Chinese, and delivered me without any worries. For my first hour in a communist country, I somehow thought it was an even trade.
China's capital city is in the midst of a full-blown overhaul to get ready for the 2008 summer Olympics. A new causeway is being built to carry people from the airport directly into downtown. Many buildings at parks and temples are covered with scaffolding. Its small subway system is growing out from the center of town.
This might make it sound like a vacation would be less alluring these days, with some of the world's oldest building's wrapped up in renovation, but nothing could be further from the truth.
My first day there, I took a taxi to Tiananmen Square and then wandered around the outside of the Forbidden City, the fortress for emperors in the Ming and Qing dynasties beginning in the 1400s. For 500 years, no commoners were allowed inside. Now legends about cappuccinos abound.
The next day, I headed to another mall, the so-called Silk Market in the eastern part of the city near Ritan Park. Here, as at many stores, the merchandise has no price tags and instead offer very friendly and very pushy vendors to hawk clothes, purses, shoes and coats with designer labels. Bargaining is a must, and my hotel concierge told me to expect to pay only one-tenth of the initial asking price.
The same was true a few days later when I ventured to Liulichang, an artist and antique district that is known for selling more fake antiques than real ones. My concierge warned me not to buy anything, and I told him I was just going to look. I could not resist, however, a wind-up alarm clock with Mao Zedong's portrait on the clock face, his working-party arms ticking around the dial. I paid about $12 for the best piece of kitsch I've found in years.
I know frighteningly little about Chinese culture, but I'd dare to say that if a people can be judged by its cuisine then China must be one of the most frugal and daring groups on Earth.
I'd like to think of myself as an adventuresome taster who is willing to nibble on anything, but at the end of the day I want the satisfaction of a full meal that made me smile rather than wonder about each mouthful.
So my eating plan was simple: if I saw something that looked or smelled tasty I went for it, sometimes whether I was hungry or not. At various times in restaurants with people who spoke almost as little English as I did Chinese, I still managed to order steaming bowls of noodles and broth, fried sesame balls, a whole steamed fish and, of course, Chinese beer. (I did learn this very helpful phrase: ee peeju. One beer.)
There was one part of Chinese history I admitted I could not see on my own, so I paid 300 yuan, less than $40, for a daylong tour to the Great Wall and the Ming Tombs.
The wall, begun in 221 B.C., was meant to protect China from invasion from its northern neighbors, the horse-riding Mongolians. Now, tour buses lead thousands of tourists each day on meandering trips through jade factories and Chinese medical schools before reaching the wall. For the 20 or so people on our tour, the trip proved frustrating and typical, according to Lonely Plant, which warned against such scams.
The bus had picked me up before 9 a.m., and by 3 p.m. we were just on our way to the wall. During those six hours, I also learned that much of the original wall is crumbling or gone, according to our tour guide who continued to educate us even though we had threatened him with no tip for all our delays. So the wall that you see and stand on is new, another disappointment, I feared.
I was wrong.
Standing on the wall and looking at a panorama of 2,000-year-old strength and skills — even recreated ones — was breathtaking. Even the throngs of tourists and the vendors hawking Great Wall medals and more "hand-made" tapestries didn't spoil the view. A Japanese man on my tour summed it up simply and truthfully. "It was a precious experience," he said, as the bus dropped us back at our hotel just before 8 p.m.
To take a break from the crowds of Beijing, I spent one morning at the Temple of Heaven Park. A respite in a garden was what I needed, and I left the hotel a few minutes after 7 a.m. in the hopes of seeing a few people practicing Tai Chi before the working day began.
I saw that and more. Early retirement is mandatory for many here, so people in their 60s with plenty of energy and time spend their mornings at the park in the southern part of the city. Some practice ballroom dancing and choreography with fans; others play a grown-up version of hackie-sack with much more nimbleness and skill than I've ever seen at a Grateful Dead show. In the midst of the park I heard a choir of voices and followed it to find more than 200 people singing in a circle complete with a director.
My last day in Beijing was much like my first. I went to Forbidden City again, this time investing in a ticket and an English audio recording to usher me through the 800 buildings. I took the most direct route offered, walking north past the buildings once served by eunuchs and dedicated to matters of state, family and emperors' birthdays.
I never did find Starbucks inside the Forbidden City. My friend on the tour insisted she had had a coffee there, and I have no reason to doubt her. Still, I hope that some things might still be forbidden among China's largest collection of ancient buildings.
Facts about Beijing
Population: 11 million
Language: Mandarin
Travel requirements: A valid passport and travel visa, which costs $75.
Crime: Beijing is relatively safe, according to the State Department's website and other travel guides. Be on guard for pickpockets or bag slashing in large crowds. Also, many businesses are increasingly concerned with counterfeit money, some even checking bills with scanners before accepting the currency. Some stores and taxi drivers will refuse bills that are torn. Best to carry small bills whenever possible.
Getting around: Beijing does have a subway but most of it runs on a loop inside the inner-most circle of the city; most residents use buses, which are so crowded that a ride on one would be hard to classify as something fun to do on vacation. Taxis are cheap, clean and prove to be the easiest way to get around the city. Never assume that the driver will speak English. Ask a bilingual worker at your hotel to write out a list of destinations for you to show to each cab driver. Many hotels have these pre-printed for tourists.
Lodging: Rely on your most trusted travel agent or Web site. If you are doing Beijing alone, without a package tour or guide, a hotel with an English-speaking concierge is your best bet. Use the Internet and you'll find many five-star hotels have western-style rooms at less than $100 a night. Be sure to call to make or verify the reservation; many hotels take a name, rather than a credit card number, to reserve a room. It's good to talk with a person to ensure they are expecting your arrival.
Money: Cash still dominates in Beijing, so keep an eye out for western-friendly ATMs even when you're not running low on yuan. Major bank chains seem to work, while ATMs at hotels did not. The exchange rate is roughly 8 yuan to $1. Here's what it really means: bottled water, 5 yuan; an hour-long taxi ride across town, 40 yuan; a full tour of the Forbidden City, 60 yuan; a day-long tour to the Great Wall and the Ming Tombs, 300 yuan. Tipping is not expected, though sometimes in higher-prices hotels and restaurants, a service charge is added to the bill.
Shopping: Be ready to bargain. Guides and hotel staff say its best to assume that prices at an open market or a store filled with knock-off brands start at 10 times their actual price. Negotiating those prices requires tenacity, and sometimes vendors will block your exit from their stand. Insist firmly on your lowest price, then walk away even if some gentle shoving is involved. The sellers will nearly always reduce their request.