Cheonggye: Seoul's past returns to the surface
by
T.D. Flack Hwang Hae-rym
October 23, 2005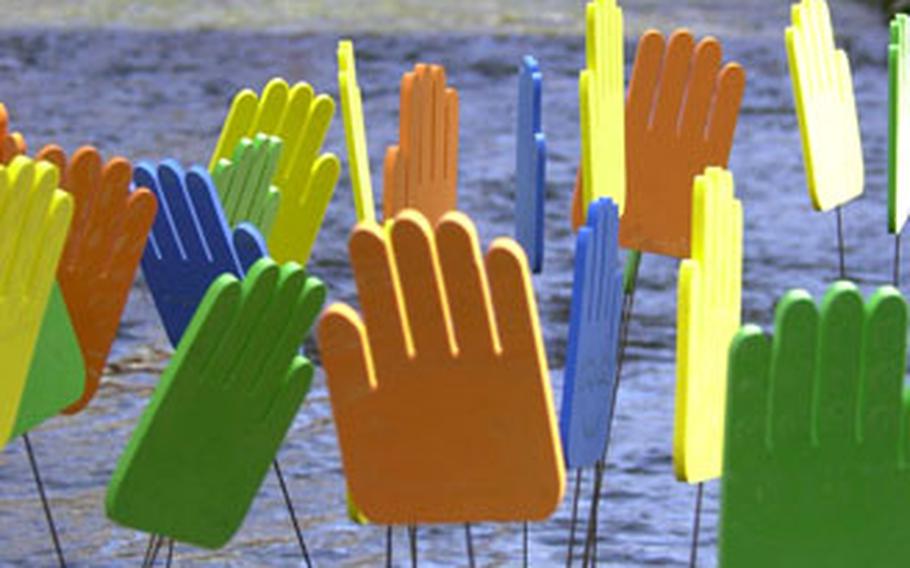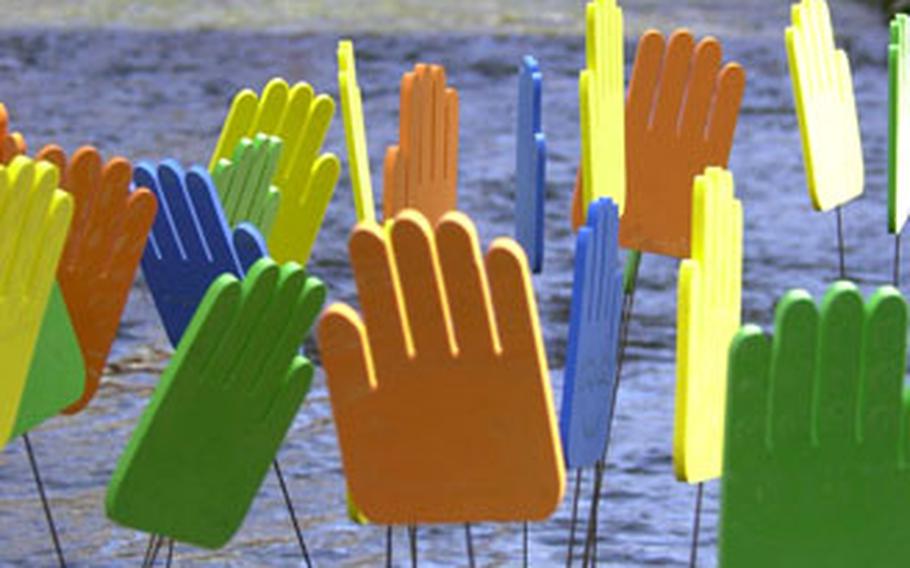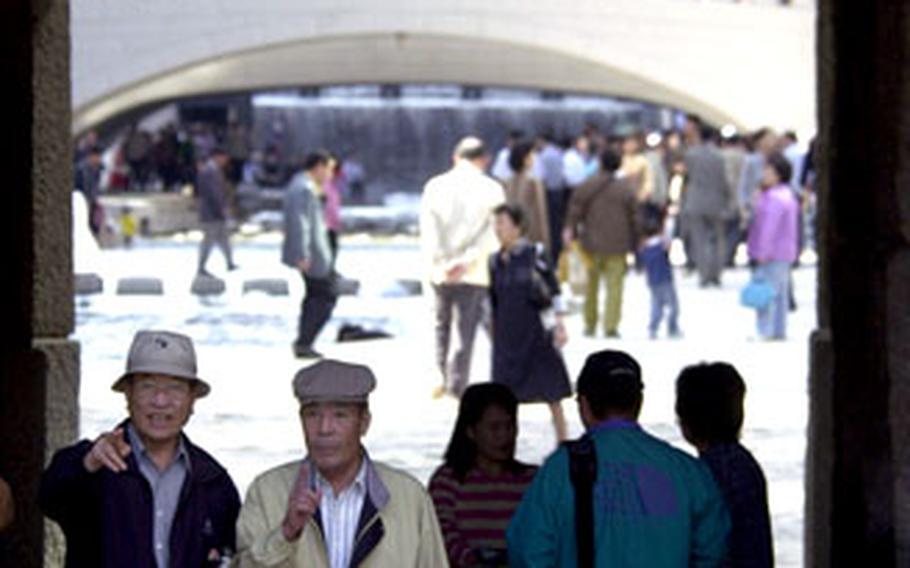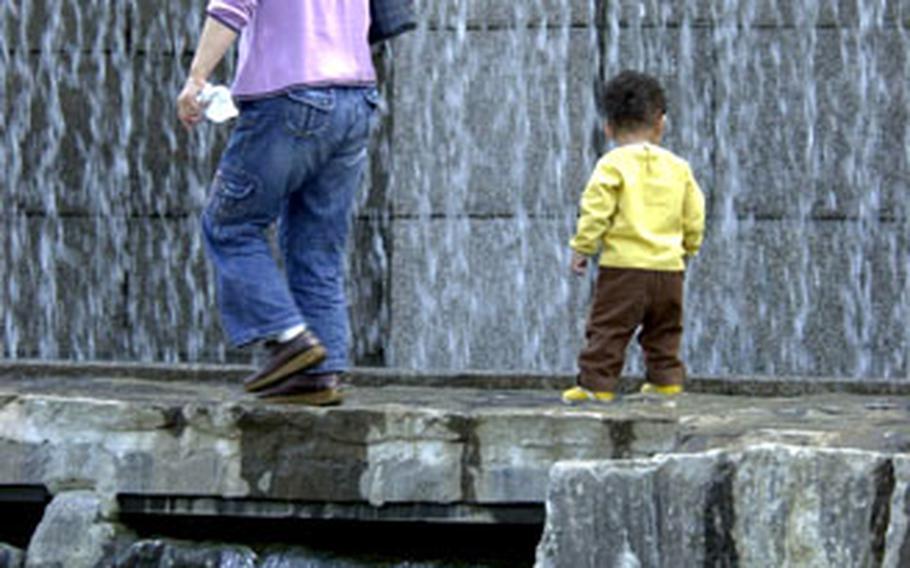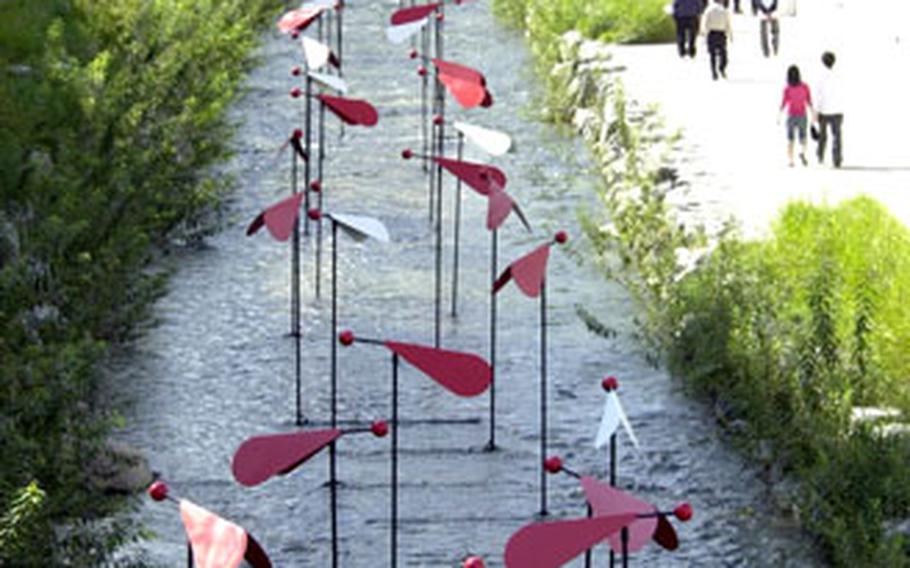 The stream that once kept Seoul's "haves and have-nots" separated is bringing together folks from all walks of life as the newest tourist attraction in this bustling city.
Cheonggye Stream reopened early this month after a 26-month restoration project, and the city's residents have flocked to the area to walk the banks of a stream that's been underground for about 50 years.
During the Joseon Dynasty, 1392 until 1910, noblemen and government officials lived north of the stream while the common people lived south of its banks, according to Seoul City officials. During the rainy season, the stream flooded, sending sewer water into crowded areas and creating health hazards.
The government decided to cover the stream and work was completed between 1958 and 1961. Thousands of shopkeepers opened stores above the once culturally important landmark.
In 2003 — in an effort to make Seoul a more environmentally friendly city — the local government decided to launch a renovation project and bring the stream back. The plan meant moving 200,000 merchants from about 60,000 stores above the river, said Kim Kyung-oh, management director of the restoration project.
Kim said it was also important to uncover 600-plus years of cultural and historical significance.
The government provided relocation assistance and loans to help move the old-style markets.
Planners also had to figure out how to divert the heavy traffic — as many as 160,000 vehicles a day — on the Cheonggyecheon Expressway, Kim said.
Local officials said that narrowing the road helped ease traffic, not restrict it, since people expected the worst and sought other routes. And a push for more use of mass transportation, including bus and subway, helped.
While the streets might not be as crowded, the walkways along the river are packed. On a recent Monday, visitors had to thread their way through the crowds, bunching up under the numerous bridges to catch a few moments of respite from the blazing sun.
Foreigners mixed with locals as they strolled the banks, snapping photos and pausing to admire art projects. In one area, a group of metallic fish was frozen in mid-jump out of the stream, balanced on thin metal poles. Farther down the stream, dozens of red and white sculptures, moving gently in the breeze, charmed visitors of all ages.
Kim said that Seoul didn't have much in the way of culture, but the stream will help.
"You now can experience the new Seoul [as] you are able to feel its long history and culture," he said.