Cambodian town's proximity to Angkor Wat temple yields tourist payoff
by
Erik Slavin
September 9, 2007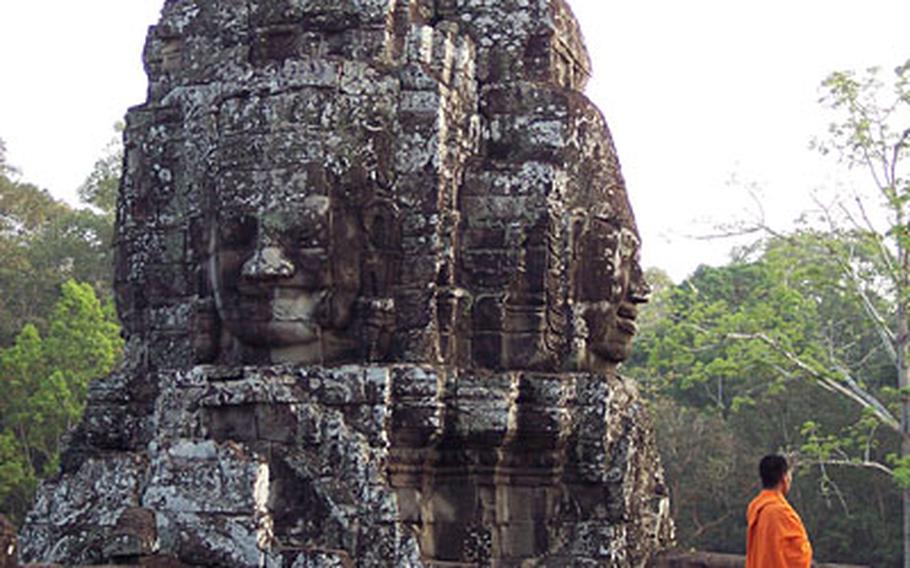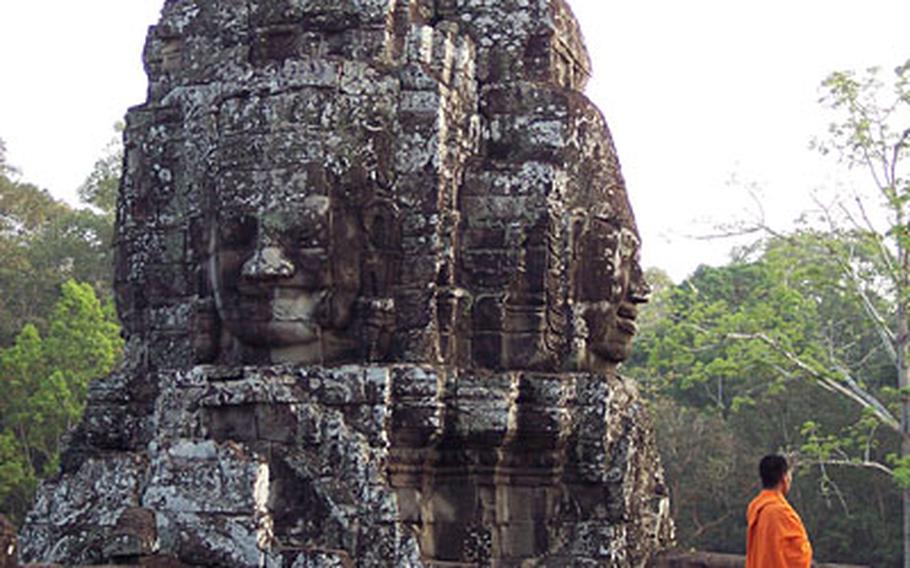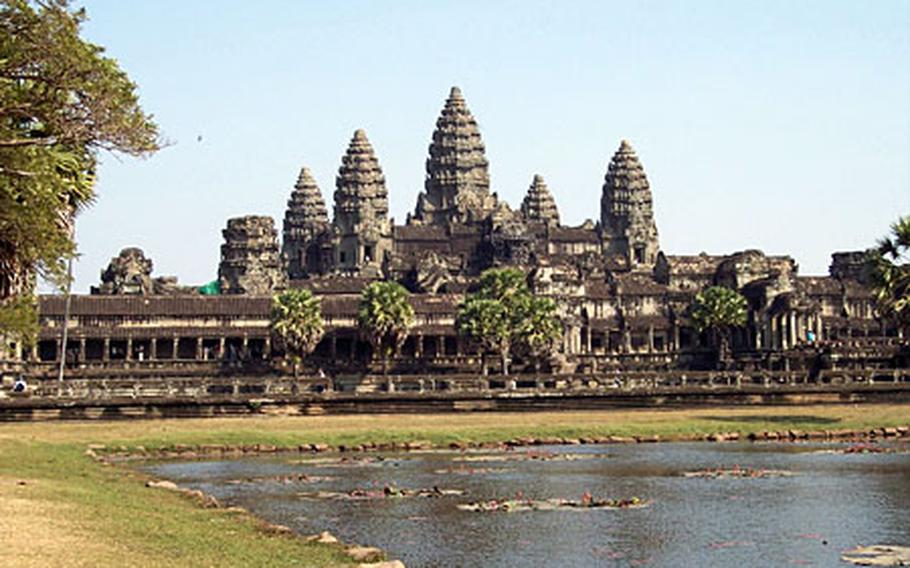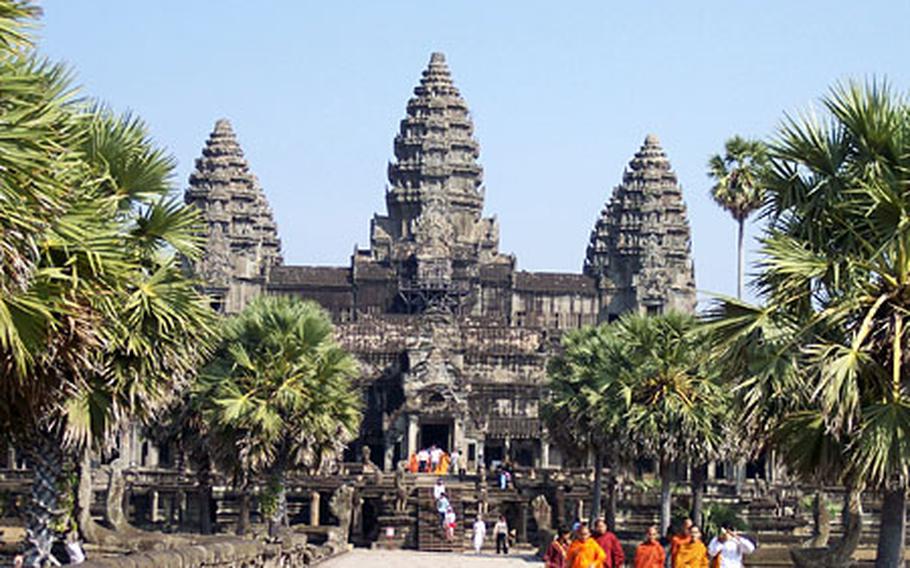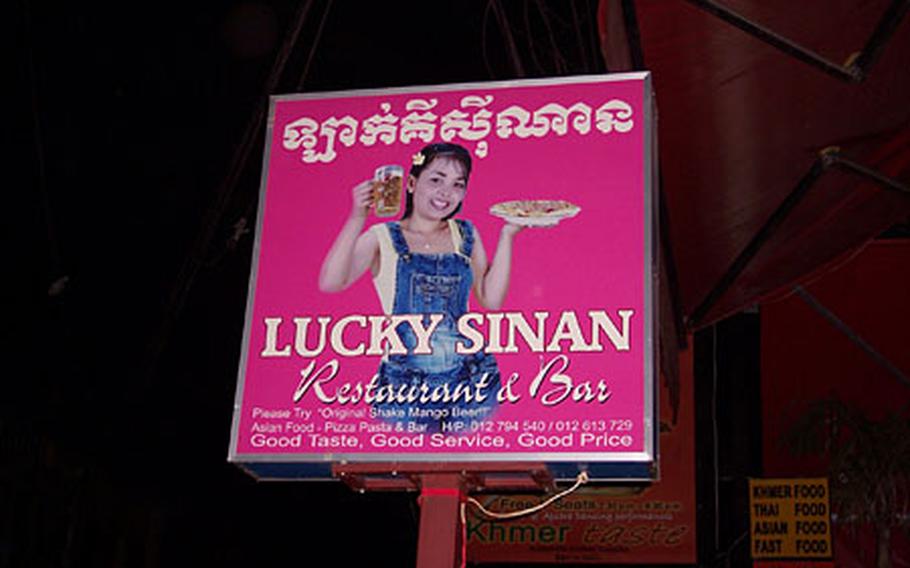 Scene, Sunday, September 9, 2007
There are some places you go to escape from the crowds and immerse yourself in authentic local living.
There are places like that in Cambodia, but Siem Reap is not one of them.
However, Siem Reap is the jump point for one of those places you should see before you die — Angkor Wat.
Although not quite yet as well known, Angkor Wat plays in the big leagues of world wonders — say it in the same breath as the Egyptian Pyramids and the Grand Canyon.
Historians say that, 1,000 years ago, Angkor sprawled to the same physical size as modern-day Los Angeles. Its inhabitants fled during the 15th century after military assaults from the Thais, leaving the city and its temples to be buried by jungle.
The city was "rediscovered" by Western archaeologists in the late 19th century. Still, it was barely accessible to most until the murderous Khmer Rouge ended resistance fighting in 1996.
Today, Angkor is mobbed with tourists during December and January, the relatively cool and dry months.
The tourist traffic is taking its toll on the ancient temples, and some tourist Web sites speculate that the temples may have to be roped off in the future for preservation.
The marquee temples include the iconic Angkor Wat itself, Angkor Tom and Ta Phrom.
Farther away, temples like Banteay Srey provide a little more peace.
Once you've had your fill of antiquity, Siem Reap does have some pluses. A fantastic one-hour foot and calf massage costs $5 and is widely available. Historic world treasures aside, it may be the highlight of the trip.
The average dinner costs about $3, which is wildly expensive compared to the rest of Cambodia.
The local Khmer food isn't as spicy as Thai food. It resembles Vietnamese food, with its reliance on fish sauce. Other world cuisine is also widely available.
Gourmet prices run up to $10 in town, and run on par with Western prices at the gaudy five-star hotels. The more pedestrian hotels, which generally cost $30 to $60 per night, also usually serve stripped-down meals.
There are plenty of bars and nightclubs in Siem Reap as well. Angkor Beer costs 50 cents; it's well worth the 25 cent upgrade over the swill sold in the green can.
If you like fishing, primitive Tonle Sap Lake is about an hour away, though it may be shallow during dry months. It contains more than 200 species of fish and accounts for more than half of all fish eaten in Cambodia, according to government estimates.
It's also a window into what Cambodian life really looks like. But even among the many travelers I met who experienced only the touristy aspects of the area, none said they had any regrets about their trip.
Most would agree that with one good look at a 1,000-year- old, sandstone-carved temple at sunrise, the tourist trappings around you melt away into nothingness.
The road to Angkor
Thanks to various government-backed monopolies, there are few cheap, comfortable ways to get to Siem Reap.
South Korea's Asiana Airlines now offers a round-trip flight to Siem Reap from Seoul, which will explain the surreal abundance of kimchi and soju restaurants on the way into town from the Siem Reap airport. Otherwise, travelers can pay $200 to $250 on Bangkok Airways, or fly cheaper from Phnom Penh, Cambodia's capital.
River ferries are also available from Phnom Penh. The fastest take five hours, according to tourist brochures.
More adventurous travelers can try the 12-hour overland route by train and bus from Bangkok.
To get to the temples, it's best to bargain. Locals prefer U.S. dollars; you'll rarely see the Cambodian riel. Renting a three-wheeled, open air cab towed by a motorcycle — called a tuk-tuk — is the cheapest and most fun way to get around. It should cost $10 to $12 for two people, and maybe a dollar or two more for trips to the outer temples. A car, usually an old Toyota, may cost about $20 for the day. Both come with drivers who will try to sell you something else, as will nearly everyone you meet in Siem Reap, starting with your airport taxi driver.