Caching on: Outdoor treasure hunt an international pastime
---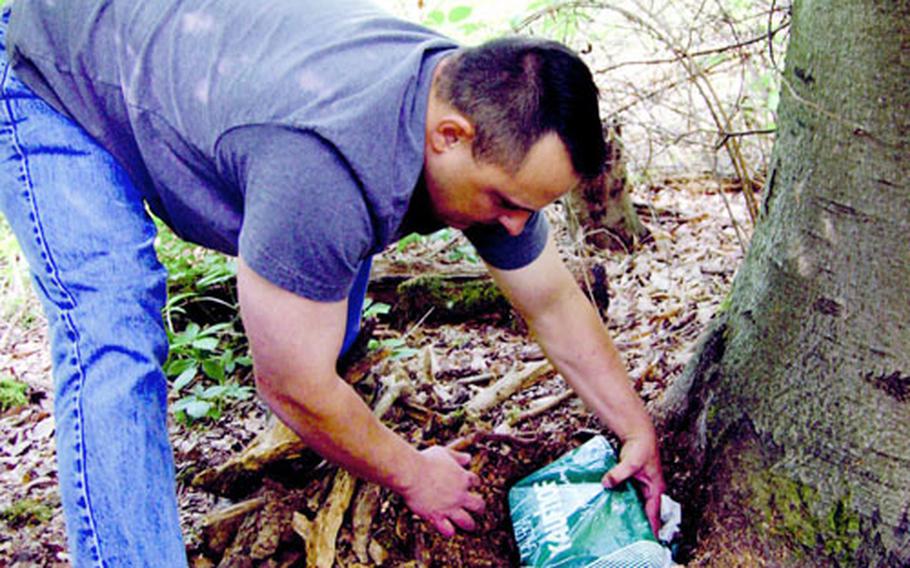 Nature lovers and tech junkies, unite: The ultimate scavenger hunt has arrived.
Geocaching, with its combination of geography, problem solving and the use of a Global Positioning System in search of hidden treasure, is sweeping the world.
Since the launch of the geocaching.com Web site in May 2000, caches are located in all 50 states. According to the Web site, there now are more than 105,000 caches active in 208 countries.
Air Force Tech Sgt. Marty Warg, a logistician stationed in Darmstadt, Germany, has been addicted to geocaching since December 2002 and even geocaches on vacation.
"One, it's free. It's fun… you can't beat it to go out in the woods. It's so easy for us to go out as a family," said Warg, whose wife and 14-month-old son often accompany him on his geocaching journeys.
According to geocaching.com, geocaching in its present form has been in existence for about four years.
The increase of satellite accuracy for GPS by the U.S. government in 2000 has helped to make the game more of a reality.
Before 2000, GPS accuracy was approximately 300 feet. Today, the accuracy of a GPS can come as close as 15 feet.
The Web site is updated daily by people around the globe, who post coordinates to the caches they've hidden. To find caches in your part of the world, simply log on to the site and enter either your zip code or country. Logging on to the site is free.
Warg said he also visits www.geocaching.de, a site based in Germany, which lists only German caches.
Once a person has found an interesting cache, he or she can print out its coordinates, a small map of the area, difficulty and terrain ratings, clues for finding the cache and any other helpful tips to find the site.
The difficulty and terrain of a cache are rated from one to five stars, with one being the easiest to navigate and five being the most difficult. In other words, the location may be so remote that a pair of good hiking boots won't cut it, like on Germany's tallest peak, the Zugspitz, where caches are sometimes hidden, Warg said.
The Bernd Rosemeyer cache is located at a rest area just off Autobahn 5 near the Gräfenhausen autobahn gas station. Rosemeyer, a daredevil in the early days of auto racing, died in 1938 in the vicinity of the rest area. A memorial there commemorates his life.
Those who hide the caches often are avid geocachers themselves. There are, however, a few ground rules for both the cache keeper and the finder.
"First of all, you're not allowed to bury anything," Warg said. "It has to be covered up with leaves or branches. If it's going to be on private land, you have to get permission from the owner."
While what often is in the cache may amount to only $4 or $5, it's the thrill of the hunt that keeps the game alive. Finders of a cache may bring something to add, but are asked to follow the motto, "Trade up, trade even or don't trade at all."
"Basically, don't grab something that's real nice and then put in, like, a McToy," Warg said, referring to the cheap, plastic toys in McDonald's happy meals.
Warg, who is preparing to move to Minot Air Force Base, N.D., looks forward to spreading the game elsewhere. The region's long winters don't seem to faze him.
"The winter weather helps, anyway, because if someone is looking for the same cache as you, you just might see their footprints in the snow."
There currently are around 60 caches in a 100-mile radius of the base.
"There's not many," he said. "But it gives me an opportunity to take what I learn here, apply it over there and set up some nice caches."
---
---
---
---