British bases have their own spooky places
by
Jason Chudy
October 30, 2005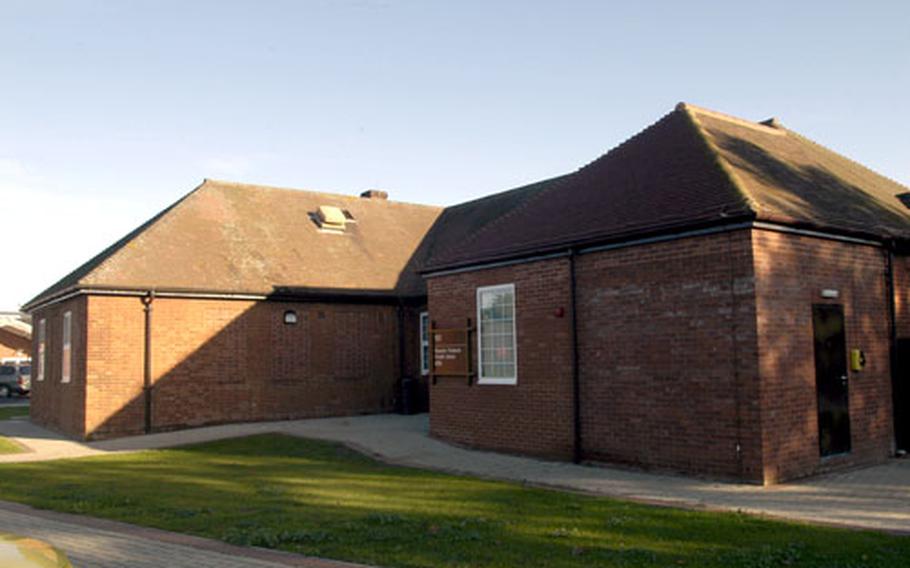 The history of the United Kingdom isn't limited to just dead kings and queens. Sometimes its past lives on long after the mortal body is gone, with tales of strange happenings, unexplained noises and plenty of ghosts.
And don't think it's just stuffy old inns, churches and castles that carry this supernatural lore. Many Royal Air Force bases — including ones that U.S. forces use — have their own haunted histories.
RAF MildenhallSince Airman magazine is the official magazine of the U.S. Air Force, what it publishes about Air Force bases must be true, right? If so, then the Keesler Federal Credit Union is haunted.
The credit union used to be the old base commissary and, before that, the base morgue. Last year, the magazine ran a story saying that, during its time as a commissary, meat and bread were literally flying off the shelf, propelled by some spiritual force.
Public affairs officials confirmed that they'd heard about the haunted building, but wouldn't acknowledge or deny the presence of ghosts.
Another Mildenhall ghost tale goes back only 36 years. In 1969, Paul Meyer, a homesick Air Force sergeant on temporary duty to Mildenhall, got drunk and actually stole a C-130 cargo plane. He either crashed, or, as one account goes, was shot down by "friendly" fighters over the ocean as he was supposedly trying to make it back to the States.
A life raft from the plane was found, but he wasn't. Now his ghost reportedly wanders the parking area where he took off on his ill-fated flight.
RAF LakenheathA ghost called Lakenheath Charlie is believed to roam the base. One story says he attempts to wave off incoming pilots with red lanterns, having been a World War II pilot who mistook a fake runway at Lakenheath for a real one, then was killed while landing.
Another version has him as a local villager who was killed by landing aircraft while riding his bike across the runway and is now sometimes still seen riding in the area he was killed.
Saxon Bob reportedly haunts dormitory building 920. He's believed to be one of 260 warriors who had been buried at the site — one of whom was even buried with his horse.
Another Saxon warrior seemingly had a crush on a former female technical sergeant who worked in the old 48th Fighter Wing historian's office, then in an old Quonset hut. The ghost, it seemed, sent sheets of paper through the printer, even when the computer was off, that had a single heart printed in the corner.
RAF AlconburyAccording to a story published in the Cambridge Evening News this year, children's voices have been heard by base security personnel, most notably during the 1970s. Whose voices are they? They're believed to be those of six children killed in a train crash near Abbots Ripton in 1876.
Also near Alconbury, there are reports of a monklike figure walking in the Monks Wood area.
RAF FeltwellThe base is supposedly home to several ghosts, including a "phantom bomber" that makes landing attempts on the now nonexistent runway. Legend is that the aircraft is a British Lancaster that crashed returning from a World War II raid over Germany.
Finally, there is a set of glowing red eyes that supposedly has been spotted near what used to be the high school.
RAF MolesworthWhen the base was used as an airfield sometime before 1981, jets were scrambled to identify — or shoot down — apparitions that appeared on radar and were seen in the sky east of the base. Later, officials reportedly said the apparitions weren't ghosts — or extraterrestrials — but rather were comets entering the earth's atmosphere.