Böblingen: Brauhaus is great for big appetites
by
Charlie Coon
September 6, 2007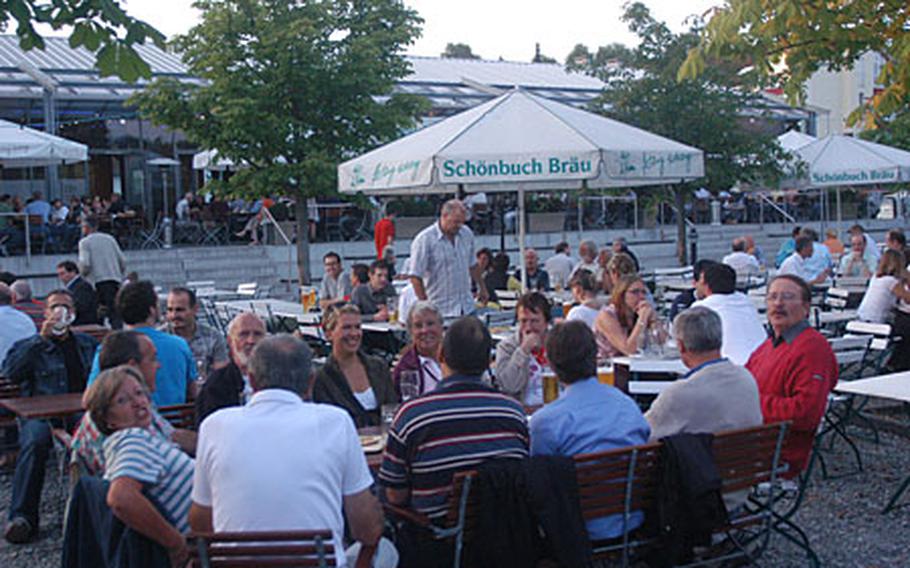 BÖBLINGEN, Germany — The Schönbuch Bräu Brauhaus am Biergarten is built for parties big and small.
In the nice weather, its spacious beer garden can accommodate several hundred people spread out at the various tables and sitting under umbrellas. Inside, there are about 50 picniclike tables.
We're talking lots of different tasty grub and beverages from which to choose.
To top it off, the big party palace is hosting its own Oktoberfest from Sept. 14-22 with a festival tent and live music on the weekends.
The large party palace is no stranger to many Americans based in the Stuttgart military community. Usually there are at least a few sprinkled among the crowd. And if you don't speak German, don't sweat it. The menus are in English as well.
Sometimes it pays to go off the menu, as a list of daily specials are written on the large blackboard hanging over the giant bar.
One can often find a group of the U.S. crowd bellied up to one of the tables, wolfing down schnitzels and pig knuckles (schweinhaxe), spare ribs and plates of fried potatoes.
A bucket of spicy potato wedges with Brauhaus garlic dip runs 3.50 euros and goes great with one of the home-brewed mugs of beer.
For more discerning appetites, fresh salads are prepared with vegetables brought in daily from local markets. The wurst salat is worth trying.
On a recent trip, I went for a plate of maultaschen, a kind of large ravioli, nested on a soy-onion sauce, along with a bowl of tomato cream soup and a tall Apfelsaftschorle, which is apple juice and bubbly water. The 13.50 euro check was as agreeable as the meal.
Smaller choices are available on the kids' menu, and there are a number of sweets to choose from for dessert, including a yummy apple-cheese cake.
Soon the beer garden crowd will be moving largely inside, but thanks to Baden-Wurrtemberg's recent smoking ban inside public places, non-smokers will not have to worry about getting fumed out.
While the Schoenbuch Brau Brauhaus am Biergarten is an absolutely German experience, something about it feels truly American. I think it is the bigness of the place, with big food and fun and its perfect ambiance for a truly large time.
To see previous After Hours reviews, go to legacy.stripes.com/afterhours.
If you go
Hours: Seven days a week, from 11 a.m. until midnight. The Sunday brunch starts on Oct. 7Prices: The most expensive entrée is rostbraten (steak) with onions and spaetzle at 13.50 euros. Most entrees are 5 to 9 euros.Specialities: Superb local chow including Schwaben offerings such as spaetzle, maultauschen, schnitzels, sausages, and potato dishes. Soups, fresh salads. Drinks offer a wide variety of locally-brewed beers, spirits, soft drinks, tea and coffee.English menu: YesDress: CasualAddress: Böblingen Jange Strasse 20, Böblingen (south of Stuttgart, near Panzer Casern)Telephone: 07031-681323 Web site: www.schoenbuchbraeu.de (German)