Blue Pizza in Kaiserslautern, Germany, offers selections beyond the norm
by
Gregory Broome
February 24, 2016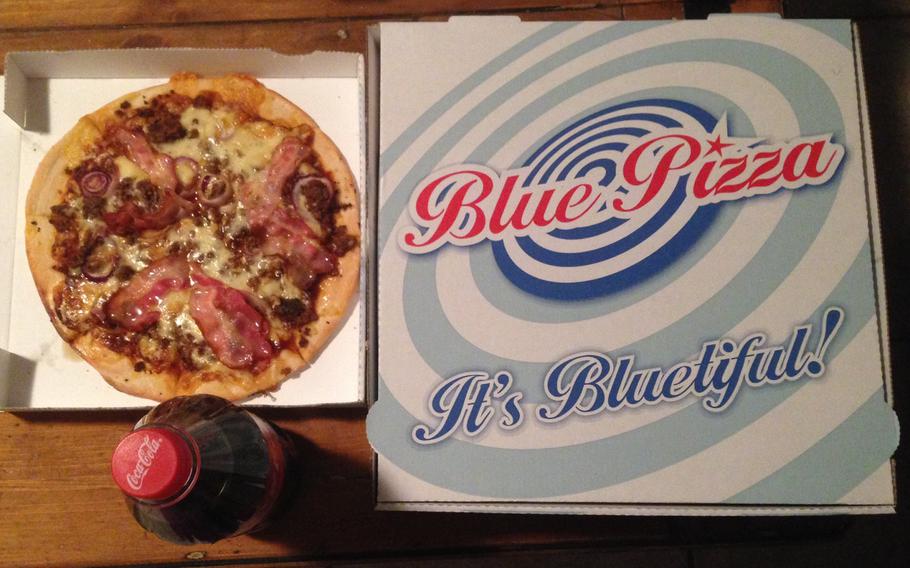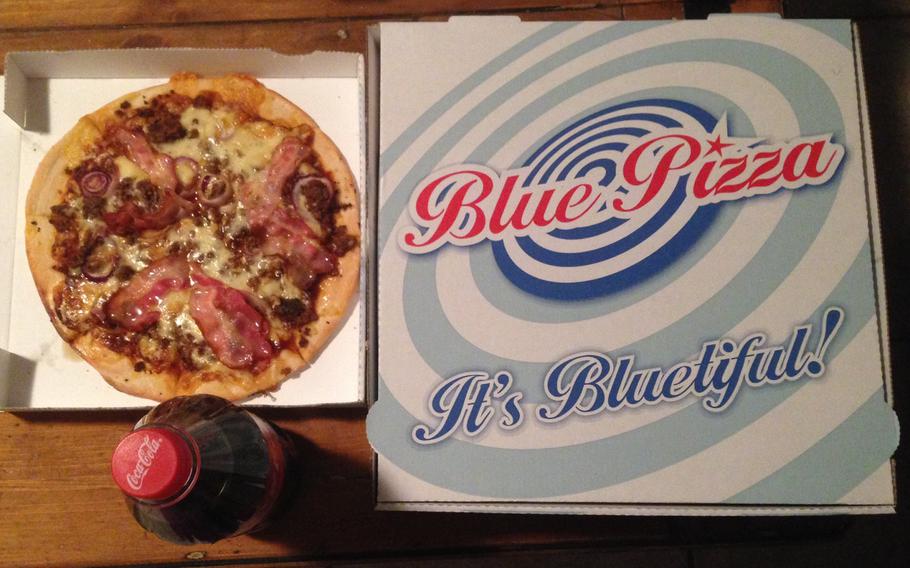 While I'm always pleased to see the dependably delicious salami-and-mushroom and four-cheese options on the menu at any German pizza place, I'm also not opposed to taking a chance on something new.
Blue Pizza, a freshly opened takeout and delivery spot dangerously located between my home and place of business, really delivered some surprises.
Blue Pizza has the classics, such as those mentioned above, listed under the tab named Classic on its website, bluepizza.de. And I'm sure they're very good. But I was too transfixed by the tab next to it called Round the World to ever really consider another evening of simple salami and mushrooms.
This portion of the Blue Pizza menu details a stunning array of 22 unorthodox pizzas named after cities and areas of the world and featuring some version of its local delicacies. You'll really want to admire it yourself, but here are a few examples to give you an idea.
The Amsterdam comes with ham, tomato, broccoli and hollandaise sauce. The Athens features feta cheese and the meat and tzatziki sauce you'd find on a gyro sandwich. The Mexico packs on beef, corn, red onions and jalapeno peppers. The Georgia unabashedly piles on chicken breast, roasted pine nuts and sliced peaches.
I'll admit that I wasn't brave enough to sample some of these more outlandish items on my first order from Blue Pizza. My family opted for a relatively conservative cross-section — the Capri (salami, ham, mushrooms, red onions and bell peppers), the London (salami, ham, bacon and cheddar cheese) and the Texas (red onions, bacon, ground beef and barbecue sauce) — along with some Hawaiian pizza rolls stuffed with ham and pineapple.
Everything we had was excellent, leaving me with the dilemma of whether to repeat that order next time or dive deeper into the menu's eccentric offerings.
I think I'll have to do the latter, and Blue Pizza's prices encourage such experimentation. A small pizza, about 10 inches, runs in the 6-to-8-euro range (about $7 to $9) in the more extravagant varieties, so you can tack on a speculative pizza alongside a proven favorite without prohibitive financial risk.
In my experience so far, there's not a lot of downside to taking your chances with Blue Pizza.
Blue PizzaLocation: Donnersbergstrasse, 87, Kaiserslautern. It's just west of the U.S. bases on Kaiserslautern's east side, across from the city's main cemetery.
Hours: 4:30 p.m. to 10 p.m. Monday to Thursday and Saturday; 4:30 p.m. to 9 p.m. Tuesdays; 11:30 a.m. to 10 p.m. Sunday.
Costs: Pizzas range from 5-7 euros (about $5.50-$7.80) for a small (about 10 inches) classic pizza and 6-8 euros on the Round the World menu, to as much as 16.50 euros for the large (about 15 inches). Payment by cash only.
Information: See the full menu and order online at www.bluepizza.de (available in English). You will get a popup window asking for your zip code (PLZ). Enter it and click: "Los." Phone: (49) (0) 631-414-1351.
---
---
---