Blood and grit: 'Call of Juarez' prequel brings Old West to life
---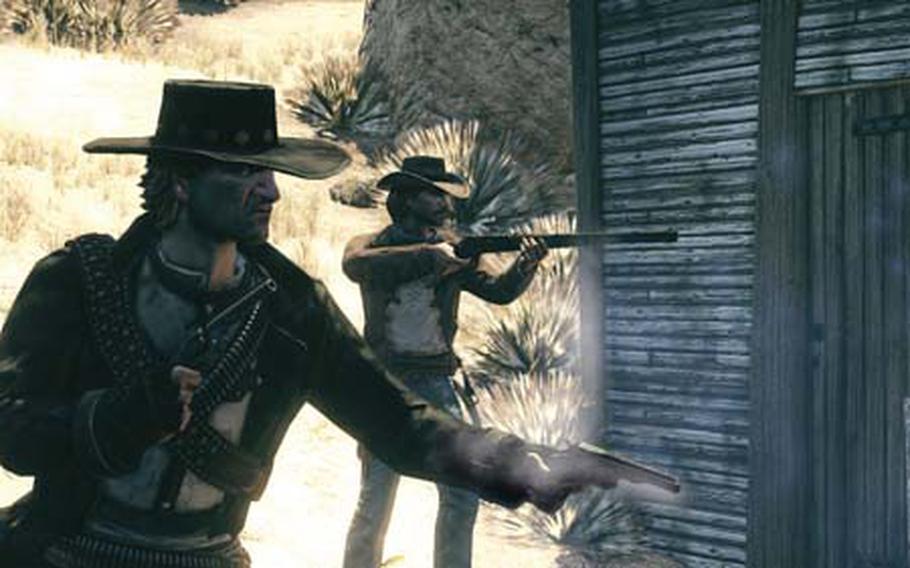 The McCall brothers never met a problem they couldn't solve with a quick draw.
Ray and Thomas McCall, as well as their less-violent younger brother Williams, are the focus of "Call of Juarez: Bound in Blood," an M-rated shooter developed by Techland for Ubisoft.
The tragic tale of sibling rivalry, lust and greed is actually a prequel to the original "Call of Juarez." It's the back story of "Reverent Ray," starting with his days in the Confederate army defending Atlanta and continuing through his quest for lost Aztec gold. It's populated by everyone you'd expect in a game based on the Old West: shady gunslingers, Mexican bandits, renegade Confederates and Native Americans.
Before each mission, you can choose whether to play as the rugged duelist Ray or the agile sharpshooter Thomas. Their paths will sometimes diverge a bit — with Thomas doing a lot more climbing and sniping and Ray barrelling straight into the fight with twin six-shooters blazing — but they rarely spend much time separated.
Most missions involve gunning your way through some town, mine, forest or canyon. Depending on which brother you select, you can use a combination of pistols, dynamite, rifles, knives, shotguns or bows. After picking off a certain number of foes, you can enter "concentration mode" — a slow-motion segment where you can target multiple foes before unleashing a deadly barrage. Most missions ultimately lead to a showdown with a gun-toting boss. You then use the joysticks to make sure your draw is quick and your aim is true.
The story line is very linear, but players are given the option to take on a few side quests. These help raise the money needed to upgrade your arsenal at key points in the story.
The environments are stunning. From the rugged hills to the dilapidated ghost town to the greener highlands, the settings are rich and detailed. The character renderings also have a gritty texture that adds to the Old West feel.
The enemies aren't always particularly smart. They'll duck for cover, but it's usually pretty easy to flank them or pick them off from a distance. However, they can get very tricky if they catch you in a crossfire or start lobbing sticks of dynamite.
The game earns its M rating because of crude language and a bit of blood.
A multiplayer mode extends the fun by offering a variety of western-themed missions. For example, in one mission, one set of players acts as bank robbers while the other acts as lawmen defending the bank and pursuing the villains. You can select from character classes ranging from gunslingers to miners to war veterans.
My only serious gripe about the game concerns its lack of cooperative play. It seems to cry out for that option with its focus on the two brothers.
Overall, "Bound in Blood" is an interesting and colorful story about the impact of bad decisions. It's also a lot of fun to play.
Platforms: Xbox 360 (tested), PlayStation 3, PC
On the Web:www.callofjuarez.com
---
---
---
---