Beautiful beads
by
Cindy Fisher
April 6, 2008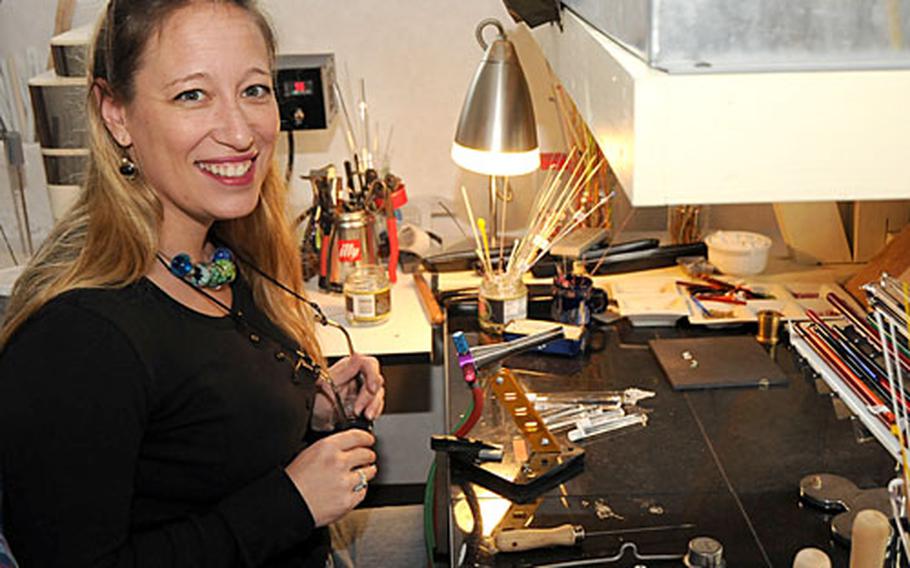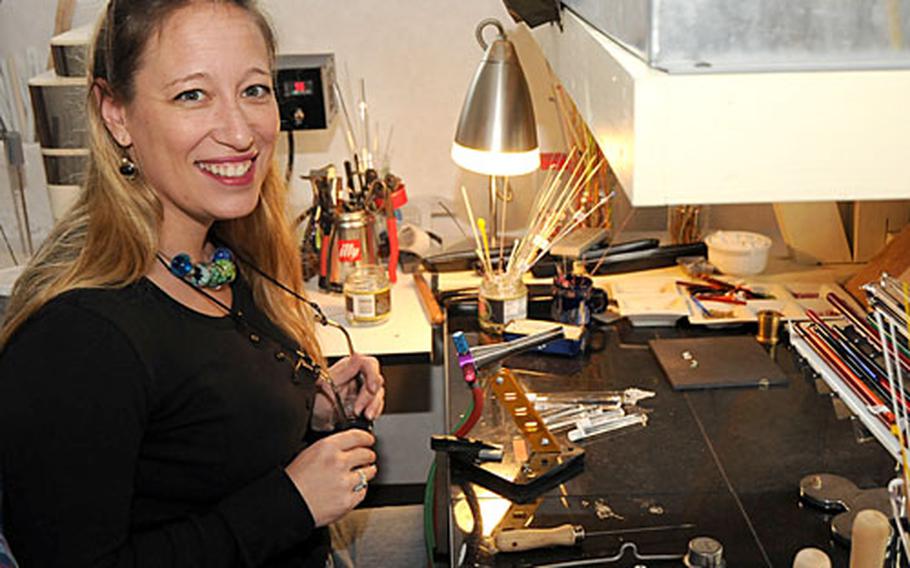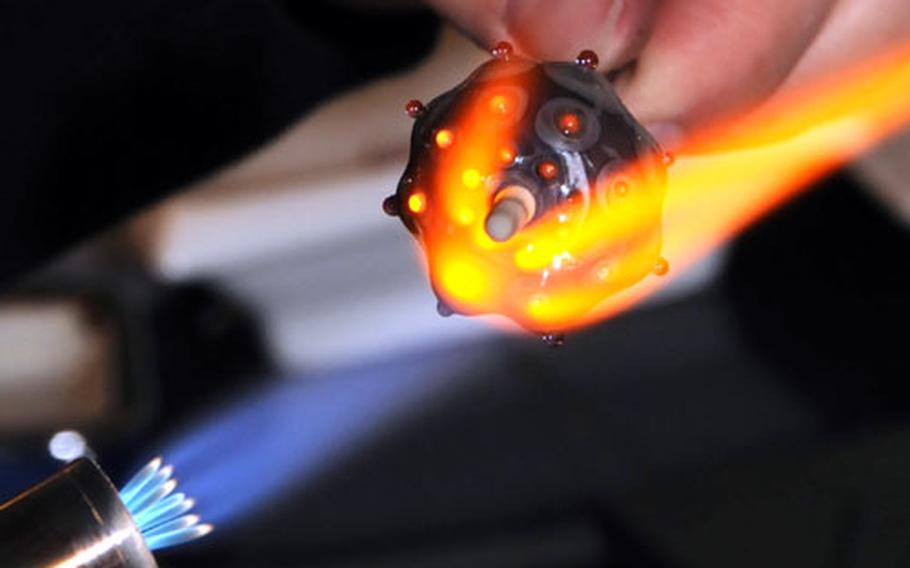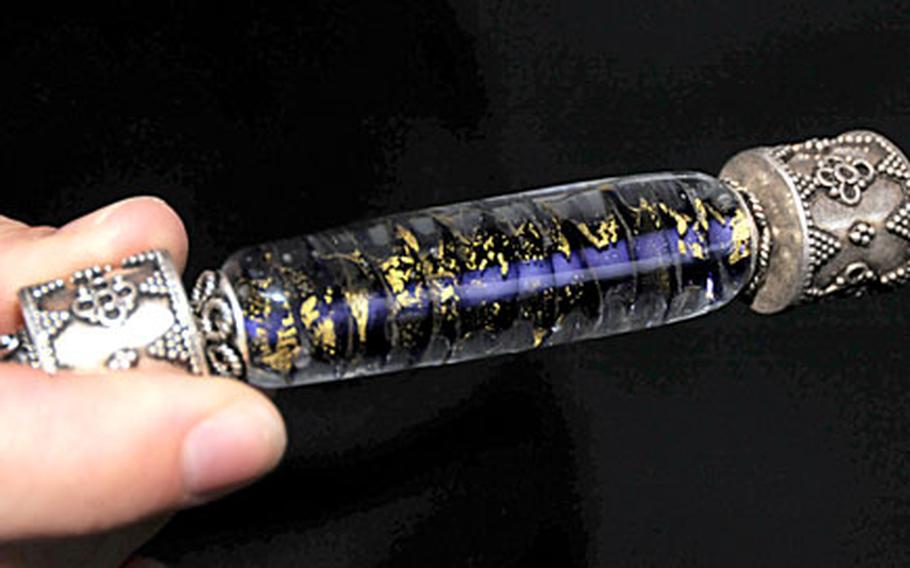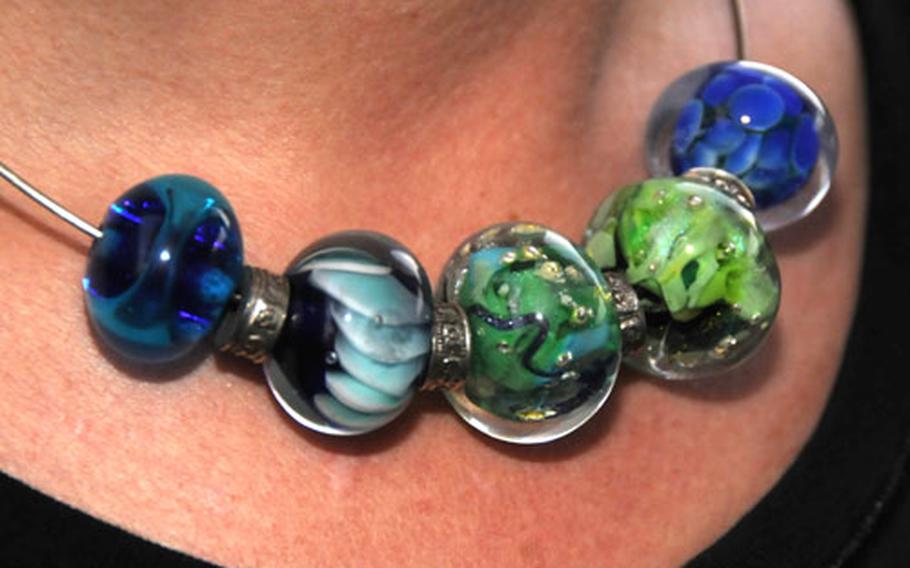 GINOWAN CITY, Okinawa — Each is a unique, handcrafted work of art.
Some bear small spokes resembling bold-hued sea urchins. Other orbs and cylinders gleam with flashes of gold and silver within their depths. Shades of purple, orange, red and blue feature strongly.
As varied as her imagination, each lampwork glass bead has one thing in common — each is a work of love and labor, says artist Julia Landecker, who has been perfecting her craft for the past five years.
Landecker, a lieutenant commander with more than 12 years in the Navy who is currently assigned as a physical therapist on Kadena Air Base on Okinawa, has had a lifelong dream of working with glass and first started with stained glass in 1997.
While stationed at Sigonella Naval Air Station in Sicily from 2001 to 2004, Landecker found her true love — making Venetian glass beads.
While vacationing in Venice in 2002, she also visited Murano, which is renowned for its glasswork artisans. There she met Davide Penso, a prominent artist within the bead- making community.
"He was turning on his torch for the morning," Landecker remembers. "It was unbelievable."
His mastery of the craft fascinated her, and so began Landecker's love affair with bead making. She eventually made several trips back to Murano to attend lampwork workshops with Penso. At one point, he even offered her an apprenticeship with him, something that wasn't possible because of her commitment to the Navy, Landecker says.
It began as a hobby — a hobby that cost Landecker more than $1,000 for the torches, other tools and supplies of glass she needed just to get started. It has steamrolled into an obsession.
Landecker spends up to 40 hours a week in the small workshop she created in a spare room of her home in Ginowan City.
Ensconced in her workshop after completing her Navy work for the day, she can easily spend hours turning the ungainly-looking rods of Venetian glass that are stacked throughout the workshop into intricate beads.
Landecker uses a process called lampwork to make her jewelry.In this process, she melts a glass rod under the flame of a torch and molds the heated glass around a metal dowel to form the body of a bead into any shape she wants. From there, she can build layers of colored glass rods, melt spikes of glass onto a bead's surface, add gold or silver flakes or introduce other patterns into the bead.
The process is all about temperature control, Landecker said, explaining the glass is melted at temperatures between 1,400 and 1,700 degrees Fahrenheit.
If a bead is not kept at an even temperature or cools too quickly, elements of the glass expand or contract in different ways, and then it can crack or explode, she explains.
It does make her craft more exciting, but "I could live without that particular brand of excitement," Landecker admits.
Landecker is experimenting with a technique called fuming, where a piece of silver is vaporized on the end of a crystal rod and then the vapors are blown onto a bead. The resulting chemical reaction changes the bead's color, though Landecker says she never really knows how.
But that is true of most of her beadwork.
When she sits down, she has an idea she wants to work on, but "that goes out the window once the heat turns on," she says.
"One hundred percent, every bead is an experiment."
They may be experiments, but Landecker puts her heart and soul into making them, and she feels very strongly about the results.
"Every single piece, I love it or I hate it," she says. "It's a very emotional thing."
Once completed, the glass beads are cooled overnight in a kiln set at about 948 degrees Fahrenheit.
"Every morning is Christmas in this house," she says. "I stumble in here to look in the kiln. You don't know 'til it comes out of the kiln."
She combines the beads with freshwater pearls, Swarovski crystals, sterling silver or gold vermeil to create mostly necklaces and earrings."It's much easier for me to not try to make beads to match a set piece," Landecker explains, "but just to make a bunch of beads and then go through them to get the beads to build a piece of jewelry."
Landecker sells her jewelry, but admits that right now it's more a hobby than anything else — one she hopes to parlay into a career once she retires.
"Right now, it's not about sales, it's about building and learning to run my business and having a name in the bead community," she says."I just want people to see my artwork."
Landecker's jewelry can be viewed at her Web site, www.julialandecker.com. She will also have a booth at an Army and Air Force Exchange Service craft fair scheduled for April 18-20 on Camp Foster.
Better quality comes at a price
Julie Landecker's hand-crafted jewelry is not cheap, but it is definitely worth the cost, says the artist. Landecker prices her single bead pendant necklaces around $25 and from that starting point, her jewelry ranges in price up to more than $800. She admits hand-made glass bead jewelry is more expensive than jewelry that uses mass produced machine made beads. But there is a lot that goes into hand-crafting these types of beads; an artist goes through a lot of mistakes and broken beads to perfect the craft, she said. "The buyer is also paying for all the beads that have come before" the perfected artwork, she explains.
"It's a phenomenal amount of trial and error that goes into it" before you get it right, she said. Of the less expensive jewelry that uses mass produced beads, Landecker has a very firm opinion. "Why would you want anything that is mass produced?" Landecker asks. "There is something to be said for hand-made. It's unique; one-of-a-kind. Each bead is a work of art," she said. "These will become family heirlooms; the mass-produced stuff eventually winds up in the garbage."
— Cindy Fisher